Montana politics, elections and legislative news
Fly-Fishing On Montana's Big Hole River, Signs Of Climate Change Are All Around
Nature is a powerful economic driver here, and livelihoods depend on cold water and healthy fish. People know it's warming, but few will say that's climate change.
Anyone who takes fly-fishing seriously behaves like a scientist. These anglers are biologists, knowledgeable in what's eating what, when and how. They are hydrologists, studying riffles and stream flow. They are naturalists, observing clouds and sunlight and the circulation of air as their rods flick back and forth across the big sky. They are, in a sense, climate scientists. And some, but not all, are deeply concerned about the effects of a warming climate on the cold-water species that inhabit blue-ribbon trout streams.
But to the extent that they act as climate scientists, partisan politics plays a role in many anglers' understanding of climate change. Here in Montana, with pristine rivers that are home to some of the best fly-fishing in the country, a majority of votes went for President Trump—and climate change is considered by many of them to be a natural phenomenon beyond human control. Nonetheless, climate change is having a profound influence on fly-fishing, from the timing of insect hatches to the long-term survival of the fish that give this sport its meaning.
The classic account of angling in Montana depicted in Norman Maclean's A River Runs Through It implanted iconic images in the collective consciousness, and they are not false. But will they survive the century?
On an early May day, on the upper reaches of the Big Hole River in southwest Montana, fly-fisherman Craig Fellin is in that quiet contemplative state of the experimental scientist as he steps out of his Suburban. Already he is studying the swirl of deep eddies on Grayling Pool, searching for the movement of insects. Before he casts his luck into the river, he shows me how he decides which fly to attach to his rod. First step, he says, is to put "your nose on the water."
Craig, 71, has a neat swoop of mustache and a calm, deliberate air. He founded the Big Hole Lodge nearly 35 years ago, putting to use a degree in philosophy and a lifetime of fishing, begun during his childhood on family trips to Canada to fish for walleye and pike. He is a Vietnam veteran, and a lifelong Republican. He is also convinced that climate change is affecting the pastime and livelihood he loves, from the trout in his backyard to the steelhead he seeks in the Pacific Ocean. What he can't figure out is where the outspoken conservationists among his fellow conservatives have gone.
Seasons of Deception
Like preparing for a sacrament, or a science experiment, Craig slips on waders, assembles his 9-foot graphite Orvis rod, and slips on a vest laden with tools at the ready. Even a nose on the water doesn't reveal much today—there are few insects active—so he mulls over a fly box that opens like a book, revealing 32 compartments with tiny transparent spring-loaded doors. He contemplates an array of flies—hooks and feathers spun together with thread and wizardry—and settles on a Parachute Adams dry fly, its light and dark body made to mimic an adult mayfly. I watch him as he secures it to his line, cinching off the knot by tugging the line between teeth and fingers.
Stepping to the edge of the river, Craig flips his rod to get just the right momentum on the light line, landing the fly upon the surface and then lifting it up again. He works a spot and then continues upstream. It is a moving meditation. A continuous motion underlain by deep stillness. Not unlike the stillness in the depths of Grayling Pool, where the trout seem to be laying low, ignoring the rush of the current and the temptations offered overhead. After a couple hours, Craig still has not found his honey hole, that dream spot where the fish are abundant and biting. Today he will not hear the zip of a line when there's action on the other end, or hold a slippery creature for a moment before releasing it.
"Catch and release" is the common practice here. The sport of fly-fishing is not about securing food, but about the thrill of the chase, the skill of the catch, and about communing for a time in this "Last Best Place," as Montanans call home, with snow-capped mountains dropping to lodgepole pine forests and opening to grassland valleys erupting, just now, with wildflowers. The trout, Craig explains, giving up after a couple of hours, mainly bite when the water temperature is between 45 and 65 or so. They are, in a sense, piscatorial Goldilocks.
Today the water is too cold, he suspects. It was "an old-fashioned winter," Craig says, with record snows. But nowadays the old normal is an anomaly: For the past 30 years, the state has been warming—and at an unusually fast clip. Despite its long cold winters, Montana's average temperature in 2016 was 3.5 degrees Fahrenheit above its 20th century average. That's double the warming of the planetary average from the same year. Since 1987, when Craig first opened the Big Hole Lodge, only three years have been cooler than the average temperatures of the last century. The chart of this warming progress is a jagged sawtooth—cold years and warm ones—but reaching ever upward.
Even this year's hefty snowpack, which feeds the river much more than the occasional summer rain, no longer assures a good summer of fishing. "It was actually up in the low 70s last week, and we lost 25 percent of our snowpack in one week," Craig explains. "Twenty-five percent in one week," he repeats. "Unbelievable. For April, that's very unusual."
The ideal scenario is good snowpack followed by a gradual descent into summer, so the meltwater is meted out steadily. This goes for anglers, as well as for Montana's ranchers and farmers, who fear the droughts associated with climate change, and its firefighters, on the alert for the wildfires that feed on dry conditions.
"A long, slow release of mountain water is always preferred, but isn't always delivered," the water supply outlook report says. When winter leapfrogs spring straight into summer, the water melts fast and furious and then is gone, leaving the second half of summer parched. While I was fishing with Craig in southwestern Montana, the Milk River in the north was flooding due to rapid melting, causing the governor to declare a state of emergency. At a weather station near the Big Hole River, nearly 90 percent of the snowpack disappeared in April. So much snow, gone too quickly. And when that cold water is gone, rivers flow low and warm up fast. That is a disaster for cold-water fish.
The Big Hole River is feeling the effects most dramatically. Locals call it the "Last Best River," undammed and wild and gorgeous. It is trout heaven—rainbows with their iridescence, browns covered in spots, and the native westslope cutthroat with red slashes along their necks. The river also has mountain whitefish and the very last of the Lower 48's native stream-dwelling fluvial Arctic grayling, sleek and silver with a blue-spotted dorsal fin that flows like a sail. The thousands of fish that ply each mile of river feast upon a succession of stonefly hatches, some as small as dust motes, others the size of your finger. Both predator and prey are dependent upon cold, clear waters for their survival.
Conservare: 'To Keep, Preserve, Keep Intact, Guard'
Craig is not only a conservative, but also—and maybe even primarily—a conservationist. He speaks of the Republican presidents who signed the Clean Air Act in 1970 (Richard Nixon) and its amendments in 1990 (George H.W. Bush). Although Nixon initially vetoed the Clean Water Act in 1972, overwhelming bipartisan support in Congress overruled him. He also established the Environmental Protection Agency. All these efforts helped address pollution in Montana, and all across America.
Where have those voices gone? Craig asks. He doesn't hear them on Fox News. "Nobody talked about conservation and the environment" during the last election, says this self-declared "frustrated Republican." But even his deep concern for the land and waters he loves isn't enough to sway his vote, which he bases on more than the single issue of climate action.
"I voted for Trump," he says, "for the Republican ideas of smaller government and less taxes and more pro-business."
Yet despite his party's refusal to embrace efforts to reverse climate change, Craig has kept an open mind. He watches Fox, but also seeks out information from many sources, such as a recent episode of 60 Minutes, where he learned about ocean acidification, another aspect of climate change that impacts fisheries.
But an event last year was the clincher for Craig. A friend invited him to a talk by geologist George Brimhall at The National Exchange Club, a gathering of businessmen in Butte. George gave a Powerpoint presentation, and somewhere between talking about Humbug Spires and Butte ore deposits, he focused on climate change. Showing temperature graphs drawn from data reaching back 500 million years, he explained how the climate has always been changing, with distinct warm and cold periods in the past. Natural climate cycle. That made sense to Craig.
But now, George added, we're supposed to be on a cooling trajectory, not a warming one, a rapidly warming one. "We should have been heading back into our next ice age," George said, but because of our use of fossil fuels, "we stopped nature from doing that." That was the point that lodged in Craig's mind, troubling him still. "He showed me that it's for real," Craig says, recalling the talk.
Craig's reaction to this data was unusual among the people I met along the Big Hole. Others recognize that change is happening—the effects are hard to deny—but these observant anglers come to more predictably modern-day Republican Party-platform conclusions about its origins.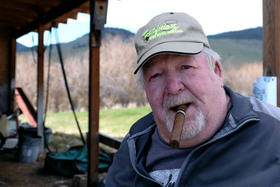 Credit Meera Subramanian
But will habitat restoration and hoot-owl limitations be enough? Jim Olsen, the fisheries biologist, is not sure. "If climate continues to change and get warmer," he says, "there may not be anything we can do in these lower reaches which are warmer and have lower flows." While currently, warming seems merely to be shifting species around and causing the occasional fishkill, the long-term future looks grim for Montana's trout population. Studies show that nearly half of all trout habitat in the interior West could be gone in the next 60 years. Brook trout could lose more than three-quarters of their current range. Migratory bull trout could be almost entirely wiped out. By then, the Arctic grayling will have vanished completely from the rivers of the continental United States.
The Seen and Unseen Nature of Climate Change
In A River Runs Through It, Norman Maclean writes, "All there is to thinking ... is seeing something noticeable which makes you see something you weren't noticing which makes you see something that isn't even visible." How do we connect the links between the seen and the unseen? How do we wrap our heads around something as complex as climate change? Something so immense it can seem unbelievable?
In a way, that's what a fly-fisherman like Craig is doing all the time. As he and I chat over a picnic lunch on the banks of the Big Hole, he continually scans his surroundings. Finishing his ham sandwich, Craig spots something, and reaches out to grab it.
"Whoa, whoa, here's a stonefly," he says, holding it out in his palm. "Isn't she beautiful?" He identifies it as a golden stonefly, carefully pinching off an ant latched to the stonefly's hindquarters. He then comments that its appearance is a month early. Around us, the sun is shining brightly. The snow is melting quickly. "That could be a precursor," he continues, troubled, looking at the creature before letting it go.
"Even though it was a cold winter, this is a sign of climate change—that things are warming up sooner," he says. What it means for the future of fly-fishing, and the cold-water species that anglers get such joy pursuing, remains to be seen. Or unseen. As those with rod in hand decide, on the river and at the ballot box.
This story is part of the series Finding Middle Ground: Conversations Across America, from InsideClimatenews.org. It was also republished in High Country News.