Montana politics, elections and legislative news.
Montana Mental Health, Addiction Clinics Cautiously Optimistic About Restored State Budget
Montana's remaining addiction and mental health care providers had a lot riding on the 2019 Legislature. And they walked away from the session cautiously optimistic that they'll soon be able to rebound from recent tough times. Almost two years ago the state health department was forced to cut almost $50 million to help balance the state budget.
"It's been an extremely tough go the last couple of years."
That's Bob Wigdorski, executive director of Gateway Community Services, a non-profit substance abuse treatment center based in Great Falls.
"Most of the addiction centers in the state are just holding on by their fingernails, and have cut services, let people go and have tried to just figure out how to save money and keep going until this gets fixed," he says.
Behavioral health specialists, like Wigdorski, say the cuts made during 2017's special legislative session basically broke the system.
Many people getting treatment at mental health and drug treatment clinics pay with Medicaid. It's hard enough for clinics to get by on what Medicaid pays, but in 2017 they were forced to swallow an additional 3 percent cut in Medicaid payments.
Some couldn't absorb that hit and were forced to close. Upwards of 100 case managers lost their jobs or quit after their wages were cut. Their mentally ill or addicted clients, even in the state's largest cities, had few alternative treatment options. In rural Montana, many had nowhere to turn. Law enforcement and emergency rooms were left to pick up the pieces, and there was a spike in expensive involuntary commitments to hospitals.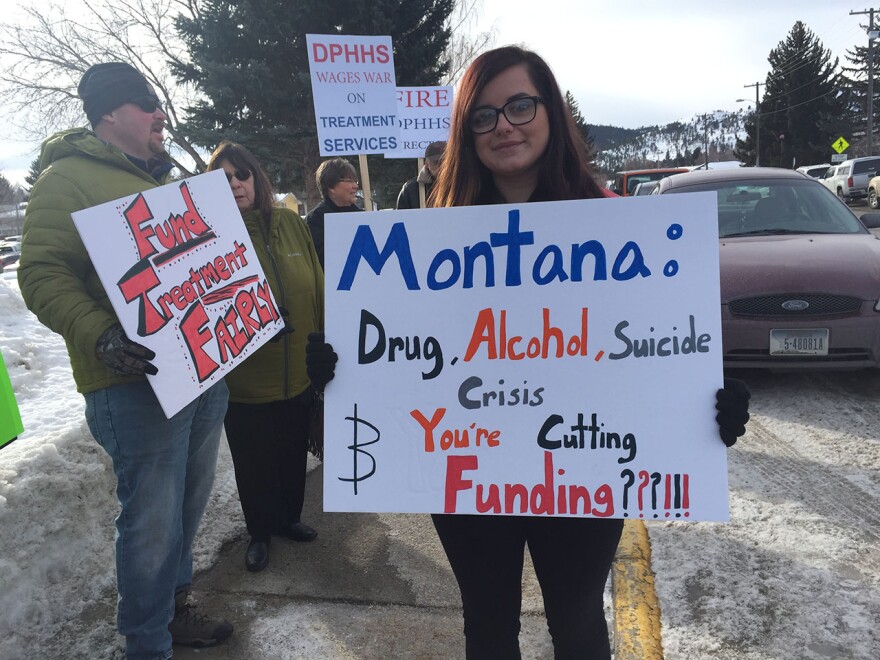 Missoula's Mary Windecker says state lawmakers knew they had a major problem on their hands ahead of the 2019 legislative session.
"So we went back in and worked with our legislators, who I have to say – across the board, Republican and Democrat – were very conscientious."
Windecker is executive director of Behavioral Health Alliance of Montana, an advocacy group representing almost 30 addiction and mental health care providers. She says reauthorization of Medicaid expansion was a big win for the state.
"But the other thing they did was allocate $1.5 million for substance use disorder treatment and $3.5 million to targeted case management. That, of course, is the Montana Medicaid amount. It will also be matched by federal Medicaid amount," Windecker says.
And last July, the state was able to reimburse over $30 million back to the state health department to restore those Medicaid rate cuts.
So problem solved, right?
Not yet.
For one thing, that new funding tabbed for substance abuse treatment and case management services doesn't go into effect until July.
"And so until we get that budget and until we see how DPHHS reallocates those funds to us, we just don't know if people can hang on until then," Windecker says.
Some won't.
Two established service providers recently folded, including Full Circle Counseling.
"They largely did children's mental health. Once targeted case management and home support services went away, they were unable to financially make it. Anybody in a business knows you've got to make more than your costs or you can't keep your doors open. That's basic," Windecker says.
Our repeated attempts to interview company executives were unsuccessful, but a former Full Circle employee tells Montana Public Radio that over 20 employees lost their jobs and the closure affected about 150 clients, mostly children, in Missoula, Billings, Great Falls and Stevensville. Full Circle's parent company is trying to find alternative treatment options for them, but some parents have reportedly opted to simply end their children's treatment.
Flathead Valley Chemical Dependency Clinic, serving roughly 900 clients in Kalispell, Libby and Thompson Falls is another casualty of 2017's reimbursement rate cuts. That agency has served northwest Montana for over 40 years.
Again, Bob Wigdorski of Great Falls' Gateway Community Services Treatment Center.
"They called us about two months ago and said that they were going out of business, and they asked us to see if we could help them, to see if we could merge with them, take them over, kinda bring our business plan to them and make it work."
Gateway Community assumes control of Flathead Valley Chemical Dependency's operations July 1. Behavioral Health Alliance Executive Director Mary Windecker predicts a virtually seamless transition.
Wigdorski and Windecker say the next few months will be critical and other service providers may not make it across the finish line.
Windecker says communication between providers and the state health department is steadily improving and adds that cooperation between for-profit and non-profit health care agencies is now more important than ever. She believes Montana will eventually dig its way out of its current mental health and substance abuse service crisis.
"Other states have. Why couldn't we? We've only got a million people, spread out as they are, we should be able to come up with a system. There's enough money in the system if we spend it efficiently and quit spending it on very high levels of care, and focus on the less expensive community-based care so that we're spending the money much more efficiently," she says.
Windecker compares Montana's hobbled behavioral health care system to the Phoenix, the bird from Greek mythology that's born again after rising from the ashes of its predecessor.