Construction On Missoula's Madison Street Bridge Begins Next Week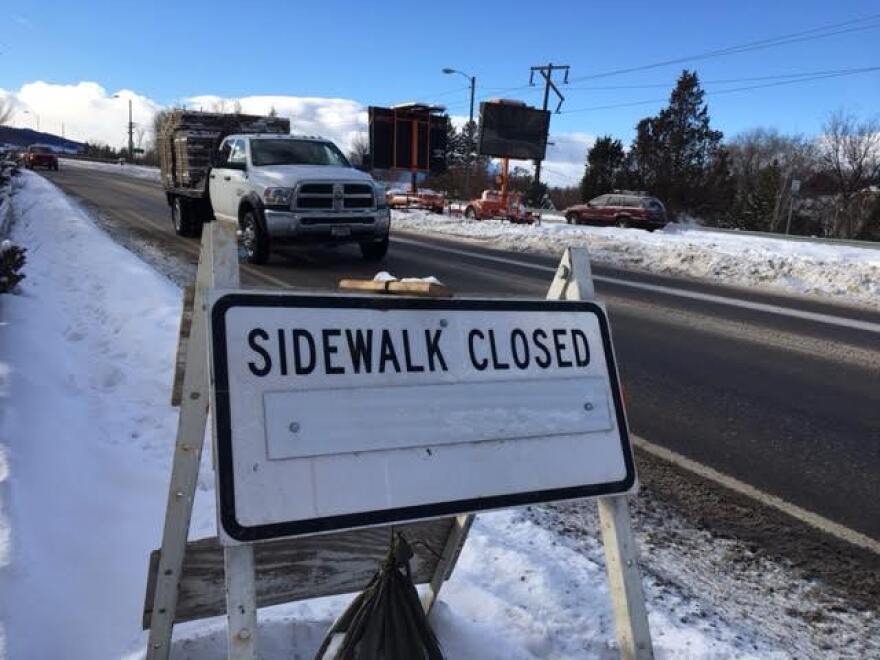 Starting Tuesday, January 3, construction crews will be temporarily squeezing one of Missoula's busiest bridges from four lanes down to two. Pretty much everybody involved says the Madison Street Bridge project is going to be an enormous pain in the backside.
Courtenay Sprunger, who manages the public relations firm in charge of spreading the word about the project's impact, compares it to pregnancy:
"It's worth the 9 months of misery for the miracle, Sprunger says. "We know it's going to be a challenge, but we know it's going to be well worth it when it's finished."
If you've ever attended a concert or sporting event at the University of Montana, chances are you've used the Madison Street Bridge. It's that four-laner spanning the Clark Fork River just one block northeast of the UM campus; two northbound lanes and two southbound lanes that are separated by a concrete barrier. It was built in the mid to late '50s and now carries over 12,000 cars across the river on a typical day.
Montana Department of Transportation Engineer, Bob Vosen, says it's showing its age:
"Last spring a chunk of the sidewalk actually fell through on the bridge. We ended up closing one side of the sidewalk."
Vosen says MDT had already determined the bridge needed some improvements, but that crumbling sidewalk prompted the agency to expedite the project.
A few final details have yet to be worked out, but basically here's what's on the table: a new concrete deck, stronger supporting structures, wider sidewalks, improved bike lanes and lighting and new railings.
State engineer Bob Vosen says that should significantly extend the bridge's lifespan:
"At MDT we have a design standard for our bridges now of 75 years. When this was built, the rule of thumb was 50 years, so we did a little better than that."
Those improvements come with a roughly $7 million price tag, with the state of Montana shouldering 15-percent of the cost and the feds covering the rest.
But the Madison Street Bridge project will also exact a different kind of cost from Missoulians; it's going to be frustrating:
Mike Murphy is Project Manager for contractor Frontier West:
"You're down to one lane in each direction until August. We'll do the northbound lane first. Traffic will be pushed over and there'll be one lane in each direction versus two lanes in each direction. It is going to be an inconvenience," Murphy says. "The public's going to have to give itself more time, or take alternative routes."
Bitter cold temperatures are expected next week. Engineer Bob Vosen says weather like that inevitably creates big problems:
"Kind of a rule of thumb is that if it gets below zero it's hard to get the equipment to start; accidents tend to increase because guys are more worried about staying warm than watching what they're doing. So, if it's real cold you'll still see the traffic control [but nobody working]. Once we get it set up we can't take it down and give you all four lanes back, particularly once we start taking the deck off the bridge – you have to stay away."
That, says Vosen, is one of the risks of starting a major construction project in the winter. But project managers point out they had to do it this way to finish the work in one season before the start of UM's 2017 fall semester – and football season.
They're cutting it close enough. Missoula's Madison Street Bridge construction is currently scheduled to wrap up one week before UM's first home football game next year.
More info from Big Sky Public Relations: