Wildfire, fire management and air quality news for western Montana and the Northern Rockies.
Rains Slow Fire Activity Across Montana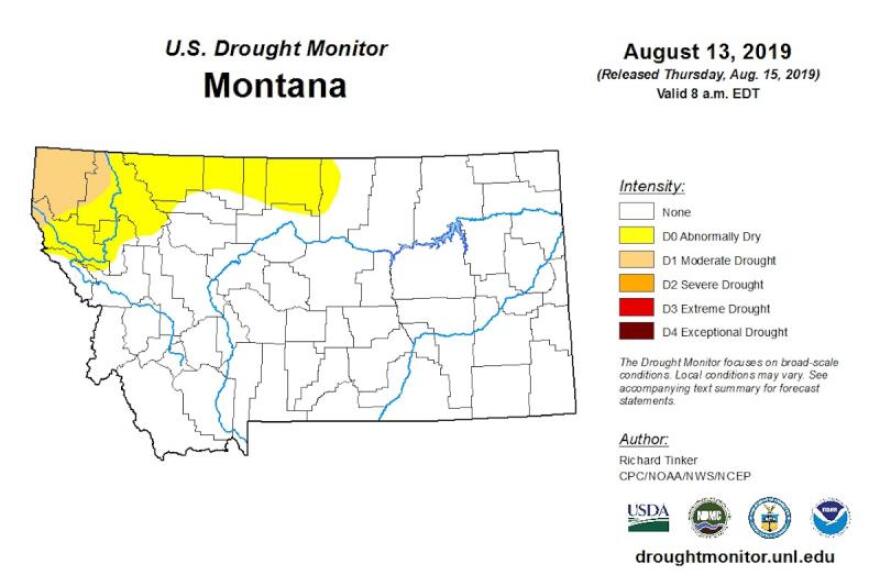 The governor's Drought and Water Supply Advisory Committee almost cancelled its monthly meeting Thursday because there isn't really a drought issue in Montana right now.
Rachel Cramer with Yellowstone Public Radio News reports that committee members say moisture conditions look good for most of the state, and fire activity is expected to remain moderate.
Some counties in northwest Montana are slightly-to-moderately dry, but most of the state is a little wetter and cooler than average.
In the August to October outlook, the eastern part of the state is expected to have moisture levels slightly higher than average, while areas west of the divide will be drier.
John Monzie of the Department of Natural Resources and Conservation's Fire and Aviation Bureau says all of the rain and cooler temperatures this summer have led to a moderate fire season. Right now there are only two uncontained fires in the Northern Rockies region.
"For August at this time, middle of August, that's unusual. And so far, if you look at all the fires in the state of Montana, we've had 865 fires to date, but we've only burned 18,360 acres," Monzie says.
He says the amount of lightning this year has been higher than normal and will probably continue until the end of August before tapering off in September. Even with the above average precipitation, Monzie says fuel loads are starting to dry out, which makes them easier to ignite.
"What we're anticipating is continued fire activity through August and September, but it's probably going to be an average year unless we lock into a severely hot regime with a lot of wind."
The committee will meet as planned again next month unless conditions remain the same.
The incident management team called in to manage the Beeskove Fire northeast of Missoula is handing its duties off to the local Lolo National Forest.
"So we are winding down," says fire spokesperson Cass Cairns. "They've done a great job out there."
Lighting sparked the 430-acre Beeskove Fire back in late July.
Cairns says firefighters expected to complete construction of all fuel breaks and indirect fire lines by Thursday.
"They're chipping woody material alongside trails and roads that they've been working on and clearing. They're also assessing what kind of rehab needs will be necessary, such as water bars to mitigate for erosion problems."
Cairns also credits last weekend's intense thunderstorms with helping take some of the bite out of the Beeskove.
She says one storm dropped over an inch-and-a-half of rain on the fire; with half that falling in less than half an hour.
That doesn't mean the entire fire-area is out cold; it's not. Larger fuels are still burning, and smoke will persist until a major, season ending change in the weather.
Officials say the Beeskove Fire is considered 57% complete. "Completion" includes several factors such as containment around the fire's perimeter and completion of indirect fire line.
Get the latest wildfire, fire management and air quality news for Western Montana and the Northern Rockies, on your radio during our morning and evening newscasts, via podcast, or in your inbox each day.