Stevensville Rallies, Fundraises For Montana Trooper Palmer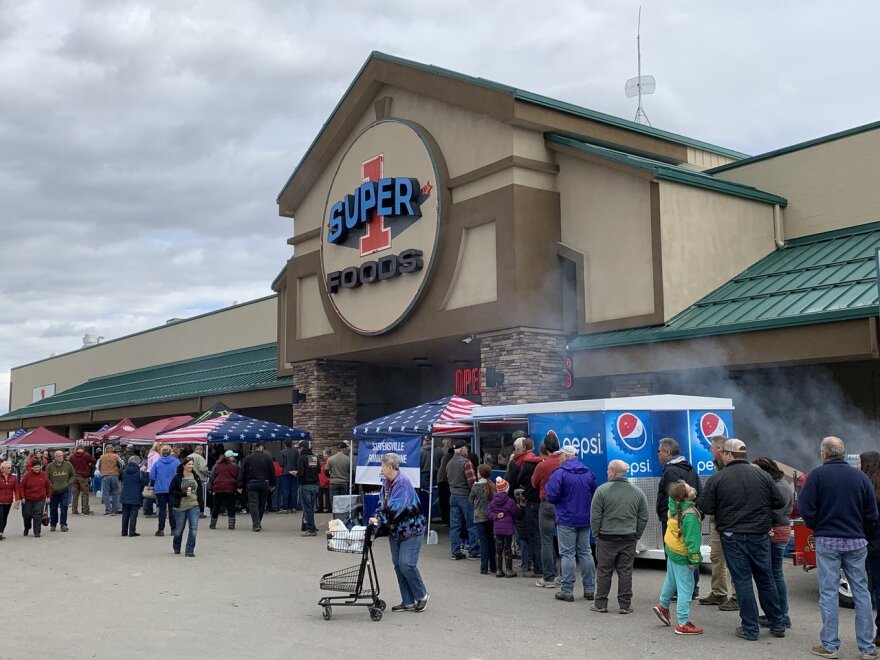 Last month's shooting of Montana Highway Patrol Trooper Wade Palmer shocked the state and drew national headlines. But for one small Bitterroot Valley town, it's personal.
Palmer and his family live in Stevensville where residents turned out by the hundreds Saturday to support the Palmer family.
Super 1 Foods grocery store in Stevensville hosted it, and by lunchtime, parking spaces were in short supply.
"We've been here 20 years. This is the most cars I have ever seen in the parking lot, period," said Stevi's Jay Calkins, a self-described anarchist.
"I can't really say I'm overwhelmed with our authorities, but he needs help," Calkinds said. "He really got hurt bad and it wasn't his fault. He was just doing his job."
Montana Highway Patrol Trooper Wade Palmer was shot in the line of duty March 15. Palmer was shot in the head, face and neck and remains hospitalized in Utah.
Johnathan Bertsch is accused of shooting Palmer, as well as civilians Casey and Julie Blanchard, and Shelley Hayes, who was killed in the attack.
Saturday's fundraiser for Palmer was coordinated by Stevensville Family Medicine. Nurse Jill Schurman is a friend of the Palmer family and helped organize Saturday's event. Burgers, hot dogs, sides and drinks sold for five bucks a plate. Auction and raffle items were also available. 100 percent of the proceeds benefited the Palmer family.
"We've been in tears a couple of times this week after putting everything together and seeing all the support we've had," Schurman said.
Hamilton-based Highway Patrol Trooper Ryan Janes says the ambush that nearly killed Wade Palmer was a sobering reality check.
"But we're a big family as well, so it brings us closer together and reinforces everything we train for," Janes said. "It just makes us stronger."
Gene Mim Mack is Stevensville's former mayor. Mim Mack says he was proud of Saturday's huge local show of support for both the Palmer family and law enforcement.
"And when one of them is under fire and takes this kind of damage to their body as well as their mind, and their family's, you have to come out as a community and support everybody," Mim Mack said.
Organizers say Saturday's benefit raised over $36,000 for the Palmer family.