Montana politics, elections and legislative news
Montanans Speak Out On State Addiction Treatment Cuts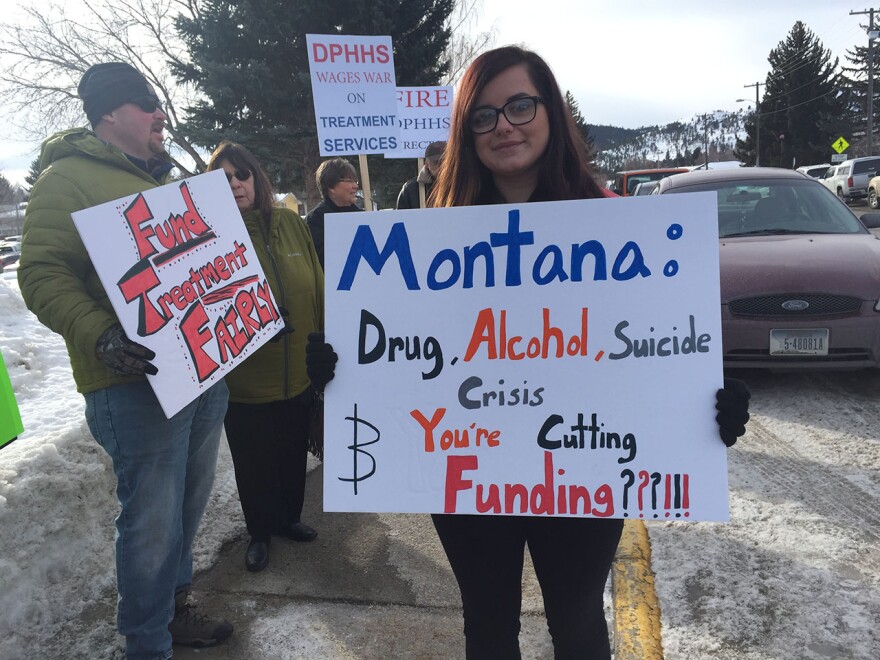 Access to mental health services and addiction treatment, something that has never been great in Montana, could see a significant funding reduction next month as the state health department reduces its substance disorder services.
"If I wouldn't have had that I probably wouldn't be alive today. They saved my life," Jennifer Munger says.
Munger says she's recently sober after spending almost half a year in a treatment center in Boulder. She says she's been clean nearly 15 months now.
"But now they're trying to take that away from other people. If they do that, nobody else is going to get the experience I got," Munger says.
Outside the Department of Health and Human Services headquarters in Helena, Thursday morning, Munger is holding a sign that says, "Montana: Drug, Alcohol, Suicide, Crisis & You're Cutting Funding???!!!"
The state health department took nearly three hours of public testimony Thursday on their proposal to continue cutting funding for programs that assist the elderly, poor, and disabled. The department says that's required following a roughly one-eighth reduction to its Medicaid budget approved by lawmakers and the governor amid a state budget shortfall.
More than 40 people testified during the hearing.
Christi Beals is the chief nursing officer at Rimrock Foundation in Billings, one of the largest substance treatment centers in its region.
"More than 100 people die every year from a drug overdose in Montana. And almost 22,000 hospital or ER visits annually are attributable to alcohol and drug use. The impacts of substance use spans every generation, cut across socioeconomic lines, from children in our foster care system to seniors prescribed opioids for chronic pain. An estimated 64,000 Montanans have substance use disorder. Ninety percent of them are not currently receiving treatment," Beals said.
Under the proposed Medicaid funding cuts, Beals, and others in the mental health and substance abuse treatment field who testified, said already vulnerable people in Montana will be at greater risk.
Before the public hearing began, DPHHS Director Sheila Hogan gave an opening statement.
"I can promise you that we will make changes where we can in order to minimize any proposed impact on the people we serve," Hogan said. "This has been our consideration all along, with all the changes and funding reductions we've been forced to make. This is not a position any of us want to be in."
But it's a position without an apparent escape, according to leaders in the executive branch and Legislature.
Some lawmakers and healthcare providers have pleaded for a supplemental appropriation to take money from future budgeting years to fill the current need. But legislative leaders on both sides of political aisle are wary of that proposal because of its potential impacts on future budgets.
The governor's office says it is prohibited by law from using supplemental funding to backfill the healthcare cuts.
The proposed cuts to DPHHS would reduce outpatient therapy services, cut case management, and the number of treatment sessions for people not deemed severely disabled.
Health providers say the department's proposal is contradictory, poorly written, and ignores best practices for mental health treatment and substance use disorders, or S.U.D.
Tammera Nauts is Executive Director of the Recovery Center in Missoula.
"When you dismantle a system and you restrict providers' ability to make a decent wage, and provide services to our clients, you're not just screwing with the S.U.D. system, you're screwing with public health, with the ERs, with the jails, with … it goes on and on. The domino effect in this particular area is extraordinary."
?Nauts, and other providers, sharply criticized health department Director Sheila Hogan for not doing enough to communicate and seek input from the mental health community. Director Hogan says she has traveled all over the state seeking input.
One of the last people to speak at the hearing Thursday was a man dressed as superman. He had a superman cape, superman shirt, superman necklace and hat.
He introduced himself as superman. And said he was there to save mental health and if these cuts happen, he said no-one will have his back.
"What will happen is my suicide will kick in and it will stay in. I won't get medication. What will also kick in, suicide. People who know Superman don't want Superman to die. Because without Superman, Montana don't have hope," he said.
Throughout the health department meeting Thursday, health care providers and clients asked DPHHS to delay their new Medicaid rules until more input was gathered and they could be changed to have less impact. Without a delay, the new rules will take effect April 1.
Public comment on the Medicaid reductions will be taken through March 9.