Questions Remain Over Montana Vape Ban's End Date, Effectiveness
Some Montana vape and e-cigarette retailers are once again squaring off with the Bullock administration over the state's temporary ban on the sale of flavored vaping products.
This time they disagree on when it ends.
Flavored vape and e-cigarette product sales are currently off limits in Montana, but a vape industry association vows to resume those sales next week.
"We gotta do what we gotta to do. We can't let people act like dictators. The law is the law is the law. If we have to go to court again, we'll go to court again, but we will be selling our products on February 20th as the law states," Marshall says.
That's Deanna Marshall, who along with her husband Ron, owns Freedom Vapes which has stores in Hamilton, Bozeman and Belgrade.
The Marshalls along with a vape industry group sued the Bullock administration last year to stop the 120 day temporary ban going into place.
Now, the Marshalls and the state of Montana aren't even a little close to consensus on the effective end date of that emergency rule banning the sale of flavored e-cigarette and vaping products.
"It ends on February 20th," Marshall says.
Not so, according to Governor Steve Bullock's Chief Legal Counsel, Raph Graybill, who says the ban actually ends:
"April 15 , 2020," Graybill says.
That's a 55-day difference of opinion.
The disagreement is partially rooted in interpretation of the emergency rule's language when it was originally registered with the Montana Secretary of State's office October 8.
"And it was supposed to go into effect on the 22nd of October," Marshall says.
That didn't happen.
Freedom Vapes is part of an industry group that managed only to temporarily block implementation of the emergency rule. After weeks of legal wrangling and waiting, a judge dissolved the temporary halt on the sale of flavored vape products, allowing the 120-day ban to go into effect.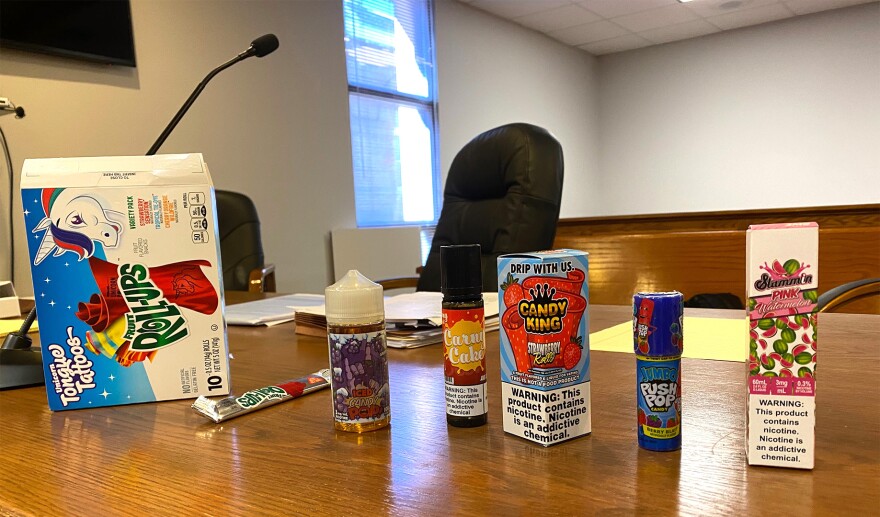 Raph Graybill says that start date is key.
"If we're following the statute, the 120-day period starts from when the rules could go into effect. I have reviewed the filing in the Secretary of State's office and it says a very similar thing; 120-days from the day of enactment. Those rules never went into effect because of Freedom Vape's litigation. They went into effect December 18th when the judge issued the order," Graybill says.
Graybill says the vape retailers who fought to stall and intended to scuttle the flavor ban have only themselves to blame for it dragging into mid-April.
He adds the state health department has clearly and frequently communicated with the public and retailers about the ban's beginning and end dates.
"I just went down and had lunch at a restaurant next to a "Smoker Friendly' in Helena - probably the biggest chain in the state - and posted prominently on their door it says, [in part] 'Flavored Electronic Cigarettes & Vape Products Banned for, 120 Days From December 18th, 2021 … I don't think there is confusion out there on the issue of when the rules end. This interesting creative theory to try to shorten that time period is just that - a creative theory that doesn't reflect what the court does, doesn't reflect what the rules say and it simply isn't the law," Graybill says.
Montana Public Radio called vape shops across Montana to informally gauge industry sentiment on the emergency rule's end date. No one who answered the phone wanted to comment or accepted our interview requests.
Marshall, secretary for the Montana Smoke Free Association, says all of the group's 18 shop members will start selling flavored vaping products February 20.
Freedom Vapes' owners say flavored vape juice sales are crucial to their business and add they've taken a major financial hit since the ban was implemented about eight weeks ago.
"We've lost more than 60-percent of our revenue. I don't know how long we'll be able to stay in business, along with all the other vape shops in the state," Marshall says.
Marshall says her company's pivot to sell individual ingredients – including culinary-grade flavoring – enabling customers to make their own flavored vape juice has helped a little. Still, Marshall says she's had to lay off six of her twelve total employees.
Last December it was widely anticipated the Montana Smoke Free Association would appeal the state's temporary ban on flavored vape products to the Montana Supreme Court.
That challenge never materialized.
"We basically just can't afford to take it any further. We don't have the money. We're not big tobacco. We don't have deep pockets," Marshall says.
Governor Bullock's Chief Legal Counsel, Raph Graybill, who is running as a Democrat of attorney general, declined comment on the emergency rule's impact on the vape retailers' bottom line. Instead he reiterates why the administration pursued the temporary ban in the first place.
"The kinds and amounts of nicotine doses delivered to young people in this state as a result of these products can have permanent effects on how young people's brains develop. The governor is totally committed to making sure that, sure, if adults want to continue using these products who are over 18 there are ways to access it. But for far too many children in our state who have access to flavored vaping products he's committed to making sure they have a chance at being tobacco free," Graybill says.
Montana initiated the ban amid a national outbreak of lung illnesses reported by the federal Centers for Disease Control and Prevention.
The Montana health department last week reported another case of vaping related lung illness. That brought Montana's tally to eight lung injury cases and one vaping-related death. Health department officials note the Cascade County patient reported vaping marijuana, which they say is consistent with most of the 27-hundred lung injury cases reported nationally.
Lisa Richidt is senior epidemiologist at the state health department's chronic disease bureau. Richidt says the state's online complaint system, which allows members of the public to report violations of Montana's temporary ban, had as of Friday, racked up 21 valid complaints.
"We take that information and we send information back to the local county health department [of origin]. They're really the one's in charge of following up and enforcing any complaints that came through that system. The local county health department would then send somebody out to follow up with that complaint. If needed they would then follow up with their county attorney," Richidt says.
Richidt did not have any follow up information on what became of those complaints after they were filed.
She says it's too soon to know how effectively the ban has achieved the administration's stated goal of keeping flavored vaping products out of the hands of young Montanans.
"Right now we are working on increasing our surveillance on these products. We hope we have some [results] by late this spring or early summer that will highlight and give us more information on that," Richidt says.
Raph Graybill, Governor Bullock's Chief Legal Counsel, says the administration is also keeping close tabs on all vaping-related fronts.
"We're assessing our options right now in the context of the federal regulatory changes that moved most of the sales out of convenience stores and into adult shops. Also in the context of this May 20 court ruling where many of the e-cigarette manufacturers will have to submit their products to FDA review. There's a lot of moving pieces still and we're evaluating our options as those deadlines approach," Graybill says.
The Montana Secretary of State's office wasn't immediately available for comment on the flavored vape ban order filed with their office by the Bullock administration.
Correction, 4 p.m., Feb. 12, 2020
This story has been updated with the correct spelling of DPHHS Chronic Disease Bureau Senior Epidemiologist Lisa Richidt. We regret the error.
This story has been updated to clarify the effects of a Dec. 18 court ruling on a challenge to the state's ban on flavored vape products. That ruling dissolved the temporary halt on the ban, allowing the 120-day ban to go into effect.