Wildfire, fire management and air quality news for western Montana and the Northern Rockies.
Florence Couple Defies Evacuation Order To Defend Home From Lolo Peak Fire
This fire season has seen numerous evacuation orders across Montana, but some people choose to stay, saying they want to be present to defend their homes. Among them were Dan and Michelle Schurg.
In the wee hours of August 17, The Lolo Peak Fire destroyed two homes in their Florence-area neighborhood. Dan, Michelle and a friend defied a mandatory evacuation order to defend the Schurg home in the upper reaches of the Folsom Road area.
The couple would lose almost 100 trees to the flames, but after an exhausting and sleepless night, they saved the house.
The Shurgs were more prepared than the average homeowner, but the morning after their big scare, when they were dropping their friend off at his car, Missoula County Sheriff's Patrol Captain Bill Burt tried to keep them from returning home. Michelle Schurg recorded the encounter on her phone.
Bill Burt: The road's closed. We need to keep the road open for fire traffic, with no private cars on the road.
Michelle Schurg: Yeah – fire traffic? They did absolutely nothing for us the whole time last night.
BB: I need you to step out of the car, or turn around and drive it out of here.
Dan Schurg: No. I don't trust my house to anybody right now.
MS: We're going back home. We are going back home.
BB: Ma'am, you're not. The road's closed. Don't make me use force.
DS: Take your hand off me, c'mon.
BB: You're under arrest. Step out of the car
MS: You have got to be kidding me.
Captain Burt eventually relinquished and let the couple return home.
The Schurgs believe their decision to stay and protect their home was the right call because of their professional experience with fires and fire mitigation. Their property was prepared for fire and they were prepared to defend it.
"It wasn't just us. There was a group of us that had decided early on that we would stay, and we had a game plan," Michelle Schurg says.
That game plan centered on sharing critical information and resources.
"Our fires pumps, fire hose and our cisterns to help protect our home; also just being in constant communication with each other. We could also all see the fire column from different angles. Having a group of us made the difference," Michelle says.
To Dick Mangan though, "It's the luck of the draw."
"Sometimes it's going to work. Sometimes it's not going to work," Mangan says. "Each individual has that freedom to make a decision, but they also have to live with the consequences: Getting burned. Losing your property. Losing your life."
Mangan is a Missoula-based wildfire services consultant with over 30-years experience in the wildfire industry.
The Schurgs have their own experience in the wildfire business. Michelle spent two decades with the Montana Department of Natural Resources and Conservation and also worked with a Forest Service incident management team. Dan owns a forest fuels mitigation business, and is a full-time EMT and safety officer at a Missoula hospital.
They question the decision to intentionally light a fire to burn off excess fuels near their homes in advance of a predicted dry cold front.
"Another possible option is instead of putting fire on the ground, they could have used bucket drops and retardant to hold that line instead of putting fire on that line," Michelle says.
They believe that backfire burned out of firefighters' control, destroyed their neighbors' homes and directly threatened theirs.
"You could hear the fire," Dan Schurg says. "You could feel the heat and you could see the flames as it was coming over the top. It sounded like a monster to me. I don't know how else to describe it. Just devouring everything in its path, generating its own wind. Seeing trees torching, the flash of flame, it left a lasting impression."
"I've heard that sound before on other fires I've been on," Michelle says, "but I've never heard it in my own backyard."
Fire officials last month said the backburn was necessary to re-enforce the bulldozed fire line protecting homes at the foot of Lolo Peak. Shortly after the two homes near Florence were lost, though, they initially suggested their backburn was most likely responsible. They later tempered that response, saying an investigation is now underway.
Patti Prato welcomes that news. Prato lives next door to one of the homes the fire destroyed. She has a lot of questions about the intentional burn. She went looking for answers and says she came up empty.
"And that made me really angry. As high as you could go to talk to somebody, it was a constant pass the buck. I felt like the homeowners, the people who lost property, lost their houses and lost their past, deserved to know what happened," Prato says.
Prato believes the neighborhood was not adequately defended by firefighters.
"We didn't want anybody to come in the middle of a blazing, raging fire up here and put it out. But there was nothing happening on the back of the mountain to prevent what happened when that fire did get loose. The places up Lolo Peak all had those big pumpkins with sprinklers on them – we had nothing up here; no firefighters, nothing. So when it came up over the edge, it got bad in a hurry and no one could come in and do anything, you know?"
The fire that destroyed two neighboring homes burned to within yards of Prato's. It's a brick house with a tile roof surrounded by a defensible green space. She says thousands of trees have been harvested from the property over the years; even pine needles are annually hand-raked from the adjacent two-acre pasture.
"We had a green dot. A green dot means that our house could stand alone in a fire," Prato says.
It did survive, but only by a whisker. The fire inflicted a lot of collateral damage. Almost half of Prato's fencing burned. The fire cooked her deck and destroyed the neighborhood's sole source of potable water; a communal well house and cistern. The flames also weakened or killed many of her remaining trees, which now are being removed.
As Dan and Michelle Schurg fought to protect their property a few minutes down the road from Prato's, Dan saw something he says he'll never forget.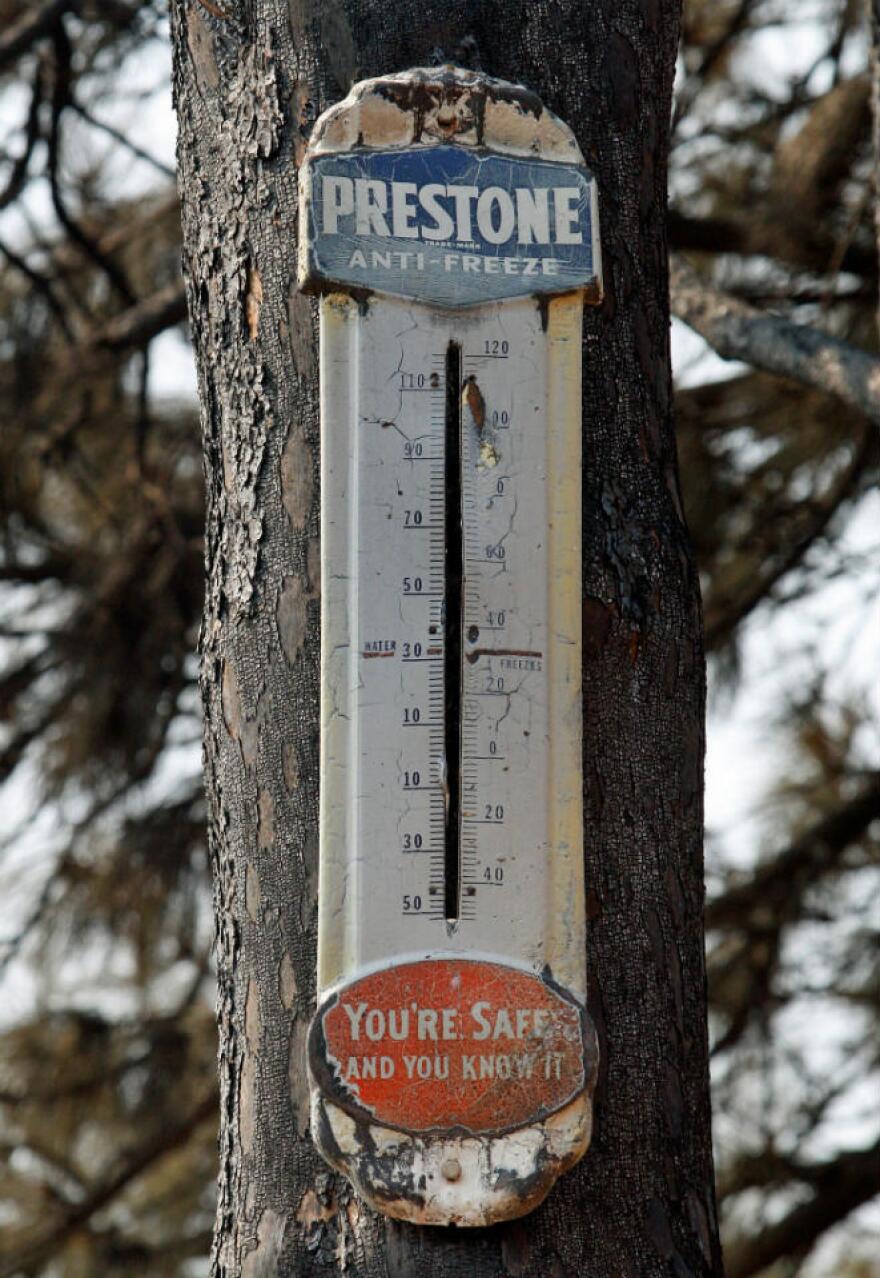 "We're struggling to get our outtake hose untangled. At that point in time we couldn't get the hose line charged. I'm looking down below and I see two engines sitting on the road there, and another truck, and they're just watching us. At that point the fire was already starting to get in the trees around our house."
Were the roles reversed and it was him in those fire trucks, Schurg says he would never just sit by and watch.
But fire consultant Dick Mangan points out those decisions are almost never unilaterally made by engine crews, but rather by fire operations and safety officers.
"Those people may be looking at the bigger picture," Mangan says. "They may be looking at the egress in and out and saying, 'Look, if you get yourself in there and something goes wrong, you're not going to get your engine and your crew back out safely. This homeowner who's chosen to stay there, that's one thing. He or she may die, but we don't have to sacrifice firefighters' lives just because somebody else has made what we consider to be the wrong decision."
It could take months to sort out the Lolo Peak Fire investigation. Upper Folsom Road-area resident Patti Prato is willing to wait it out and is eager to see the results. She also eagerly anticipates the end of this long and difficult fire season.
"The summer has been hard purely for the smoke. And the thing is, is that we all said, over and over that the long snowy winter, the wet, wet spring was the price we paid to not have a fire season. It didn't quite work out that way," Prato says.