Wildfire, fire management and air quality news for western Montana and the Northern Rockies.
'Era of Megafires' Promotes Prescribed Burns, Proactive Fire Planning
For Flathead Valley resident Charlotte Chrisman, wildfire on her private land is not a question of if, but when.
"It's like, you know, have you hit a deer? Well not yet," Chrisman says.
Chrisman owns a 310-acre lot up the North Fork of the Flathead River in a remote, densely forested area abutting the northwestern boundary of Glacier National Park:
"Fire's becoming a bigger and bigger part of our life in the Pacific northwest, the greater Pacific northwest. Certainly in the Flathead Valley we've found out with Wedge Canyon, and Roberts, Red Meadow and all the other fires fires that it can be a devastating force, so you better be ready!"
Chrisman says each year, she, her husband and her in-laws take on projects to lessen the likelihood of a devastating wildfire. They've thinned some of the denser parts of the forest and removed brush from around their cabin with help from grants administered by the state Department of Natural Resources and Conservation. Still, Chrisman says one family doing this kind of work isn't quite enough. What's needed, she says, is "herd protection. Everybody needs to get on the bandwagon here."
That's why she's at "Era of Megafires," a touring multimedia presentation about the rise of devastating fires in the west, how humans have helped spur them on, and what we can do to lessen their impact moving forward.
"By the end of my presentation, you may be tempted to feel afraid," says Dr. Paul Hessburg, a research ecologist with the U.S. Forest Service's Pacific Northwest Research Station, "and if you do, I will have missed the mark. My intention is to actually make you feel more powerful."
Hessburg spoke for an hour and a half to 150 people at Flathead Valley Community College on Tuesday night for the event, sponsored by several local fire awareness agencies. He outlined how white settlers in the west interrupted natural fire cycles, by building roads and railroads and replacing prairie with farmland. All this, Hessburg argued, led to the larger, more intense fires we see during the summers now, and he offered a suggestion for the future.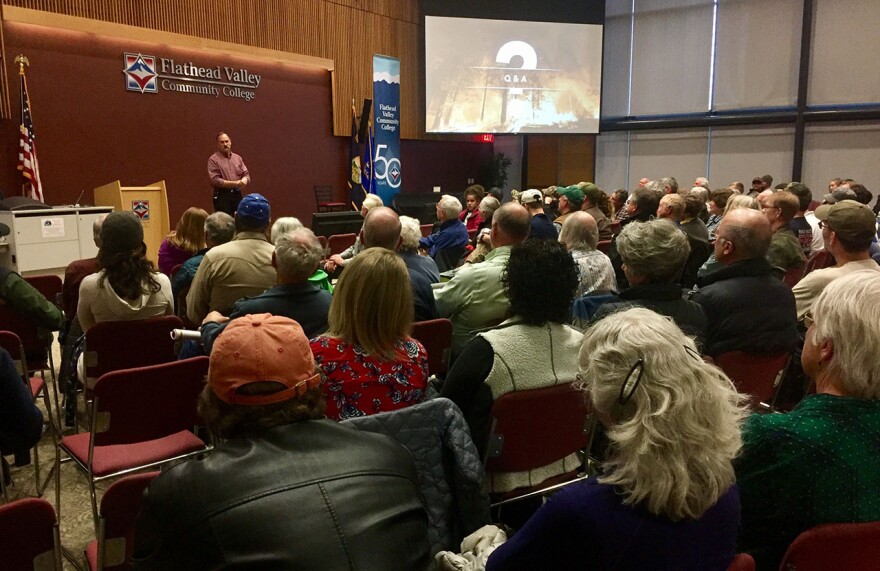 "What's needed is a cultural shift by us from being purely reactive to fire, to being primarily proactive about fire. Using fire to fight fire," Hessburg said.
Hessburg meant that literally. He said prescribed burning is an extremely helpful but largely underutilized tool for preventing uncontrolled wildfire. Prescribed burns remove brush and deadfall that would fuel a future wildfire. Firefighters can use them to create natural barriers to prevent the spread of future fires.
"It would be extremely helpful to firefighters during the fire season, right? we would have created containers with this burning and grazing, and firefighters would steer fires into those containers to keep the wildfire small from the start," said Hessburg.
But we're not doing that, Hessburg said, because people are afraid of smoke from prescribed burns. Smoke is considered a nuisance, and in some places it's regulated. Hessburg pointed out that smoke from prescribed burning tends to be less harmful and last for shorter periods of time than uncontrolled wildfires.
"We all need to work to get this changed. We can make less total smoke if we prescribe burn, and we'll have more benign wildfires," Hessburg said.
After the presentation, Charlotte Chrisman, the woman with the 310-acre lot up the North Fork, says some of Hessburg's talk was new to her, but for the most part, people in her community already operate under a proactive fire-ready mindset.
"People up there take it very seriously," Chrisman said.
Like Chrisman, property owners up the North Fork thin their private forests, clear brush away from structures, and keep roads of ingress and egress clear in case they need to evacuate. Chrisman's neighborhood was designated a Firewise Community 10 years ago by the National Fire Protection Association for the steps it's taken to reduce its wildfire risk. But she knows her neighborhood isn't the norm.
"I think in town, people in town they think they're in town and the fire dept will come and they'll be ok. And it may very well be, but especially in that urban edge, or a little ways out of town, you still have a risk. You still need to be ready," says Chrisman.
Carol Free lives in a subdivision in Kalispell. She called the Era of Megafires presentation "an inspiration."
"As well as giving so much basic information that we're not hearing about elsewhere," Free said.
The idea that fire itself can be used to help manage wildfire — as it is with prescribed burns — was so compelling to her, she asked Paul Hessburg if he could deliver his presentation to Secretary of the Interior Ryan Zinke.
"He [Zinke] lives in the same area we do. He comes with a western perspective, and now he is head of Interior. That's a very powerful position, especially for this issue, where he could have significant impact on promoting the ideas we heard tonight," Free said.
You can find more information about fire preparedness here: