Montana politics, elections and legislative news
'Campaign Beat' Election 2016 Wrap-Up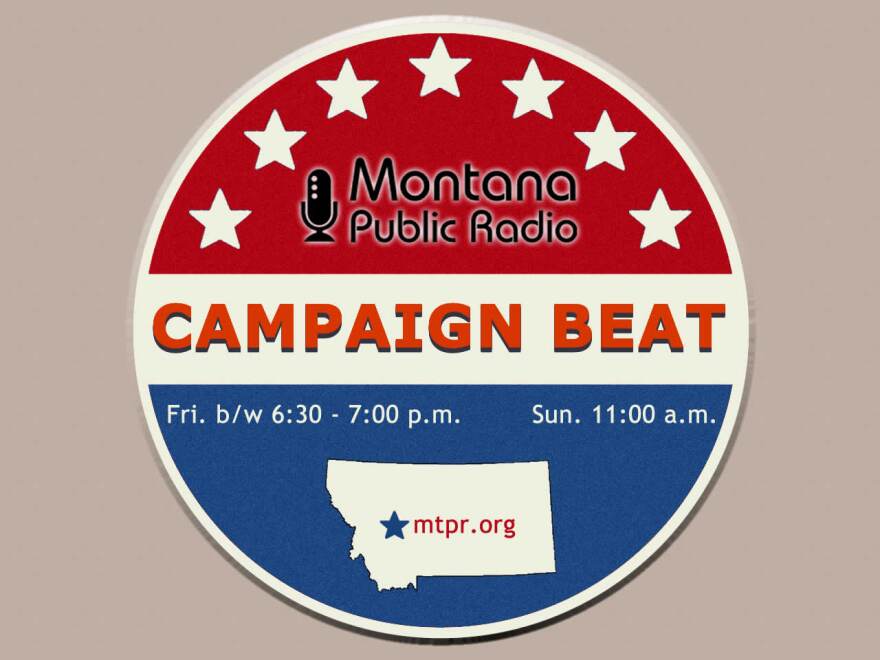 In statewide races, Republicans take every office except for governor. Incumbent Ryan Zinke wins the U.S. House race in a runaway victory. And the analysts predict what to expect from President Trump. Sally Mauk, Chuck Johnson and Rob Saldin dig in to these issues and more in this episode of "Campaign Beat.
Bullock wins gubernatorial race
Steve Bullock squeaked out a victory over Greg Gianforte to stay in office another four years, but there was some back and forth last night.
"There were some moments where Gianforte crept in to the lead," Saldin said. "I guess my takeaway from this is that, given what we've seen nationally, it's really remarkable that Bullock hung on here. It's the only bright spot for Montana Democrats, at least at the statewide level."
The race was still very close: just about two points determined the race. Voters didn't buy the Gianforte's argument that the governor's been an ineffective leader, or that he's corrupt in some way.
"It seemed to me that the Gianforte strategy, to drive home the corrupt angle, was to kind of throw everything out there and hope that something, or more than one thing, would stick, and it just never quite seemed to take hold," Saldin said. "The airplane issue, the email issue, I think there was a hope that there would be a death by a thousand cuts kind of thing, but no single issue out there ever quite took hold the way they were hoping."
Republicans win big, keep control of the Legislature.
The governor is the only Democrat to hold onto a seat among the state office holders, and Republicans swept everything else; secretary of state, auditor, attorney general, state school superintendent, and seats on the public service commission.
"They now have a four-to-one majority on the state land board, which is made up of the top statewide elected officials," Johnson said. "The land board, at present, is a four-to-one majority for Democrats. Some of the land board members were defeated in their bids to run for other offices, like Denise Juneau and Monica Lindeen."
Republicans also kept control of the Legislature, which is not an unexpected outcome.
"I don't think anyone thought they'd get control of the Senate," Johnson said. "By my early count, and this could be overturned, but it looked like [the Democrats] picked up three or four seats in the Montana House, and maybe lost a couple in the Senate. The way you gain back a legislative majority is a little at a time over a series of years, and the Democrats really haven't had much in the way of legislative control since the early 90s."
Gov. Bullock says he'll work with Republicans
"I count on everybody now that the elections are over to be working together and to be working in the best interests of Montanans," Bullock said.
That will be a theory to be tested, but he has still a coalition of moderate Republicans in the legislature whom he has worked with in the past.
"The Democratic governor and this Republican moderate coalition -- and they don't like to be called moderates, they call themselves the responsible Republicans -- worked together in 2015 to pass Medicaid expansion for Montana, to pass the disclose campaign finance act, to ratify the Confederated Salish and Kootenai water treaty and to confirm Jonathan Motl as Political Practices Commissioner," Johnson said. "Some pretty major achievements that would not have happened without that coalition working together."
Incumbent Ryan Zinke wins U.S. House race
Ryan Zinke won by almost 20 points over Denise Juneau, which is not a very strong showing by the Democratic challenger.
"Zinke maintaining that seat certainly is no surprise, but, again, it's just the margin that he won by," Saldin said. "That's actually a wider margin than he won [by]two years ago against John Lewis. I guess one thing that kind of struck me as a little bit of a head-scratcher with the Juneau campaign is how much emphasis they put on the reservation vote."
She did run a historic campaign. If she had won, she would have been the first Native American women elected to Congress and the first out gay person from Montana to be elected to Congress.
"I ran, I started this run for Congress not so I could get a job in Washington D.C., but so that I could go to D.C. and make a difference," Juneau said. "I ran to put Montana's people, land and economy first."
It will be interesting to see what Juneau does now. There was talk that if Hillary Clinton had won, she might have been her education secretary, but she's not going to D.C. that way either.
"I think for a long time Democrats had looked to Denise Juneau as a rising star," Saldin said. "She had won statewide twice to be superintendent, she brought a lot of compelling things that you had mentioned--historic firsts that got the progressive base very excited. And just a matter of days ago, I think they still thought that they had an outside chance to actually win this election, and if that didn't fall through then there was a backup plan to maybe go be in Hillary Clinton's cabinet."
"Whether or not she comes back to try to run statewide like this again, I don't know," Saldin added. "If she had run better than John Lewis, she would be in a much better position to do so."
Congressman Zinke is calling for unity among all parties now that the election cycle is over.
"The challenge is after this election, we're going to have to heal and we're going to have to unite as a people, as Americans," Zinke said.
That is the challenge.
"We also heard the speech last night from Donald Trump saying essentially the same thing," Johnson said. "I think Barack Obama and Hillary Clinton, more or less, said the same thing. It's sort of standard, post-election commentary, but the question is will we? How divided is this country? How divided is this state? I guess it's up to the leaders to try to make this happen and maybe we could talk a year from now to see if it has."
What should we look forward to with Trump as president?
Trump supporters will look for him to keep his promises. Some of those promises include saving coal jobs, making their health care more affordable--these are huge challenges.
"These were issues that resonated with a lot of voters in Montana, I believe," Johnson said.
Environmental issues are so important in Montana, but they were not front and center in the national presidential campaign for either candidate. There was some mention of climate change, but very little else about that.
That is going to be a mystery, at this point, to know what a Trump presidency will mean for some of those issues that are so crucial here in Montana, and across the country.
"Trump didn't have, on most issues, a firmly articulated position," Saldin said. "There's a lot left up in the air. I guess I'd also maybe note that now that he is going to be president there is a big difference between campaigning and governing, and a lot of people on the progressive side of the United States are really worried about some of the things that might happen. One thing that is worth bearing in mind is that our system is set up, our national system and our state system, for that matter, is set up in a way that makes it very hard to enact change."
We knew that 2016 would be a historic election year, but how that history is going to be written is definitely a question mark at this point.
"Campaign Beat" is hosted by MTPR's Sally Mauk, with UM Political Science Professor Rob Saldin, and former Capitol Reporter Chuck Johnson. Listen every Friday between 6:30 & 7:00 p.m. and again on Sunday at 11:00 a.m., or via podcast.