The latest Montana politics, elections and Legislature news.
New Campaign Money, New Ads And A New Poll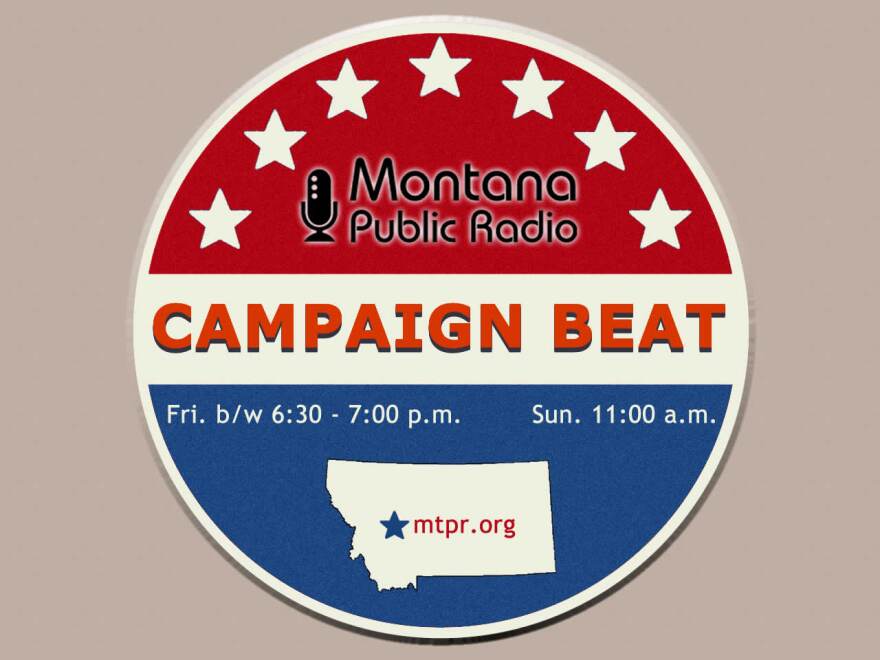 A new poll shows surprising leads for the incumbents in the U.S. House and governor's races, new campaign ads in multiple races emerge in the final weeks, and gubernatorial candidate Greg Gianforte sets a new record for personal campaign financing. Sally Mauk, Chuck Johnson and Rob Saldin dig in to these issues and more in this episode of "Campaign Beat."
A new poll shows the incumbents winning in the U.S. House and governor's races.
The MSU-Billings poll shows the incumbents' leads in both of these races much higher than those in the Mason Dixon poll released last week. The leads are the largest we've seen in these two races up to this point.
"The other shocker was a crazy high number of undecided voters," says Saldin. "But looking closely at this Billings poll, the explanation for what initially appeared to be odd results is that it wasn't designed to gauge the opinion of likely voters. This was a poll of all adult Montanans and that's a critical distinction."
"We should say that there was a lot more going on in this poll beyond the election, and it's entirely appropriate to try to gauge public opinion of all adults for other reasons," adds Saldin. "It's just that the portion of this poll regarding the election doesn't tell us much about where things currently stand or what we should be expecting to see on Election Day."
But a runaway victory for Ryan Zinke in the House race and House Speaker Paul Ryan coming to Billings doesn't really make sense with the poll's results. Also, a Democratic Super PAC is pouring $500,000 into Denise Juneau's campaign.
Do these two things tell us the candidate's internal polls are telling them differently?
"These things don't happen by accident," says Saldin. "Getting a half million dollars thrown into this campaign here in the last couple of weeks, the Speaker of the House coming to Montana—that's a big deal—Paul Ryan is the most prominent and powerful Republican right now and his time is a valuable resource."
New ads in the House race during the final weeks of campaigning.
https://www.youtube.com/watch?v=w9uHXsHXT4s
The ad plays on the idea that Ryan Zinke is overly ambitious, something Denise Juneau's campaign has pushed for some time now.
"It's definitely emerged as one of the main attacks from the Juneau campaign," says Saldin. "This is one of the more effective ads, I think, we've seen."
https://www.youtube.com/watch?v=NJafTmmTcmw
Ryan Zinke's latest campaign ad makes a serious allegation that Denise Juneau does not care about the safety of kids.
"It's one of the toughest attack ads that we've seen of the cycle," says Saldin. "It goes after Juneau's strength: her record as superintendent. I think it's another indication that the campaigns themselves see this race closer."
Greg Gianforte sets a new record of personal campaign financing.
Greg Gianforte has now invested $5 million of his own money into the gubernatorial race, which is prompting Democrats to charge that he is trying to buy the election.
"I believe that is a record in Montana. The previous record was $2 million, about $2.1 or $2.2 million that Mark O'Keefe spent of his own money in 2000 in his losing race for governor to Judy Martz," says Johnson.
"This is a tough one for voters, to see a candidate put a lot of his or her own money in a race," added Johnson. "Thinking back, I can't think of too many times when someone who's done that has been successful. Gianforte's response to that is that he is not taking any Super PAC money, as Bullock is."
New ads in the gubernatorial and Supreme Court race emerge.
https://www.youtube.com/watch?v=1VX6rma682M
This ad is based on a story that ran in the Bozeman Daily Chronicle, but the publication calls the ad misleading and wants it changed.
"It's a pretty effective ad, but the Chronicle, as we've said, indicates it kind of took claims in the story and blew them up and created some headlines and claims they weren't quite the same as in the story," says Johnson. "We'll see what happens, but to my knowledge, the ad is still running."
"Once an ad is out there it does have an impact, and corrections of ads often don't get the same attention, and don't have the same impact. Even if someone says, 'That was misleading, we didn't mean to do that.'"
https://www.youtube.com/watch?v=_vu2Etp50fM
Former Gov. Brian Schweitzer takes aim at a television screen and blows it to smithereenes, the kind of dramatic gesture he was known for when he was in office.
"It's a good ad in that Brian Schweitzer's in it and he always captures people's attention with his often dramatic and humorous style," adds Johnson. "This is a very important race for the Montana Supreme Court and there have been a lot of ads. I think this is a good one."
"I'm hearing rumors on the political campaign trail that we may be seeing Brian Schweitzer running again for governor in four years," added Johnson. "The Democratic bench is pretty thin. Brian Schweitzer told Capitol reporters in his last press conference as governor before leaving office in 2012, 'You might see me back in eight years running for governor.' I would not be at all surprised."
"Campaign Beat" is hosted by MTPR's Sally Mauk, with UM Political Science Professor Rob Saldin, and former Capitol Reporter Chuck Johnson. Listen every Friday between 6:30 & 7:00 p.m. and again on Sunday at 11:00 a.m., or via podcast.