The latest Montana politics, elections and Legislature news.
Campaign Beat: Poll Reveals Large Zinke Lead, Voter Fraud In Montana? New Ads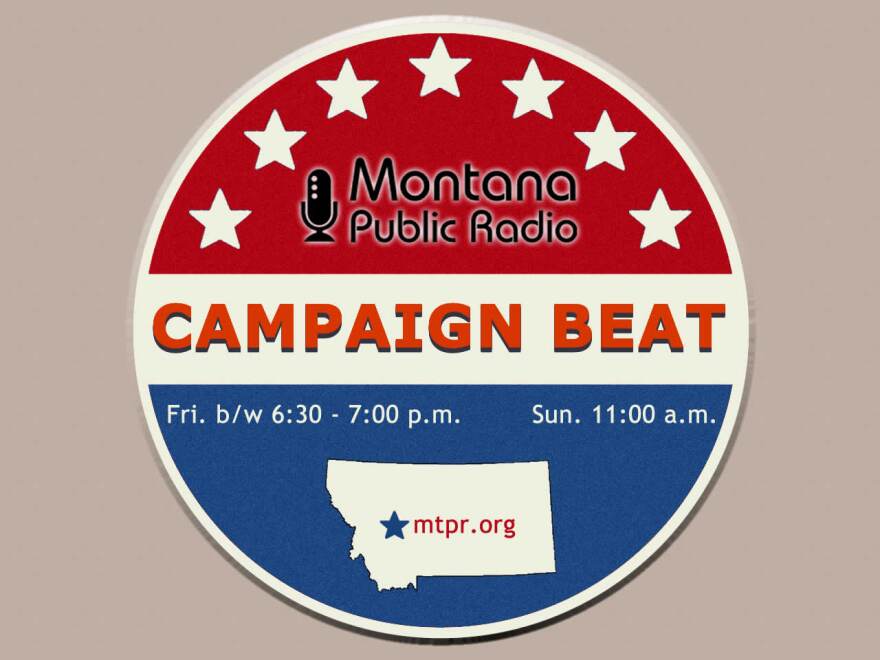 Polling shows Ryan Zinke with a big lead in the U.S. House race. New campaign ads are out in both the gubernatorial and House races. Republicans claim the advantage in state superintendent and state auditor race. Polls show 40 percent of Montanans are undecided in the Supreme Court race. And Republicans worry about voter fraud in Montana. Sally Mauk, Chuck Johnson and Rob Saldin dig in to these issues and more in this episode of "Campaign Beat."
Poll shows Zinke has a big lead in the U.S. House Race
The Mason Dixon poll was commissioned by Lee Newspapers and shows what the analysts expected in the U.S. House race: Ryan Zinke leading. But the size of that lead, 53 percent to 40 percent, is surprising.
"It's more than what we've also been seeing in some of the internal polls from the candidates," Saldin says.
"On the one hand … Zinke won by 15 (points)," Saldin adds. "Being up by 13 right now maybe isn't such a surprise. Just based on what I've been hearing about internal polls from both Democrats and Republicans, this is the biggest lead that we've seen in any poll in this campaign."
Denise Juneau has a new ad out.
The new campaign ad from Juneau links Zinke to Donald Trump. With the same Mason Dixon poll showing Trump 10 points up in Montana, Sally, Chuck and Rob discuss how effective the ad is.
"As you know, for a sizable plurality of Montanans, they say they're going to vote for Trump for president, this kind of an appeal from Juneau is obviously going to fall on deaf ears for that crowd," Saldin says. "Even for the people who would normally vote Republican for president, but may not like Trump, it's not at all clear that they're going to take this out on Ryan Zinke."
"It may be a case of throwing spaghetti at the ceiling and seeing what sticks, too," Mauk says.
Poll shows gubernatorial race as a toss up.
According to a Mason Dixon poll, Gov. Steve Bullock holds only a two-point lead over opponent Greg Gianforte. Millions of dollars have been spent by Gianforte in the race, and he may be getting his money's worth, the analysts say.
"The Democratic Governor's Association (DGA) had a poll that was widely referred to online by both parties that showed Bullock up by only one percentage point a couple weeks ago," Johnson says. "This is a tight race. Remember that Steve Bullock won by a tight margin in 2012, I think he ended up with 49 percent of the vote to Rick Hill's 46, I think, with the Libertarian getting the rest."
New pro Bullock ad
Montanans For Truth in Public Schools released a new ad this week featuring the noted paleontologist, Jack Horner.
https://www.youtube.com/watch?v=L0hfkiYGQuw
The ad made its way to a story in the Washington Post and is drawing attention to Gianforte's support for the teaching of creationism.
"Jack Horner is probably the best known university professor in Montana, or was when he was part of the Montana State University faculty, and is widely-regarded as a world-class paleontologist," Johnson says. "When he talks, people may listen. Certainly there are questions being raised about where Greg Gianforte stands on evolution versus creationism. Heretofore he's refused to talk about his position on religion –what role religion plays in his life. I don't know whether he will now, but I think this ad is an interesting way to bring it up."
Gianforte spokesman Aaron Flint commented that Greg Gianforte has "no opinion on the earth's age."
"It's a really interesting issue and Horner raises the point that he doesn't want to teach evolution in the private schools he supports," Johnson says. "I don't know if that's true or not. I've heard that he wants to teach both evolution and creationism and let students make up their own minds."
Poll shows Republicans winning State School Superintendent and State Auditor.
Both of these offices have long been held by the Democrats.
"In addition to the offices themselves, those positions are important because they serve on the land board," Saldin says.
Poll shows 40 percent undecided in Supreme Court race.
"To me, this is just indicative of one of the reasons why it's just a little unfortunate to be electing the judges," Saldin says. "In this race you don't have, as a voter, the cue of having the candidates identified as Republican or Democratic. That's just a really helpful road sign for voters to be able to cast a more informed ballot. Without that, and without these candidates being able to talk about issues in the way that most political candidates talk about them in the context of campaign, there's really just so little for voters to go on."
"I believe that about 30,000 to 40,000 Montanans skipped the Supreme Court race last election, rather than vote for one," Johnson says, and adds, "A lot of Montanans just say, 'Well, I don't know, so I'm not going to vote for either of them.' We could see that happening again – there's usually a huge drop-off for that race."
"There have been some forums featuring those candidates and stories about those forums and voters can certainly find that information, hopefully will try to educate themselves about that race," Mauk says.
Concerns about election fraud in Montana have been raised by state Republicans.
Democratic party members have been going around offering to pick up voter's ballots and deliver them for the voter to the election office.
"The accusation is that they're doing it after they canvass the individual and say, 'Are you going to vote Republican or Democrat?'" Johnson says. "Then offer to take their ballot to election headquarters. The question is, if someone is saying they're going to vote Republican would they then toss those in the nearest garbage can and just take the Democrat's votes to the election office? I don't know. It's an interesting question and it's apparently legal under Montana law to do that. I'd be surprised if we don't see a bill in the next Legislature to prohibit that."
"I've often wondered why we don't just put postage stamps on the ballots so people don't have to pay for them to come back to the local election headquarters," Johnson adds. "So far that hasn't been done."
"Campaign Beat" is hosted by MTPR's Sally Mauk, with UM Political Science Professor Rob Saldin, and former Capitol Reporter Chuck Johnson. Listen every Friday between 6:30 & 7:00 p.m. and again on Sunday at 11:00 a.m., or via podcast.