Montana politics, elections and legislative news
Campaign Beat: Gay Rights, Sales Tax, And Refugees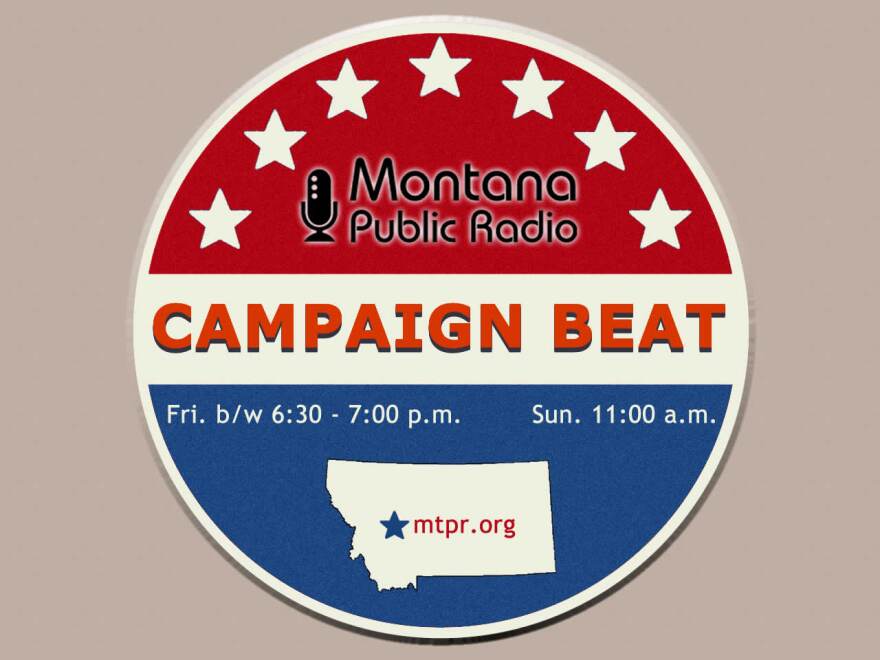 Gay rights come up in the U.S. House debate, new polling puts Zinke ahead of Juneau by 3 percentage points, and are Bullock and Gianforte's latest campaign tactics just distractions? Sally Mauk and Rob Saldin dig in to these issues and more in this episode of "Campaign Beat."
U.S. House Debate
U.S. House candidates Ryan Zinke and Denise Juneau met this week for their final debate before the election.
"Not a lot of new ground was covered," says Professor Saldin. "In terms of a takeaway, I think all of these three debates that they've had, both campaigns probably feel fine with how they went ... I think both stood up there and came across as competent people who could hold this seat."
They did get one question from the audience about what they'd do to protect gay rights. Zinke's response:
"If you want to be lesbian, you want to be Muslim, you want to be whatever, it doesn't matter to me. [Jeers and cheers from the audience] It doesn't matter. And it doesn't matter in Montana, and it doesn't really matter in this election because Montanans generally aren't that way. What's important is that you have the right to be you."
"Here Congressman Zinke is indicating that he believes ... that being gay is a choice, just like choosing to be a Muslim," says Sally Mauk.
"This has been a low lying issue in this campaign," Saldin says. "We haven't heard quite as much about these elements of Juneau's identity than we might have expected, and I think part of the reason for that is that it's a little bit of a double-edged sword if you're in the Juneau camp. If you emphasize these things too much, it risks maybe taking away from her record as superintendent where she has had some success. And yet you also don't want to move away from it too much. And so I think that question and Zinke's response to that issue opened up an opportunity for her to engage that."
Here's Juneau's answer to the same question, which refers to the historic nature of her candidacy:
"Representation matters. I watched it happen at the state legislature with American Indians at the table in record numbers at the state legislature. The type of policy that gets talk about, the stereotypes that get broken down. Representation matters, and I've watched the discourse change at the state legislature. With me at the table in Congress, the discourse changes again."
Polling shows Zinke up by 3%
"It strikes me on the one hand that it is a surprising result," Saldin says. "Remember two years ago, Ryan Zinke won by over 15 percentage points. It was a blowout ... So to see it that close is quite surprising. On the other hand, I think just observing the campaigns in recent weeks, maybe we have seen some indications that it is closer than two years ago."
Bullock Pounces On 12-Year-Old Sales Tax Comments
Gov. Bullock is trying to make sales tax an issue in the election. He's raising comments his opponent Greg Gianforte made 12 years ago, when Gianforte said he thought a sales tax would be good for the state. Bullock has also said he wants a referendum to outlaw sales tax in the state.
"All this even though no one is currently proposing such a tax, least of all Greg Gianforte," Mauk notes.
"Gianforte has been very clear in this campaign that he doesn't support a sales tax," Saldin says. "It's actually been a prominent feature of his campaign from day one to keep the sales tax at zero."
Gianforte Releases Refugee Ad
Greg Gianforte has released a new ad warning of the dangers of accepting refugees from the Middle East.
"This whole issue has turned into a flashpoint in this campaign and across the country. It's very quickly turned into a very extremely polarized issue and I think that's somewhat unfortunate for our ability as a state and a country to consider this important issue dispassionately," says Saldin.
"There is certainly reason for concern here. You don't have to take Greg Gianforte's word for it. CIA Director John Brennan has talked about his worry about this issue.
"As this thing has gotten more and more polarized you sometimes get the sense from some elements in the progressive community that they kind of willfully ignore that aspect of it and just leap to this assumption that it must be Gianforte's own bigotry or racism, or at the very least that he's cynically playing on those sentiments out in the public. Which seems a little unfair."
At the same time, "some of the images we see in the ads — these very menacing, terrorist-like figures, just chaos in the streets — have a way of drawing attention away from the humanitarian aspect and introducing a much more emotional and fearful way of thinking about this issue, that again, I find unfortunate in terms of us as a country being able to think about this in a serious way. Maybe in the context of a campaign it works and carries some benefit, but isn't good for our national discourse."
"And of course this is an issue that has federal jurisdiction, not state jurisdiction," Mauk says. "Who gets in and out of the country is up to the federal government not the state."
"Campaign Beat" is hosted by MTPR's Sally Mauk, with UM Political Science Professor Rob Saldin, and former Capitol Reporter Chuck Johnson. Listen every Friday between 6:30 & 7:00 p.m. and again on Sunday at 11:00 a.m., or via podcast.