Montana politics, elections and legislative news.
Candidates Answer, Dodge Questions At Second Governor's Debate
In last night's gubernatorial debate in Billings the opponents painted very different pictures of Montana's economy, attacked one another's character and provided few straightforward answers to direct questions.
After opening statements marred by a glitch with the official timer, the Billings Gazette's Tom Lutey referenced Republican challenger Greg Gianforte's support for groups including the Montana Family Foundation and Focus on the Family, which have opposed same sex marriage. Lutey asked, "what would you tell Montanans worried that their civil rights are at risk if you're elected?"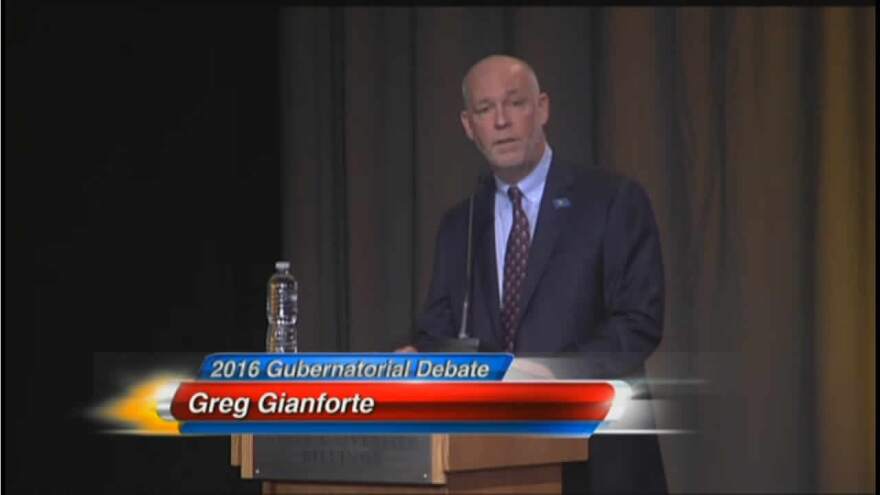 Gianforte answered by talking about his family and his evangelical faith, and pivoted to his central campaign message:
"My sole purpose for running is to create jobs, so we can keep our kids back here in Montana, and they can prosper," Gianforte said.
Debate moderator Becky Hillier:
"Did that answer your question, Tom?
"No," Lutey replied.
On follow-up, Gianforte said:
"Well, I sort of feel like it's an attack on our Christianity and our core base. I would say that our First Amendment is very clear. It supports freedom of speech and freedom of religion for all Montanans, and I would defend that right for every single Montanan."
Governor Bullock also danced around some direct questions. Here's Yellowstone Public Radio's Jackie Yamanaka:
"Should students and faculty be allowed to carry firearms on Montana University System campuses? Should public school teachers be allowed to carry firearms in their classrooms?"
In his minute and twenty second answer, Bullock said he's a strong defender of the Second Amendment, that he's worked to defend gun rights in Montana, and that he listens to law enforcement when it comes to gun bills, ending with: "Nobody's going to take your guns away."
Gianforte did not directly say whether teachers, faculty or students should be allowed to carry guns on campuses or in the classroom.
"I believe the Second Amendment is very clear," he said. "It says our right to bear arms shall not be infringed. And I think that's very clear and I would defend the Constitution on that."
So it went for most of the evening, with the candidates responding to questions with messages they've been delivering in campaign speeches and media events since the contest formally began in January.
Ginanforte emphasized that creating jobs and growing Montana's economy is his central focus. He said he'll eliminate regulations, lower taxes and use his experience as a successful software entrepreneur to boost a state economy that he characterizes as lagging and in trouble.
Bullock talked about his roots as a Montana native and his experience in cooperating with the opposing party on important issues. He emphasized the state's low unemployment rate and other economic successes.
The candidates did give some direct answers. Jackie Yamanaka asked if they would support dipping into Montana's coal severance tax trust fund, specifically to help coal industry workers suffering from the sharp downturn in the market for Montana coal.
Steve Bullock:
"I don't think that's probably a good idea."
Greg Ginaforte:
"The bill from Senator Ripley that would use some of the coal trust funds for infrastructure I am supportive of, and I would back that."
State Senator Rick Ripley is Republican from Wolf Creek who last year proposed using some coal tax severance revenue to fund things like water systems, local roads and bridges and schools.
Most of questions to the candidates last night, and their responses, were on economic, political and leadership issues. KULR-TV Anchor Greg Lamotte asked one very personal question: "Have you ever had an extramarital affair?"
In recent weeks opponents of Governor Bullock have been active on social media, promoting conclusions that his travel schedule is evidence that he has been unfaithful to his wife. They have offered no proof. Both candidates last night said they have never had an extramarital affair.
There is one more debate scheduled in the Governor's race on October 8 in Great Falls. Audio of the entire debate last night is available here.