Whitefish Mountain Seeds May Hold The Key To Whitebark Pine Survival
Whitebark pine is a species on the brink of endangerment. If whitebark go, several species of wildlife, including grizzly bears, will lose a significant food source. But researchers are slowly piecing together how to harness the tree's natural defenses to preserve it.
"There is a branch at the bottom that is still alive. And when you see lots of trees like that, and then a healthy tree standing next to it, like this one standing directly above it on the hill, you can say it is very likely that tree has resistance to blister rust."
That's Melissa Jenkins, a silviculturist for the U.S. Forest Service on the Flathead National Forest. A large part of her job is spent considering why some whitebark pine trees live while so many others die.
"The blister rust has killed over 90 percent of the whitebark; there are very few trees."
Whitebark pine once covered 13 percent of the forest in the Flathead National Forest. Now all that remain are a few scattered stands.
The tree is integral to alpine ecosystems in the western United States. Its seeds provide much-needed fatty nutrition for 100 species of wildlife, including grizzly bears and Clark's nutcrackers. Whitebarks also move into fire-affected areas faster than other plants, and make it more likely for other species to return. And whitebark pine regulates snowmelt and runoff.
"A lot of people talk about it as a keystone species at high elevations," Jenkins says.
But the tree is in danger. Blister rust is an invasive infection that prevents the flow of nutrients through the tree. If a tree becomes infected, it very rarely survives. On top of that, whitebarks battle beetle infestations and loss of habitat as the climate warms.
For the past few decades, forest managers and researchers have struggled to find a way to save the tree. In the Flathead, they're trying to collect seeds from the trees that seem to be doing ok.
"We take some of the seeds we've collected, grow the seedlings out, and then purposely expose them to high levels of rust and see which of the offspring are resistant to the rust," says Jenkins.
The Forest Service has been collecting seeds from trees along the ski runs at Whitefish Mountain Resort for years. For reasons Jenkins still doesn't fully understand, most whitebark pines at the ski area are healthy, even though blister rust is present.
"Any tree that is alive here, we know there is very, very little chance that it escaped the rust, that it has been exposed. So trees that are still alive and healthy — especially among areas where are so many trees have died around them — we believe have some level of rust resistance."
On Tuesday, climbing crews set up mesh netting around the budding cones to protect them from hungry squirrels and Clark's nutcrackers, a bird that relies entirely on whitebark pine nuts. They'll return in September to collect the cones and ship them to a nursery in Coeur d'Alene to be planted and tested for resilience.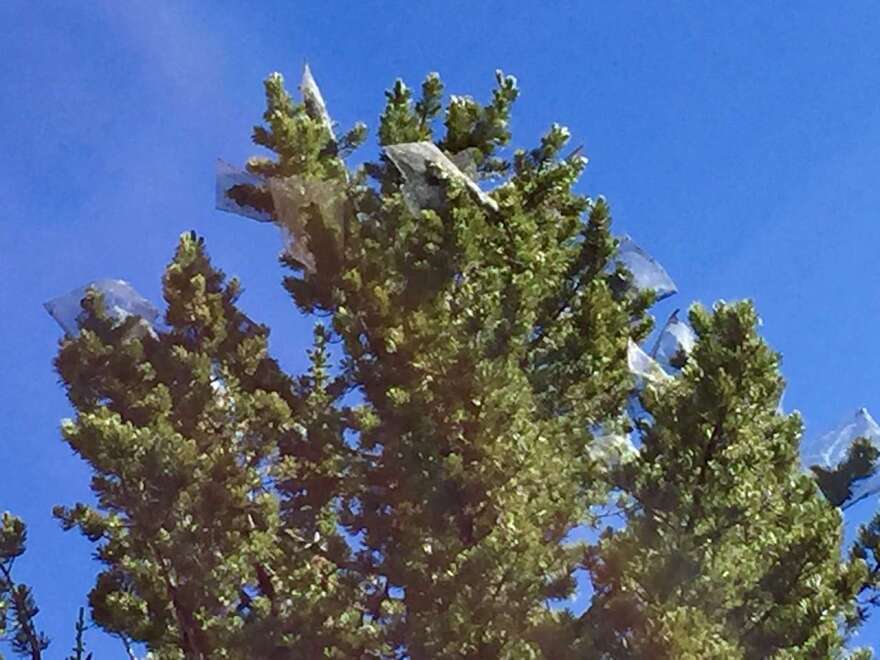 "We've gotten quite a lot of collections out of Whitefish Mountain Resort here, and some of the cones here are showing some really good resistance."
That's Karl Anderson, the forest culturist for the Flathead National Forest. He oversees the cone collection program that's recently won Whitefish Mountain Resort the first "Whitebark Pine Friendly Ski Area" recognition through a new certification program created by the Whitebark Pine Ecosystem Foundation. In a few years, the Forest Service will begin planting whitebark pine saplings on the ski area grown from seeds collected there.
"Getting that back out on the ground and getting those trees to eventually produce seed is very important to maintain the species," Anderson says.
Anderson hopes that growing saplings from locally harvested seeds will increase the likelihood of their survival, and eventually repopulate the ski slopes with whitebark pine.
That's something the resort hopes for too, says Riley Polumbus, spokesperson for WMR.
"There's a lot of ways ski areas can help support this species of tree and help the Forest Service with projects like our regeneration project."
In September the resort will host the Whitebark Pine Ecosystem Foundation's Annual Science and Management Workshop. The cones netted on Tuesday will be collected and the resort will receive its Whitebark Pine Friendly Ski Area certificate.