Flathead National Forest To Update Forest Plan, Seeks Public Input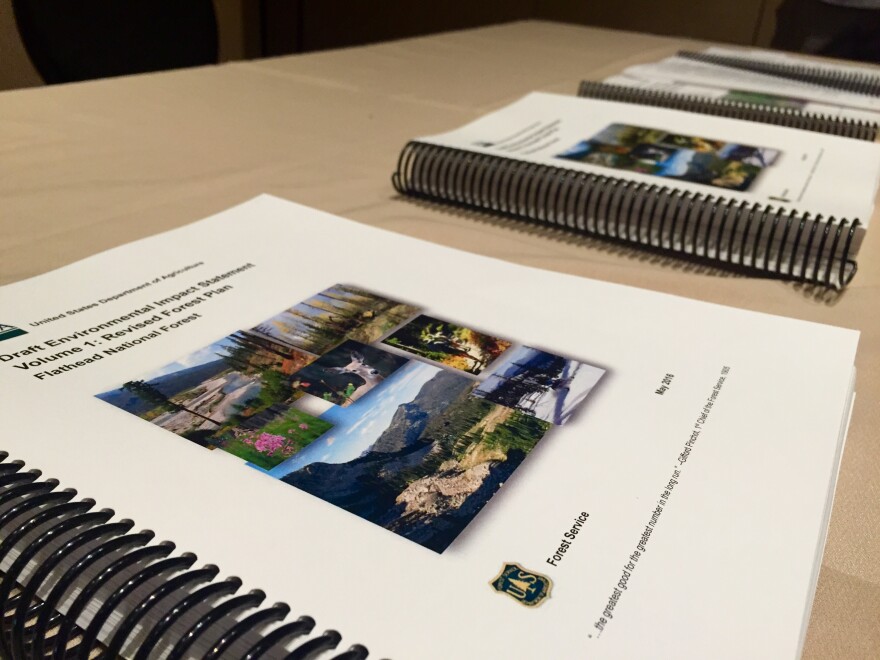 The forest in the Flathead is about to see some big changes – or not. It all depends on how proposed changes to the Flathead's National Forest Plan shake out.
"The current plan we've been operating on started in 1986, that plan has been amended, we've keep that up to date, and now it's time to look at all of those amendments in whole," says Joe Krueger, planning team leader for the Flathead National Forest.
Krueger met with members of the public and recreation, environmental and industry advocates Wednesday afternoon in Missoula to discuss proposed revisions to the Flathead's draft forest plan.
Right now, there are four possible alternatives on the table. By the end of next year, Krueger hopes to mix and match until there's just one.
"It's not going to be easy," says Krueger.
The forest plan is meant to set up guidelines for different projects the U.S. Forest Service may do on public lands. For example, the plan outlines where logging can happen, which areas should be recommended for wilderness designation, where it's ok for people to mountain bike, how the Forest Service wants to handle mining operations.
And people are really interested in how the Flathead National Forest is used. Forty-five people showed up to a similar meeting in Kalispell on Monday.
The Flathead Valley one of the fastest growing areas in the state, and people there have a lot of interest in different types of recreation. The alternatives for the plan reflect that. One would recommend about a half-million acres for wilderness designation – that means no roads, no biking. Another would recommend about a third of that, and another would promote flexible management with more opportunities for timber sales.
It's a bit like the story of Goldilocks and the three bears.
"It's like, juuuust right," Krueger says. "And like I say, I don't know what that is."
That's what nights like this are for, to meet with people and hear what they think about how the forest should be managed.
Mike Bader is an independent consultant in Missoula.
"Really just the future of the roadless areas on the Flathead, it's really part of one of the wildest ecosystems left in the lower 48," he says. "I'm here to recommend the lightest hand on the land possible and the most roadless, wilderness area protection they can give."
Most of the other people at the Missoula meeting were there to represent interest groups. There was a wildlife advocate, a mountain bike enthusiast, a Wild and Scenic River defender. All these voices will be reflected in the final draft of the Flathead's forest plan. Here's plan team leader Krueger.
"Ultimately we wanted them to help shape recommendations, and we wanted people to agree," he says. "We didn't get that but the team listened to all the feedback they were receiving."
Comments on the four versions of the plan will be accepted until Oct. 3. From there, Krueger and his team will mix and match aspects of all four alternatives to form one final draft plan.
At the same time supervisors for the Flathead are revising its plan, Krueger is also writing an amendment that could be adopted by four other national forests in western Montana.
This amendment would support management and monitoring programs for grizzly bears in the Northern Continental Divide Ecosystem, where the threatened species has been recovering in recent years. It's estimated there are about 1,000 bears living there now, and Krueger says that number grows by 3 percent each year.
The amendment would standardize how five forests – the Flathead, Helena, Lewis and Clark, Kootenai and Lolo – address management of grizzly bear habitat. Approval of this amendment wouldn't change the bears' current threatened status under the Endangered Species Act, just support grizzlies whether or not they're de-listed.
"What we've been doing out there has obviously contributed to that recovered bear population," Krueger says. "So let's codify that and consistent management direction across this ecosystem."
Krueger and others acknowledge the plans are complicated – his team received 20,000 comments in preparation of creating each 500-page alternative plan. But that shouldn't stop people from participating in setting the vision for their public lands, says Michael Fiebig. Fiebig is the Northern Rockies associate director for American Rivers.
"Getting involved in public lands management can be really intimidating for people, it's full of jargon, it's very complex. But you know what, people can get involved just by showing up to meetings like this," he says. "They don't have to know the jargon, they don't have to know the law. They just have to get involved."