Montana politics, elections and legislative news.
Trump In Billings, The Campaign Contributions Roller Coaster, Substance In The Gov. Race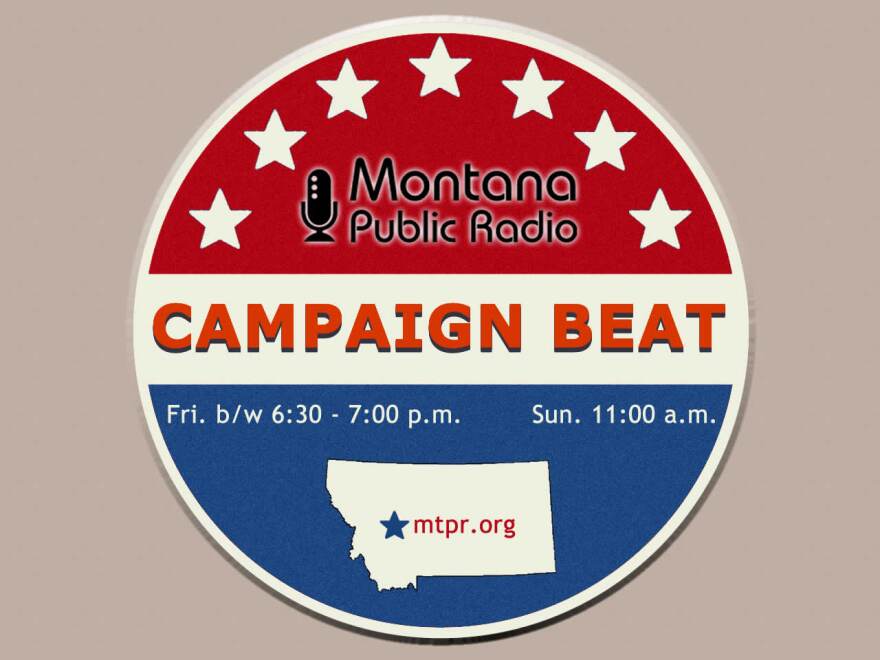 The Trump campaign stops in Billings, limits on party donations to candidates are temporarily back in effect, and where's the substance in the gubernatorial race? Chuck Johnson & Professor Rob Saldin join MTPR's Eric Whitney to discuss on this episode of "Campaign Beat."
Trump in Billings
Thursday, presidential candidate Donald Trump held a campaign event in Billings on the same day that he secured enough delegates to officially become the Republican Party's nominee.
"It seemed to be everything we've come to expect from Trump," says Professor Rob Saldin. "His speech was entirely unrehearsed, totally off the cuff. He was, as usual, straightforward, direct, aggressive, frequently over the top. It was filled with mockery of his opponents and fawning flattery of his supporters.
"Also, as we've come to expect, the speech lacked -- as far as I could tell -- anything approaching serious engagement with a policy issue, or the governing process. And there was nothing really there to indicate that Trump had any real interest in learning more about those things. Now of course, for his supporters, those are all the things they love about him. For his critics, that's just more fuel on the fire."
"North Dakota sort of stole Montana's thunder on the Trump visit," says Eric Whitney. "Earlier in the day, he was in North Dakota and he gave an energy policy speech, somewhat more substantive, and also secured the delegates over there, so my take is that Billings was kind of a drive-by for him."
"It was vintage Trump," says Chuck Johnson. "No surpises. The 'crooked Hillary' line is one he's been saying for some time. I don't think she's ever said she wants to abolish the second amendment, but that's a line he's used many times too."
The most significant Montana news out of Trump's visit may have been Rep. Ryan Zinke's response to the visit, and Senator Steve Daines' endorsement of Trump.
"Ryan Zinke introduced Trump, and he held his name out to Trump as willing to be his vice-presidential candidate or secretary of defense should he win," says Johnson. "That drew some shots from Zinke's opponent Denise Juneau, who said why don't you worry about your job in Congress, and pointed out that he missed a key Land & Water Conservation vote while he was in Montana."
"It was actually kind of an exact replay of what we saw when Speaker Boehner stepped down in the House," Saldin says. "Ryan Zinke said that people were talking about him as a potential House speaker, and that's what he said this time about being vice president. Not only did he put his name out there, but he suggests people are talking about it. I don't know who those people are. The only person I've heard talk about it publicly at least, is Ryan Zinke himself."
Campaign contribution limits.
Last week, Federal Judge Charles Lovell struck down Montana's campaign contribution limits, and then this week he put his own ruling on hold.
"The state is actually just appealing part of his ruling," Johnson explains. "What they're appealing and what he stayed is striking down the limits on how much a political party can give to a governor candidate, which is $23,850.
"This became a major issue in the 2012 governor race when Lovell issued a similar ruling and then the 9th Circuit Court of Appeals overturned it. So there was a brief period when candidates could accept larger-than-usual donations from political parties."
Gianforte easement lawsuit
Gov. Bullock continues to try to make hay out of a 2009 lawsuit that his Republican opponent Greg Gianforte filed over a public stream-access easement that crossed his Bozeman property. This week the Bullock campaign reached out to MTPR and asked us for an interview on this topic.
Professor Saldin explains the controversy:
"The story re-emerged a couple weeks ago in a piece on Montana Cowgirl, which is a liberal, anonymous blog. The issue is over a dispute between the Gianfortes and Montana Fish, Wildlife & Parks. The Montana Cowgirl piece characterizes that dispute as an attempt by the Gianfortes to block public access to the East Gallatin River."
Gov. Bullock: "However you want to try to paint it seven years later, he [Gianforte] filed in court against the state of Montana to get rid of this legal access. That's an affront to Montanans."
Is the issue really as cut and dried as Gov. Bullock makes it sound? Was Gianforte really suing to block public access to stream, which really is sort of sacred in Montana?
"The Governor is indeed correct is saying that the Gianfortes lawsuit sought to remove the easement," Saldin says. "In fact the Gianfortes' complaint said that they were 'entitled to achieve clean title to the property without burdensome encumbrances such as this alleged easement.' It goes on to say that they were seeking a court decree 'extinguishing the improperly conveyed easement, and any other such easement rights claimed by FWP and/or the public.'
"It is also true that there were spur trails off the main trail that did, in fact, cross the Gianfortes' property, in violation of the easement. So the Gianfortes did have a legitimate claim on that front. They also maintain that there was significant confusion over this easement, where its boundary was and other such matters. That appears to be true.
"In the end, common sense seemed to prevail here and a sensible resolution was reached outside of court, in which those spur trails were removed by FWP, and the Gianfortes put up a fence to make sure that people didn't wander off the main trail.
"Access was never actually denied. The Gianfortes maintain that far from looking to deny the public access, they've actually helped facilitate it by, among other things, allowing people to park on their property.
"What's really going on here isn't about this particular incident, which was basically a minor disagreement that took something of an ugly turn before a reasonable solution was found. For Democrats, this is a story that highlights a much broader allegation that Gianforte is an ideologue whose values don't match up with Montana. They want to portray him as a right-wing nut on a whole range of issues including abortion, LGBT issues, religion, public school, and public lands. So this lawsuit is one of those things that comes along in a campaign that, maybe on its own terms doesn't seem like all that big of a deal, as easy to explain away, but that some think is illustrative of the general disposition. I think that's really why Democrats are hitting so hard on this."
Gubernatorial debate
"I get the sense that neither campaign so far has really taken on the other side on really substantive policy issues," Whitney says. "We've had the stream access suit going on. Supporters of Gianforte are trying to make a big deal of the governor using the state plane for campaign purposes, which he's reimbursed the state for some of those expenses. Meanwhile this week, we heard that the two candidates agreed to their first one-on-one debate coming up on June 26."
Will the discussion change when the candidates meet face to face?
"Just adding to your list of un-substantive issues; my favorite is the Democratic charge that Gianforte is a 'New Jersey billionaire,' which is just ridiculous," adds Saldin. "And playing off of that, I noticed this week that Republicans have now taken to referring to Steve Bullock as a 'New York lawyer,' presumably based on his days at Columbia Law School. Also silly.
"Gianforte's campaign has been very disciplined in its focus on the economy, and he's put forth some serious policy proposals on taxes and education. While Bullock hasn't offered up new policy proposals, he certainly has sought to run on his record over the last four years, repeatedly pointing out his efforts to keep the state's fiscal house in order, the high employment rate in Montana, and improvements in healthcare, and so on. So there is substance in there, and the candidates are really staking out different visions for Montana's future. It's true, a lot of the attention is focused on these somewhat side issues, but once this debate comes along next month, the candidates will have a chance to present those visions more directly and talk specifically about some of the issues."
"Debates themselves, I don't know how much difference they make in elections," Chuck Johnson says. "In the 2012 race, Bullock and Rick Hill debated six or seven times. If debates were what the election were decided on, I think Rick Hill would've won.
"It's a chance to show Montanans who they are, what they stand for, see how they stand up to the criticism of the other side, and kind of get a good feel for them."

"Campaign Beat" is hosted by MTPR's Sally Mauk, with UM Political Science Professor Rob Saldin, and former Capitol Reporter Chuck Johnson. Listen every Friday at 6:48 p.m. and again on Sunday at 11:00 a.m., or via podcast.