Montana politics, elections and legislative news
Campaign Beat: Mail-In Voting, COVID-19 Aid And Climate Change
Gov. Bullock's complaint about the federal response to Montana's pandemic equipment needs yields results. Sen. Daines has a new campaign ad bragging about that aid. Democratic gubernatorial candidate Whitney Williams wants to have an online debate with her primary election opponent. Montana will have its first-ever statewide mail-in primary election. And in a close vote, the public service commission decides not to sponsor a forum on climate change.
Listen now on Campaign Beat, with Sally Mauk, Rob Saldin and Holly Michels.
Sally Mauk: Holly, Gov. Steve Bullock this week extended his shelter-in-place order for another two weeks, and this wasn't unexpected. But the longer the statewide shutdown goes on, the more pressure is going to build on the governor from Montanans who are hurt by it economically. And he's already, for example, getting blowback from the Montana Landlords Association for his order prohibiting any renters from being evicted.
Holly Michels: Yeah. This is, I think, the first real public blowback that we have seen to a lot of these directives and orders that the governor's put in place. You know, they pretty dramatically have changed day-to-day life in Montana. We have a lot of businesses that are shut down, people that are out of work, a lot of people hurting financially. And that's why we saw the governor put in this directive that the Landlords Association is taking issue with.
It's a pause on evictions. It doesn't relieve people from owing their rent money when this state of emergency is over. And Bullock did make pretty clear that people who can pay still should be paying their rents.
But I think it's fair to say that probably a lot of people in Montana weren't able to do that. We've had about 58,000 people file for unemployment since Montana got its first COVID-19 cases. And the Department of Labor said that only about 24,000 payments have gone out, so we know a lot of people are looking for aid from the state, but not receiving it yet. And there's also the federal stimulus package, but those checks that could be up to $1,200 haven't reached people yet. So I think people are struggling to make rent.
But landlords did raise some points that they think Bullock's directive might violate some parts of state law, some landlord-tenant laws. Bullock's office didn't respond to the legal questions raised about that, and landlords, what they demanded is that Bullock either get rid of the directive that puts a pause on evictions, or offer up some aid for them like, you know, renters have aid that they can access through state employment.
Bullock did, in a press conference, point out that landlords would be eligible for some help, maybe from the Small Business Administration, or in the CARES Act that we've seen passed at the federal level. So you think as this goes on, as Montana sort of stays shut, we might see see some more tensions, you think early on a lot of businesses and people really were supportive of these measures that, you know, are hurting people but should help slow the spread of the virus. But I think as things continue, we might see some more pushback.
Mauk: In interviews with NPR and The New York Times this week, Gov. Bullock also complained about the poor federal response to Montana's requests for more N95 masks for health care workers. Montana asked for 80,000 masks, but only got 10,000. Here's Bullock:
"I've gotten five times more supplies of N95 masks from North Dakota than I have from the Strategic National Stockpile."
But Holly, since this aired, the rest of those masks have been delivered, but they were only delivered, of course, after he raised the issue.
Michels: Yep. We heard Bullock say that he had to reach out to FEMA and say, "Hey, you said that these masks were on a truck to Montana, but they never arrived." We also heard Sen.s Tester and Daines yesterday say that they had pushed to get the masks. Sen. Tester is the most vocal. He said that he's got some pretty significant concerns about FEMA, you know, like Bullock said in that clip. Those masks came from the National Stockpile, which we've seen reporting that it's just about depleted.
Tester said now shipments are coming in from Pacific Rim countries, and then FEMA is collecting those and pushing them out to private distributors. And Tester said he doesn't see that there's adequate oversight over those private distributors. You know, there's nothing to say that those masks are staying in the U.S. or getting where they need to be. So he wants to see some sort of daily accountability for that.
But, like you said Sally, those masks did get here. It's good news for health care providers, first responders and other people. But we also know that a survey of hospitals in Montana shows the need's about 500,000 masks, so we're still pretty short of that and there are some challenges with supplies.
Mauk: Meanwhile, Rob, Sen. Steve Daines has a new campaign ad out referencing the pandemic response. Here's an excerpt from that ad:
"Sen. Steve Daines unveiled three major proposals today that will help protect Montana's workers, families and small businesses during the coronavirus outbreak."
"Daines said Montanans and Americans shouldn't have to choose between their paycheck, their personal health and the health and safety of others."
This ad implies, Rob, that Sen. Daines should get the credit for this federal aid coming to Montana, but that's credit he has to share with a lot of others, including Democrats.
Rob Saldin: Right Sally. Yeah. Yeah, you know, it strikes me for all these politicians, they have a little bit of a tricky line to toe just on the politics of it. You want to be relevant, but there's also maybe a danger of being perceived as politicizing the situation.
But then it's also the case, I'm sure, for Daines and all the rest of 'em, you just genuinely also want to do what you can to use the power that you have to do some good in a situation like this. But we talked about this a couple of shows ago. You know, unlike governors, these members of Congress, you're right: I mean, they have to share a lot of the credit that the power is dispersed for people in Congress. It's really the executives in our political system who are really in the driver's seat on this situation.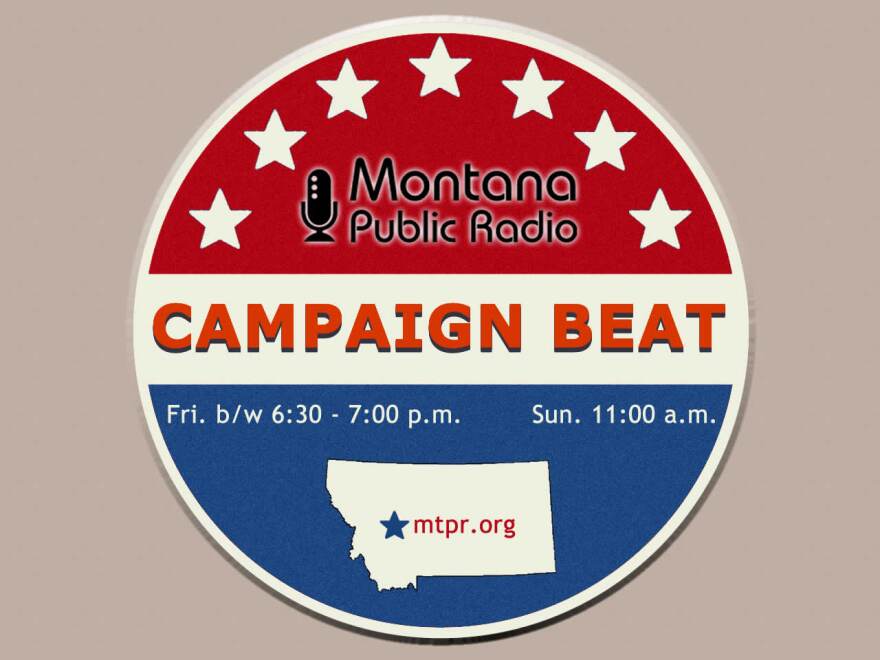 Mauk: Holly, Democratic gubernatorial candidate Whitney Williams this week suggested a virtual online debate between she and her primary opponent, Lt. Gov. Mike Cooney, so, she says, voters can make an informed decision about that race. What's the status of that request?
Michels: So as of now, we haven't seen anything from the Cooney campaign saying that this is something that they would do. We also don't know.
In Williams' press release, she said that they would reach out to media outlets who are typically the people who host these debates. You know, get the place to put it up, have people asking the questions and then broadcast it out either on their websites or TV stations or radio. So I think there's not much clarity over if this is something that will happen, and I think the technology is there.
I think this is something that, we talked about this a couple of shows ago also, that this is going to be a really hard election year for challengers and sort of newcomers. And Wendy Williams, the Williams name is not by any means new to Montana politics, but this is her first time she's run for office in Montana.
Her opponent, Lt. Gov. Mike Cooney, who is not an incumbent for the governor's race, but he is lieutenant governor, he's been around for a very long time and he's also very visible right now. He's in the background of every press conference the governor's holding. So I think this would be a way for Williams to get her name back out and in front of voters. You know, we're about just four weeks from when ballots are sent out. So I think candidates are trying to find a way to be as visible as possible right now.
Mauk: Rob, every county in Montana has agreed to conduct an all mail-in ballot for the June primary, and that will be a first for the state, to have every single county do that.
Saldin: Yeah, Sally. I mean, I at least see this as really good news. We're fortunate in the sense that, unlike some states, we had plenty of time to get a plan in place to hold our primary on schedule and avoid some of the chaos and uncertainty that we've seen in other places. And, in fact, the downright insanity of the situation that played out this week in Wisconsin.
So, I mean, the backdrop to all this, of course, is this longstanding debate over whether we should move to all-mail elections permanently. Basically, Democrats say that that would be good. It would make voting easier for people and it would increase turnout, which they tend to see as a good thing in and of itself. And then you have Republicans, by contrast, who are often raising objections that all-mail elections create opportunities for voter fraud.
And the president kind of inserted himself into that debate here in the last week or two, saying, basically making the subtext text, and saying that that he objects to vote-by-mail because it would make it harder for Republicans to win elections. So, you know, I think there are some principled arguments out there, but a lot of what's always underpinned this issue is a calculation about whether it would help or hurt your team.
But I think, here in Montana fortunately, we can kind of table that debate, at least until we get through this primary. We can carry the thing out on schedule, in an orderly manner, and be able to get the word out to everyone with enough advance notice about how it's going to work, what people can expect, and and we can save the debate over whether we should make this kind of thing permanent moving forward.
Mauk: But Holly, it's important to point out that if you still want to turn in your ballot in person, you can do that. And that's something, that for some reason, Secretary of State Corey Stapleton has failed to make clear.
Michels: Yeah, Stapleton sent out an email that goes to a list of all businesses that have registered with his office, and, to Rob's point about all-mail elections, it says that this is the second time in three years the governor has pushed for all mail ballot elections. He references an amendatory veto, and then this directive by Bullock that let counties choose to do that. So I think that's interesting to look at how he's characterizing that.
But the email also says that the June primary election will eliminate in-person voting locations, and be conducted primarily through the U.S. Postal Service. But like you said, Sally, it's important remind people that they can still vote in person. The directive from Bullock made it pretty clear that counties still had to offer expanded, in-person voting so people can do that at their elections office.
And the hope is that people do default to vote-by-mail, so that there's a less, you know, a smaller volume of people showing up in person so we can maintain social distancing requirements. But it is important just to make clear that you still can cast a ballot in person if that's how you prefer to do that.
Mauk: Lastly, Rob and Holly, the state Public Service Commission had another row recently over whether to hold a public forum on climate change. And the forum was proposed by Commissioner Roger Koopman, who has not in the past been a big believer in climate change. But here's what he said:
"I believe it benefits the Commission to listen not to political spokesmen, which always have a lot to say about these matters, but to scientific experts representing a full range of divergent opinions in these vital, really, rate-impacting, policy impacting questions."
But Rob, the commissioners voted 3-2 not to hold the forum.
Saldin: Right. And, you know, I found this issue to be interesting, not so much because it was all that big of a deal on its own terms. This was really just about holding a forum in which you'd have some experts come and testify about the extent to which climate change is a man-made phenomenon.
So there was never any kind of requirement that the PSC would, you know, after this hearing, respond to the evidence that was presented and make a policy change or anything like that. It was just a hearing. But that this was even something that came up at all, I think is interesting.
And as you say, Sally, the commission split 3-2, right? So it wasn't a unanimous 5-0, we aren't going to do this, but they brought it up and there was some internal dissension over it. And that's just interesting because the PSC has been often criticized for being too cozy with the utility companies that it's supposed to be regulating. And a forum like this would have definitely cut in the other direction.
And I guess the other dynamic that's kind of out there with the PSC, and we talked a little bit about this in a different context a few weeks ago, but there's been all kinds of tension within the board, right? There was a spying operation and hacked e-mails and allegations of intimidation and so on. And all of this despite, of course, all five members of the current board being Republicans. And I wonder if those tensions aren't playing some role in this skirmish over whether to hold this forum.
And that's just because I at least hadn't previously perceived much difference of opinion within the board on climate change. Koopman himself says that he leans towards being a skeptic of climate change, and he describes the rest of the board that way, too. So it's interesting to see this split emerged over climate change.
Mauk: Interesting for sure. And Holly, this vote could spark some voters to pay more attention to the PSC races. It seems to me, for example, those who care a lot about climate change might look at this vote and think, "Oh, I want a different commissioner on the board."
Michels: Yeah, I think you're right. There's three seats on the PSC that are up for election this year. I think we've seen, you know, just looking back, there have been some pretty high-profile points of frustration members of the public have had with the PSC. You know, when NorthWestern Energy was submitting its plans for power procurement, and frustration, you know, with Colstrip and those issues, and people feeling like climate change and concerns around that weren't being heard by the PSC or valued enough in those discussions. So I think we could see some pretty heightened interest in those races this year.
Mauk: Something we will continue to track, and Holly and Rob, take care and we'll talk to again next week. Thanks.
Campaign Beat is a weekly political analysis program produced by Montana Public Radio. Campaign Beat features University of Montana political science professor and Mansfield Center fellow Rob Saldin, and Lee Newspapers Capitol Reporter Holly Michels and host Sally Mauk. Join us next week for more analysis of Montana politics.