Wildfire, fire management and air quality news for western Montana and the Northern Rockies.
Injured Gibralter Firefighter Says Embers Fell Like Snowflakes
I met Jarrell Miller at the fire information meeting in Eureka Wednesday night.
He was one of the first people to respond to the Gibralter Ridge Fire east of town late Monday night, he says the forest looked a little like winter.
"You would think it was snowing but it was glowing," Miller said, "glowing embers that were flying, and then everywhere those landed- they landed all around - there was potential for thousands or millions of fires, but only a few of them would ignite."
Miller is part of the Trego Fortine Stryker Volunteer Fire Department, one of the first crews to respond to the Gibralter Ridge blaze. It's now estimated at about 1,300 acres.
"You have a shovel, an axe and a rake" he said, "and you get to a fire that's burning, and the ground is really dry. Personally, I probably put out at least 20 fires that night, just spot fires."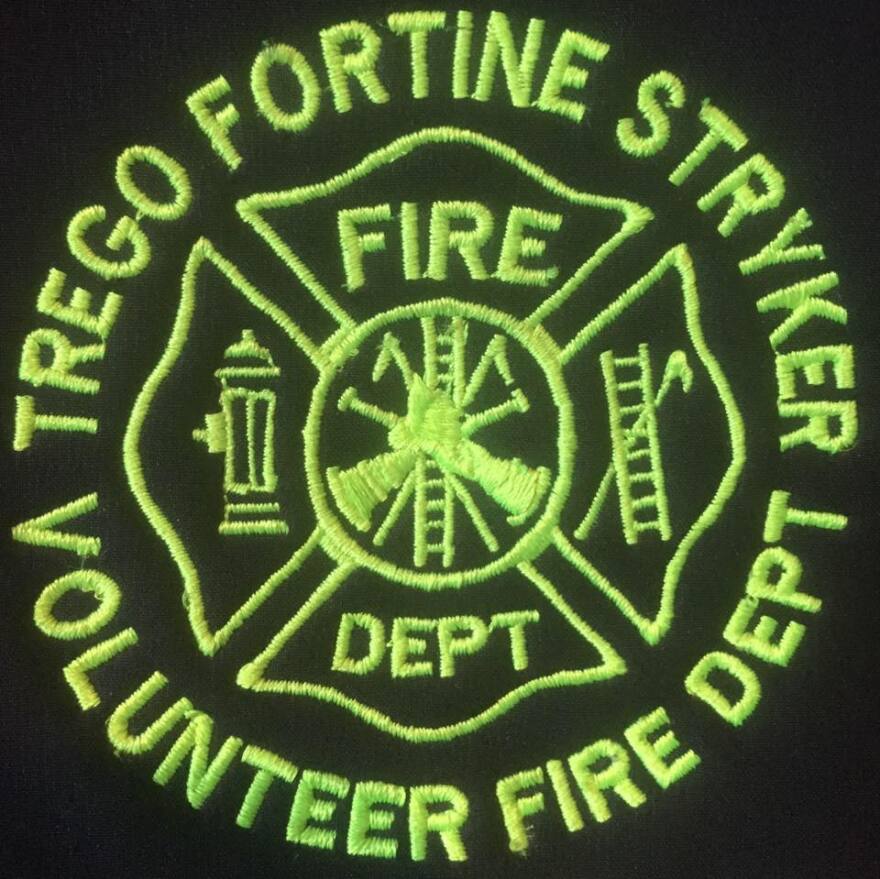 Miller and a couple dozen others from the Eureka Fire Department and U.S. Forest Service worked overnight to keep the fire upslope of Foothills Road, knowing the road would likely block the fire's spread toward houses below.
Right around dawn on Tuesday, he climbed atop a brush tank, a backcountry engine the size of a small pickup, to refill its 250-gallon water tank.
"And we had filled before just by sticking the hose in the top and hanging on for dear life," he said, "but I don't know, I guess i didn't hold on good enough."
At this point, he'd worked a full day at his contracting job, and then spent the whole night dousing live embers in the dark in heavy deadfall.
"It's one of those things, you see the hose started to fill and you kind of get a feeling this might not be good," he said.
The force of the hose filling with water bucked him off the engine and laid him flat on his back.
"I don't remember anything after that," Miller said. "I just remember the hose picking me up, and that was it until I woke up in the ambulance. But, it could have been worse, could have been a lot worse."
He fiddles with the bracelet from his overnight hospital stay as he shows me six staples on the back of his head. He'll take the next two weeks off to recover from his concussion and relieve some of the ache in his back and shoulders.
The Gibralter Ridge Fire is now under a Type 2 Incident Management Team. They briefed about 200 people at a community meeting Wednesday at Lincoln County High School. Some were under evacuation and pre-evacuation notices, like David Skipton.
"We could see a glow up on the ridge," Skipton told me, "and there was a great deal of ash in the air, and a great deal of smoke. and with that pre-evacuation notice we felt it was prudent to go ahead and head to town."
Skipton and his wife, Sharon, split the work of quickly packing at 3:00 in the morning.
"David worked on picking out the important documents we'd need with us, and I focused on taking the items we that we would want," she said, "and my first criteria was that if could it could be purchased today, no matter how expensive it was, I didn't take it, because that could be replaced.
Less than a carload made the cut - irreplaceable mementos from their parents' homelands, gifts from friends. They spent Tuesday night in their small camper outside the Red Cross's shelter in Eureka, but they felt pretty good about their house.
"We keep a perimeter that's grass around the house," David said, "and we do have a sprinkler system to keep that wet. we don't have any woodpiles, or brush close to the house. So, trying to keep fuel sources to as much to a minimum as possible."
The Skiptons hoped to return home for the night after the community meeting.
"Much better to be home," David said, "if it's safe."
Lincoln County Sheriff Roby Bowe set the tone for the meeting when talking about evacuation orders, mixing the most dire of announcements with a bit of levity.
"I'm not going to arrest anybody that stays, but having said that, if the fire starts going into your area, we're not going to send anyone to help you out," Bowe said. I've cleaned out some of the jail to put people in there, if they're showing up in that area," he added, getting a laugh.
About 30 homes remain under an evacuation order. Dozens more are under a pre-evacuation notice. Area residents are encouraged to sign up for Code Red alerts to receive updates by call or text. Residents in the evacuation zone were told they'd be allowed to return to their homes briefly Thursday morning.
Rick Connell, commander of the Western Montana Type 2 Incident Management Team, told the crowd that their immediate focus is protecting private property and state land downslope of the fire. An atypical wind pattern is not helping.
"That's the challenge right now," Connell said, "these odd winds are really problematic because it's not the normal way fire's burning. It should be burning west to east, not east to west. And downhill, normally fire runs uphill."
Fire officials are assessing homes in a process they call "structure triage," where they look at vegetation and fuels close to the house, building and roofing materials, and road access to decide if they can feasibly defend it, said Brett Pargman, an operations specialist on the Type 2 team.
"Things like that. things that would make it harder for the firefighters to essentially defend or protect a structure if a fire was moving in," Pargma said.
Area closures are in effect for the Ten Lakes-Grave Creek recreation area. More information about the Gibralter Ridge Fire is available here.