Montana politics, elections and legislative news
Montana Gubernatorial Candidates Circle The State To Excite Voters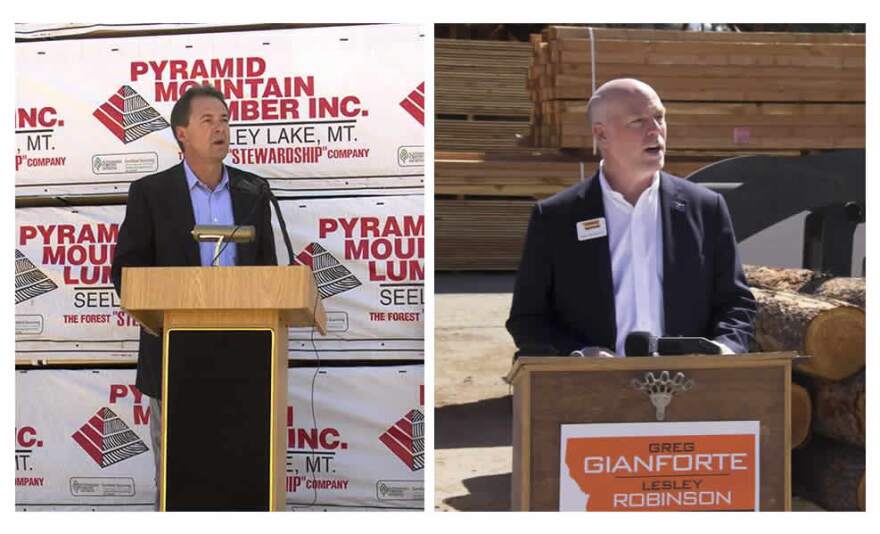 Next week, Montanans will learn whether Republican Greg Gianforte or incumbent Democrat Steve Bullock will be the state's governor.
In the run-up to voting day Tuesday, November 8, the two candidates are zig-zagging across and circling back thousands of miles around Montana, hoping it might make a difference.
"Candidates try to close the deal by doing these big bus tours, or these sweeping...hitting every town between here and Scobey in the next 12 hours. It's the way candidates end the race," journalism professor at the University of Montana Lee Banville said.
This last effort by the candidates tries to get their bases excited to vote, if they haven't already, and make one last pitch to the undecided voters, he says.
"It's going to draw lots of media attention, it's going to reaffirm their message, and it going to make them feel like they are deeply involved in these communities that are far-flung in Montana," Banville added.
I reached Republican Greg Gianforte on his cell phone as he was pulling into Plentywood earlier this week. In the week leading up to November 8, he's hitting more than 30 cities and towns.
"We're doing seven stops today," Gianforte said. "We started in Glasgow, we've done Wolf Point. We'll be in Culbertson, Sidney, Glendive. And you know this is my twenty-sixth trip to eastern Montana in the last year. And the folks out here honestly feel forgotten."
Gianforte says, if he's elected, he'll make sure rural Montanans have a voice in the Capitol.
"The issue is the center of the universe is not Helena, Montana. It's small businesses in small towns all over the state. And I think it is important, as governor, to make sure everyone's interest is represented."
He says all around the state, in the larger cities and small towns, there are some universal interests.
"The number one thing I hear is it's about jobs. And people realize that too many of our young people are leaving the state. And people want their families back together," Gianforte said.
Gianforte is going to need support from the small towns like the ones he's making campaign stops in if he's going to win. Lee Banville says that's because a large base of the Republican Party lives in rural areas in the state.
"There are fewer people, but there's a higher percentage of typical Republican voters," Banville said. "So, he's trying to get people in those towns, those smaller towns in particular, really excited about getting out and voting because he needs those small towns to show up in high percentages so he can offset the more Democratic city areas in Montana."
Gianforte is getting to the bigger cities like Bozeman, Billings and Missoula, but he's making more stops in smaller towns.
Democrat Steve Bullock is also putting in over a 1,000 miles over the next few days, but not to as many places, and Lee Banville says he sees the incumbent governor focused on certain areas.
"Montana is traditionally a red state with blue islands. And those islands are the cities of Montana and the reservations and so when we look at Bullock's list, that's where he's going," Banville said.
A path along those islands of more predictable Democratic support is taking Bullock in what's nearly a complete circle, stopping by all seven Indian reservations in Montana and hitting all of the state's larger cities.
"The key issues of this race don't boil down to just regional issues," says Bullock on his phone early Thursday morning in Havre.
"They're really about what's our education system going to look like? What is our quality of life going to look like? What is our access to public lands? What's our tax structure going to look like?" Bullock said.
Even though he's not making as many campaign stops as his opponent, Bullock says regardless of where he travels his job stays the same.
"Being the governor certainly means that I'm responsible to serve all Montanans in every corner of the state, even when I can't get out to every community in a number of days," Bullock said. "But it is important to me to speak to as many people as possible and remind them that there is a big difference between the candidates."
As Bullock and Gianforte spend the next few days on the road, trying to rally support, or do some last-minute convincing, some of that effort will be lost on people who have already decided who they support and are now just waiting to see the results.
Over a third of registered voters in Montana have already sent in their absentee ballots. That's more than more than 200,000 people.