Montana Health Department Will Enforce Vape Ban Despite Pending Lawsuit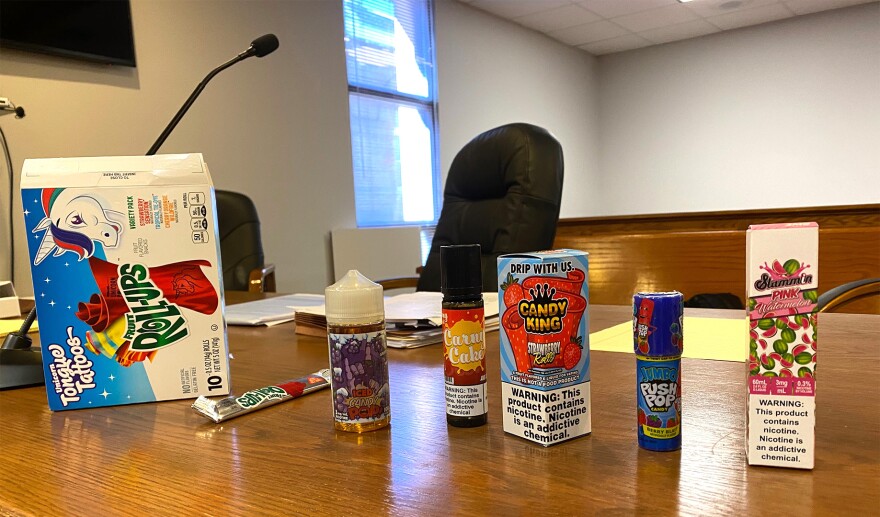 Montana's health department says it will begin enforcing its emergency ban on the sale of flavored vaping products beginning Dec. 18. The agency today said a temporary restraining order preventing the ban from taking effect expired October 28.
Six weeks ago Ravalli County District Judge Jennifer Lint heard arguments on a motion by industry groups seeking a preliminary injunction against the ban. Lint has not yet issued a ruling.
Gov. Steve Bullock's Chief Legal Counsel, Raph Graybill, says the state can't afford to wait any longer.
"Out of respect for the court's decision making process we wanted to wait to get a decision. It has now been six weeks since the hearing and people are still getting sick. There are still too many young people in Montana who use flavored vape products. A public health crisis remains and it's important that we respond."
Hamilton's Freedom Vapes is one of several Montana vape shops that asked for the original preliminary injunction filed back in October.
Co-owner Deanna Marshall declined Montana Public Radio's request for a taped interview Friday, but described the state's most recent move as a slap in the face to the judicial process.
Gov. Bullock's attorney Raph Graybill says the state is not skirting around the law to get its way.
Raph Graybill: No, so when the TRO was entered back in October — TROs have a 10 day time timeframe — it's the responsibility of the petitioners, if they wanted the TRO to stay in effect, to ask for that, to have gone back to the court. They have not done that. They have an opportunity to do that now. But once the TRO expired, nothing prevented the state from providing the kind of response I think our citizens expect."
O'Brien: So if this theoretically, if this takes place next Wednesday, what exactly is on the table?
Graybill: It will look the same as the enforcement scenario looked like before the lawsuit. I think everyone agrees that the shops will will comply with the rules once there's a final decision. I expect shops would remove the flavored products from their shelves just during the temporary period of time under the ban. And we would rely on a mixture of self reporting and, sort of, county health departments to do the the actual enforcement.
O'Brien: One of the petitioners tells me that if this does happen — and they do promise a response to this, by the way — they will have to lay off their entire staff, "Merry Christmas."
Your response to that is?
Graybill: I think the hearing now two months ago established that these businesses have made a lot of money in the past three years. At the same time that a large number of Montana young people became addicted to these products. The way the rules are written allows the shops to still sell vapor products that are unflavored and that are not targeted towards young people. But for those products that we know young people are using in alarming numbers and that we know are coming from local shops, these rules will make it harder and help protect our teenagers from getting addicted.
O'Brien: CDC has made it clear that while there's no final verdict, there's plenty of evidence to suggest that it's THC products, black market products, use of vitamin E acetate that's to blame, that's behind these lung illnesses; and that these illnesses nationally peaked in September and have been declining since. So if you trust CDC, which I assume you all do, where's the urgency here?
Graybill: Well, there's been a great public health success since the real peak of the [inaudible] injuries, which is that people became much more aware, in part due to things like our hearing in Montana, about the risks associated with these products. And I think that has driven down some use. I think it's noteworthy that the CDC has not landed on a final conclusion about the cause of these injuries. Importantly, the CDC is still dealing with the fact that there are, I believe, upwards of 20 percent of people who are injured by these products and in hospitals or dead who only use nicotine products. And there are cases like that in Montana. So I think the CDC's work is not done.
I also think these rules were precipitated by two concurrent threats to public health. One was the rapid incidence and increase in injuries to people. We saw that in Montana, five additional cases were identified since this lawsuit started. The other was the alarming rate at which young people were becoming addicted to nicotine products. 60% of Montana high schoolers have tried vaping. 30% of middle schoolers have tried vaping. Those were alarming numbers that required action. You probably heard in the hearing that none of these products have ever been approved by the FDA for inhalation. There is actually a federal court case that requires the FDA to start taking a hard look at these products and decide whether or not they're safe for sale in the United States. And that deadline's coming up in May. So one of the advantages of the temporary emergency rules is it creates a safer baseline condition for children in Montana until the FDA starts looking at these products. They could decide these products are safe. By the same token, the FDA looking at the products, looking at the risks could say, you know, we shouldn't sell flavored products in the United States because they addict teenagers and tend to harm people.
O'Brien: Back during that hearing in late October, Boston University public health professor Dr. Michael Siegel, no friend of Big Tobacco, said that this kind of move temporarily banning these flavors is going to push more young people to use these really dangerous, sketchy black market products. Do you agree with him there?
Graybill: I don't. And I think that Dr. Jackler appropriately contextualized that kind of argument from Dr. Siegel that that was not a mainstream public health response. I think it's well-established that children get involved because the flavors are targeted toward them. And if you make those kinds of products not available on the general non black market, fewer people use them. As you remove certain products from commerce, it's less likely people will use them.
O'Brien: And that's Stanford University School of Medicine professor Dr. Robert Jackler, who takes a real hard line on these vaping products, right?
Graybill: I think he does. I think that his views represent the mainstream of public health researchers.
O'Brien: Final question, Mr Graybill. To those adults who were legally purchasing these products, who preferred these flavors to kick the habit of smoking, but they don't want to use a menthol flavor or tobacco flavored stuff; are you hindering their attempts to to kick the cigarette habit?
Graybill: I wouldn't agree with that. I think that the way the rules are written respect the ability of adults to make responsible choices. And if adults want to use vaping products they still have available to them menthol or non flavored vaping products. I think what the rules also take into account is that flavors like "Carny Cake" or like "Slammin Watermelon" which were brought to the hearing. Those flavors are clearly targeted towards young people. And I don't think there's any doubt. I think Dr. Siegel, their expert, agrees there is a massive epidemic of youth use. These products don't come from nowhere. They're purchased at stores. And we know they're targeted to kids. And we know that by reducing access to kid oriented products, fewer kids will use them.
—
That was Raph Graybill, Gov. Steve Bullock's chief legal counsel discussing the state of Montana's announcement Friday it will enforce its emergency ban on the sale of flavored vaping products starting Dec. 18.
Attorneys representing vape shop owners challenging that ban in court did not respond to Montana Public Radio's request for an interview.