Court Hears Challenge To Montana's Temporary Vape Ban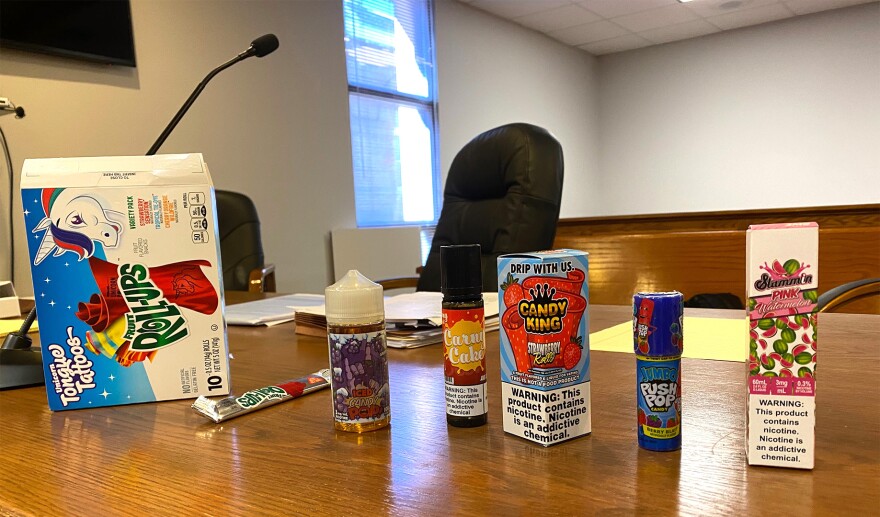 The Bullock administration appeared in State District Court in Hamilton Wednesday to defend its order to temporarily halt the sale of flavored e-cigarettes in the state. A Montana vaping industry association is challenging that order, and a state judge has allowed the continued sale of flavored vaping products until a final ruling is made.
Montana Public Radio's Edward O'Brien was at the courthouse Wednesday and joins us now.
Edward O'Brien: Well, it was quite the marathon session. Some of us in the press corps who attended today's hearing expected an hour or two, maybe three. It ended up being a marathon session running almost eight hours with over 10 witnesses and just as many, if not more, attorneys.
Corin Cates-Carney: And just a reminder for listeners, this is all about Gov. Steve Bullock's 120 day ban on flavored vaping products he announced earlier this month. At the time of the order the Bullock administration said it was responding to what it called a rapidly developing public health crisis. Edward, how is the administration defending this ban in court?
O'Brien: Well, boiled down, the attorneys representing the state said that proposed emergency ban on flavored e-cigs was meant to basically reduce the appeal of vaping to kids. They say the flavoring is really designed to increase the frequency of vaping and to eventually, long term, attract more customers. They point to the almost 1,500 cases nationally of pulmonary illness and over 30 fatalities, including one here in Montana. And again, they're saying these e-cigs and vaping devices are creating a new generation of nicotine addicted kids.
Cates-Carney: We've heard from state doctors on this so far. But during the court hearing today, bring any new compelling witnesses for their case.
O'Brien: There were several compelling witnesses on both sides of this. For the state's side, one I found particularly interesting, Dr. Lauren Wilson. She's a Missoula pediatrician, holds a leadership position in the Montana chapter of the American Academy of Pediatrics. And she pointed out that vaping has loads of volatile organic compounds and silicate. And she says that the long term risks may be slightly lower than straight-up tobacco products like cigarettes, but we just don't know yet. Dr Wilson says she and her colleagues suspect that these kids will later graduate to cigarettes. She says those colleagues are asking now nine and 10 year olds if they're vaping. They want to find out who's doing it and they're frustrated by this.
The state also brought forward a school resource officer from Missoula and a school administrator from the Bitterroot who say they're confiscating more e-cig and vape products over the past couple of years. The school resource officer says a ban on flavors would help make vaping less alluring.
Also, finally. There was a Bitterroot mom, Mindy Hogan, she has two kids and she says she's been blindsided by the prevalence of vape and e-cig trends. She's finding out more about it through interaction with her kids. She has lots of experience in social work and hospital care and says this whole thing is mortifying to her and she wants to find out more.
Cates-Carney: We heard from the vaping association leading up to this that Bullock ban could really hurt their businesses, cause them to lay off workers now that they're in the courtroom, who they bringing up as witnesses to argue their case?
O'Brien: There were the four vape store owners. And the president of a trade association representing the group All Montanans, who, as you said, say this will devastate their businesses and employees, and not really do anything to help the public health crisis. They maintain that it's THC and black market products that are making so many people ill.
One of the most interesting exchanges, I thought, involved a witness presented by the plaintiffs themselves, who of all things, described himself as an anti-tobacco warrior. Dr. Michael Siegel, he's a professor of community health sciences at Boston University's School of Public Health. And Dr. Siegel pointed out that the vast majority of vaping related pulmonary illnesses and deaths, as reported by the federal Centers for Disease Control and Prevention, involved young men who were vaping THC and those black market cartridges. He says it's no coincidence that the mortality spike is a relatively new phenomenon and he chalks it up, again, to the THC vaping and the use of a form of vitamin E that's used as a as a thickening agents.
Again, the state argues their temporary ban is focused on those flavored e-cig products because it's drawing-in kids; that kids find that attractive. Dr. Siegel counters that the flavoring really isn't the main issue. It's the high nicotine levels that he's most concerned about in these products. He argued that the ban on these flavored products will exacerbate the youth tobacco problem, pushing more people — adults and kids — to traditional cigarettes.
As I mentioned, vape store owners testified. All were plaintiffs in this case. One of them are Lucas Anderson is owner of UBlaze Vapor and president of the Montana Smoke Free Association, the trade group. He says his business would be destroyed by the ban. While he disliked the candy packaging, he says it's not a problem in his store since he's never sold to young people; something that all of the vape store owners were boasting about. Furthermore, Anderson described the temporary ban as a knee-jerk reaction and that DPHHS, the State Health Department, never stepped forward to offer legislation, to come up with legislation to restrict access to young people.
Cates-Carney: And do we know when the judge is going to make a ruling?
O'Brien: We do. The state, there were so many witnesses the judge ran out of room in her courtroom. The state still has a couple of more witnesses to present. They'll bring them forward Friday at noon. And we think we should have an answer to this case then.
Edwin O'Brien joined us from the state district court in Hamilton.