Is Butte's Tailings Dam Safe? Montana Standard's Susan Dunlap Explains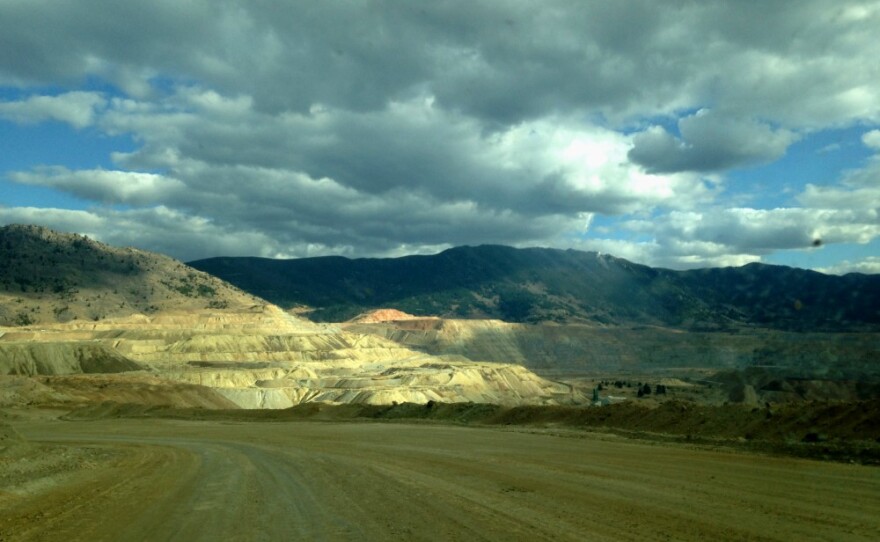 Nora Saks / Montana Public Radio
The company that operates the active copper mine in Butte, Montana Resources, is seeking permission to expand its tailings dam, so it can keep mining. But Atlantic Richfield, which shares responsibility for the Berkeley Pit, says one day the dam could collapse, fill the pit and destroy Butte if more isn't done. Nora Saks sat down with the Montana Standard's environmental reporter, Susan Dunlap, to find out more.
SAKS: Can you paint a picture of the Yankee Doodle Tailings Impoundment? Where is it in Butte, and what is its function?
DUNLAP: The tailings impoundment is right behind Montana Resources' mining operation. It rises 750 feet behind the Berkeley Pit and the Continental pit, which is the active mine. The foundation of the dam is half a mile wide at the crest. It's about 300 feet wide. It currently holds about 750 million tons of mine waste.
SAKS: Montana Resources wants to make some changes to the Yankee Doodle Tailings Impoundment. What are they proposing to do and why?
DUNLAP: They want to raise the west wall 50 feet, and that's so they can keep mining. If they don't get this permit amendment that they've applied for through the Department of Environmental Quality, they will have to close by 2021.
SAKS: So, raising the wall allows them more capacity for mine waste? Is that how it works?
DUNLAP: Exactly, and without the capacity for mine waste, you can't mine.
SAKS: After Montana Resources submitted this proposal to expand the tailings dam, Atlantic Richfield, which is a former oil giant, expressed some real concerns through some comments. What are they concerned about, and why are they involved?
DUNLAP: They bought the mining operation from the Anaconda Mining Company in 1977. The dam was built in 1963, and the Atlantic Richfield company shut down operation in 1982, so they own all of that liability for all those, all the tailings that were deposited behind the dam and the dam itself with MR.
They say that they're not nervous that the dam will fail anytime soon. Everyone seems to agree that the dam is completely safe, currently, but what they say is they're worried about the future. Maybe there will be mismanagement some point in the future, and they've talked to me about if there's water that collects too close to the dam or some, some kind of issue around, around the dam being too wet for too long.
SAKS: What are the hazards? What would that mean?
DUNLAP: Atlantic Richfield looked at a study that Montana Resources commissioned this year that is a sort of worst case scenario, and the scenario is that 30,000 acre-feet from 56 years of tailings dam storage would come spilling out of the dam and inundate the mining operation in the town. It would then also overflow the Berkeley Pit, and then the Berkeley Pit water would rise above the groundwater table, which is supposed to never do, and inundate the groundwater with toxic heavy metal water.
SAKS: What action does the company want to take to mitigate any future risk?
DUNLAP: So, part of Atlantic Richfield's proposal for how they want to deal with the potential of a tailings dam failure is to build a whole new water treatment plant south of the Berkeley Pit. The current water treatment plant was built in 2003, and it would be in the pathway of a tailings dam failure and would be inundated and rendered useless.
So, part of what Atlantic Richfield wants to do is spring for a whole new water treatment plant that would not only be outside the pathway of a potential dam failure, but also could draw down the Berkeley Pit to potentially as much as 150 feet. That would enable the Berkeley Pit to potentially catch the tailings, if they did come out of the, out of the dam.
SAKS: So they're not trying to prevent Montana Resources from this tailings dam expansion?
DUNLAP: That's right. In fact, Atlantic Richfield officials told me this week they do not oppose Montana Resources' plans to expand the dam. They simply want Montana Resources to employ the latest, most cutting edge technology to monitor the dam and create an alert system that Atlantic Richfield feels comfortable with.
SAKS: Your reporting last week created somewhat of a stir. What has Montana Resources' response been to Atlantic Richfield's concerns?
DUNLAP: They say that they are employing the most cutting edge technology that's out there. Through satellite surveillance, they will know if the tailings dam moves, even by a millimeter. They say they have 600 sensors. They are constantly, every summer, drilling, testing the content within the dam, testing it all the way down to the granite bedrock that's underneath.
They say that they're doing everything that they can be doing, that they are employing the latest technology, and they also say that they've had meetings to discuss this with their experts, and Atlantic Richfield has declined to attend those meetings.
SAKS: The Berkeley Pit and Yankee Doodle are right next to the Continental Divide. What about this whole idea of an earthquake and any seismic activity. Is that a concern that MR and AR have?
DUNLAP: Atlantic Richfield hasn't expressed a concern about the Continental Fault. Montana Resources has designed to the most - the highest probable or possible earthquake that could happen here, which I think is a 6.5 magnitude earthquake. Mike Stickney, the seismologist at Montana Bureau of Mines and Geology, says that there hasn't been an earthquake of that magnitude in, likely in 10,000 years.
SAKS: Is it possible to tell whether Atlantic Richfield fears about dam safety are warranted and whether Montana Resources' assurances that there's very little danger and that they're well prepared are credible? How do you assess that as a reporter?
DUNLAP: It's a little bit difficult because you can't say what, what will or will not happen in the future, and that's what Atlantic Richfield is expressing concern about. Montana Resources has a history here of being very transparent and very open and very willing to open the door and say come on in and take a look at what's going on here and talking to the media and talking to the public.
I think that it is credible that there's no reason for concern currently. But, if there will be mismanagement 30 or 40 years down the road, who can say?
SAKS: What are the next steps ahead in this process for the Yankee Doodle Tailings Impoundment?
DUNLAP: The next thing that will happen is the Department of Environmental Quality will come out later this summer with a response to Atlantic Richfield's public comments on the dam and their concerns about it, and DEQ will also at that point issue a decision about the permit expansion that Montana Resources is asking for.
Beyond that, no one knows for sure when the Environmental Protection Agency will make a decision about the proposed new water treatment plant. But, I think that the companies are hoping that that decision will be made by the end of the year.
SAKS: Susan, you're a resident of Butte. Anything else you want to tell us about the Yankee Doodle Tailings Impoundment and what's going on with it right now?
DUNLAP: The dam is really, really huge. And it's extremely well monitored. There are a lot of eyes on that dam, and it's visited by DEQ on a regular basis. I don't think there's too much to worry about currently with the dam and MR's been a very responsible company.
SAKS: Well, thank you so much for your reporting on this topic and for chatting with me today.
DUNLAP: Thank you, Nora, for having me.