Montana politics, elections and legislative news
'Campaign Beat:' Trump In Missoula; Senate Race Spending; Tightening House Race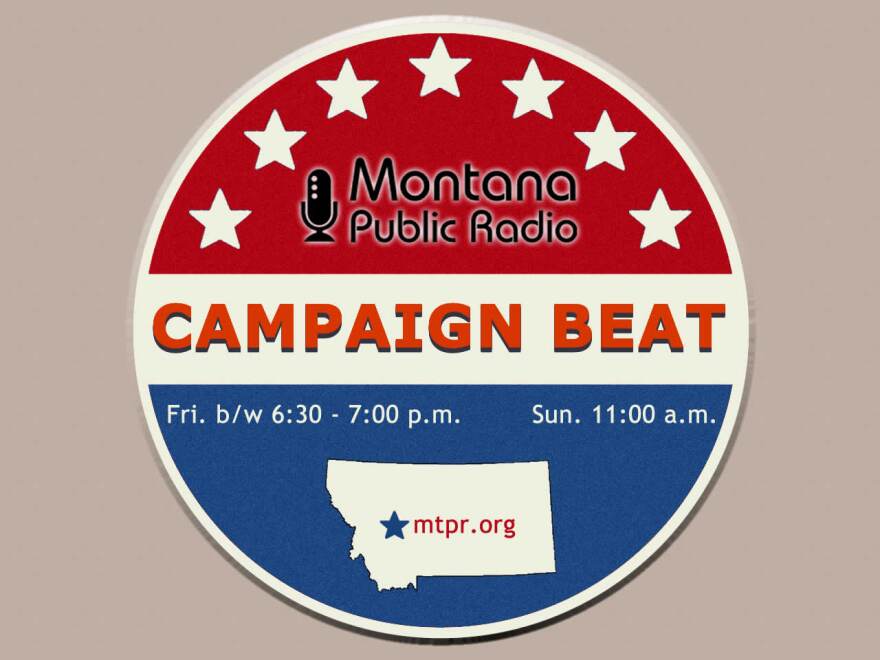 Sally Mauk, Chuck Johnson and Rob Saldin talk about President Trump's rally in Missoula and his contradictions and vendettas; the Senate race spending spree; the latest nasty ads; and the tightening House race between Greg Gianforte and Kathleen Williams. Listen in now on "Campaign Beat," MTPR's weekly political analysis program.
Sally Mauk: Welcome to "Campaign Beat" our weekly political analysis program. I'm Sally Mauk and I'm joined by veteran Capitol Reporter Chuck Johnson and University of Montana Political Science Professor Rob Saldin.
And Rob, thousands of Montanans crowded into an airport hangar in Missoula to cheer Donald Trump on his third visit to Montana. He made a grand entrance as Air Force One pulled up close to the open hangar door, and the crowd loved it.
Rob Saldin: They did. It was a beautiful night in Western Montana. You couldn't have asked for a more gorgeous backdrop, and the eyes of the state and indeed the eyes of the country were focused on Missoula for Trump, one of his rallies in his element, here to support Matt Rosendale and Greg Gianforte.
SM: Trump hammered the theme that Democrats have become an angry mob, "Bent on destroying anything or anyone in their path, and your senator is one of them." he said.
And you think at this point, Rob, that he's going to go on and talk about Jon Tester. But he went on to talk about his hair.
RS: Right. There are some odd segues at a Trump rally and this was certainly one of them. Though you gotta say that the mob rule thing is clearly a theme, not only for Donald Trump, he came back to it a number of times, but for the undercard speakers Steve Daines and Greg Gianforte and for Republicans across the country in the wake of the Kavanaugh nomination.
SM: The statement that made national headlines out of the rally was this about Congressman Greg Gianforte.
"Any guy that could do a body slam, he's my kind of guy," Trump said.
This after talking about the angry mob and how despicable that is, and then bragging about this body slam that Gianforte did — in the wake of a Saudi journalist being brutally murdered.
RS: You know we're probably years past the point when we can be shocked by the lies and the inconsistencies and the indecent behavior. It's just baked into the cake with this president. It's clearly not going to change. And it's also just as clearly a real source of his connection to his supporters. They love him for it not in spite of it. But even foregoing any expectations of normal presidential behavior or basic decency, I think you're right Sally it was jarring at the rally to see him, on the one hand, issuing these pious warnings about the threat of the angry liberal mob, and then just moments later celebrating Gianforte's violent assault on a reporter. And this was something that was different than what we've seen in the previous Trump visits. Several weeks ago in Billings, Trump just alluded to the assault. But in Missoula he talked about it directly and he praised Gianforte for it, and it was a real hit with crowd.
One thing I do wonder though, is how Gianforte felt about the president's remarks. Trump's comments were way out of step with how Gianforte has handled the situation since he owned up to the assault. And while the crowd at the Trump rally apparently loves the thought of violently confronting the media, I'm not so sure that that's a helpful message once you get beyond those hardcore Trump loyalists.
SM: Finally Rob, Trump made clear why he has come to Montana three times, and it's not to keep Republicans in control of the Senate as one would think, but to go after Jon Tester and take him down after Tester was instrumental in Trump's nominee to head the V.A. going down — Ronny Jackson — and here's what the president said:
"I can never forget what Jon Tester did to a man that's of the highest quality. You would have loved this man in this state. And so I said, 'I've got to come here got to help. ' Because what he did was unfair. What he did what he did was vicious. What he did was — as they did with Judge Kavanaugh — same thing.
SM: And then he went on to say, in fact what he did to Ronnie Jackson was even worse than what happened to Justice Kavanaugh, in his opinion. This is very personal, Rob, with the president.
RS: Well yeah, he confirmed at the rally what we'd long suspected: that all these trips to Montana to campaign for Matt Rosendale are first and foremost about exacting revenge on Tester. And at the time when all this came out last spring it was clear it had gotten under Trump's skin. It wasn't clear if that would just be a momentary thing, he'd forget about it the next day. Clearly he has not forgotten about it. And clearly that's what's motivating all this attention from the Trump administration on Montana and on the Senate campaign.
SM: Chuck, Montana's Senate race isn't just attracting Trump's ongoing attention, it's also attracting millions of dollars — the most ever spent, in fact, on a Montana Senate race — and the candidates are topping between them $20 million with Tester leading Rosendale, I think, 5 to 1. And then there's another $20 million from outside groups.
Chuck Johnson: Yeah, we've never seen anything like it, Sally. And you know, you can't turn on your TV if you're on a local station without getting an ad that's pro-Tester, pro-Rosendale, or more likely anti-Tester or anti-Rosendale. They're just flooding the airwaves. Of course, now's the time when people are getting their absentee ballots and so continue until the election. And you know, you really wonder at what point do these ads quit doing any good. People have seen them over and over again. And then there's a new round and the points are made over and over again. But I guess their polls must show it's worth it. And you know, by all accounts it's a close race.
SM: Here's one of those ads, and this is from the Tester campaign.
"Here on our border we need leaders in Washington to help us protect America. In Montana's U.S. Senate race, the National Border Patrol Council strongly endorses Jon Tester."
"When politics in Washington threatened to cut back on agents on the border Jon Tester went to work across the aisle, got us the manpower and technology we need to secure our border."
"We endorsed President Trump and now we're endorsing Jon Tester to protect Montana and America."
"Jon Tester for U.S. Senate."
"I'm Jon Tester and I approve this message."
SM: This ad features Border Patrol officers and I think it's so effective, Chuck, because it addresses the immigration issue that Republicans like to claim and it features Trump voters who pledged to vote for Tester.
CJ: Absolutely Sally. This is an ad that features an endorsement that must have been one of the ones that tickled Tester the most, to get the endorsement of this group which endorsed Trump in 2016. And of course a lot of the debate nationally has been about building a wall. Well this is the endorsement from the people that would be staffing that wall and currently staff the border. I think it's an ad that is probably one of the more effective of Tester's. And Tester is trying to go after those Montanans who voted for Donald Trump, and this is a good ad aimed at them.
SM: Matt Rosendale, Rob, has a new ad that juxtaposes Ronnie Jackson who we referenced before, and Bret Kavanaugh.
"I'm Matt Rosendale and I approve this message."
"Confront them where they eat, where they sleep, where they work. That's the radical left. And Jon Tester is with them. Tester lied, smeared Trump's pick, destroyed a career for politics. Then they attacked Judge Kavanaugh. Unfounded claims. A media circus. Jon Tester invented it. Dianne Feinstein perfected it. It's Washington at its worst. If you've had enough, it's time to defeat Jon Tester."
SM: And this ad, Rob, claims that Jon Tester is a member of the "radical left" which I think is a stretch at best. But it's probably a message that's being hammered hard enough that it's gaining some traction.
RS: Well I think it's a variation on the "liberal mob" theme that we've seen play out and everyone hit on it at the Missoula rally; the undercard of Steve Daines and Greg Gianforte talked about it. Obviously Trump did. We see it here in this ad. And the basic premise, I think, is that regardless of how, in this case, Jon Tester may look like a Montanan — he's a farmer, he's missing some fingers in a very Montana-like accident from his childhood — But however much Montana cred he has, at the end of the day what really matters is how he's gonna vote, and he's gonna vote with the usual list of bogeymen out there: Chuck Schumer, Nancy Pelosi, Maxine Waters. And that's what really matters. As Chuck mentioned earlier, I suspect that this line of attack is working, they have reason to think that it's working. That's why we see him keep hammering on it here in the closing weeks again and again and again.
SM: And as Chuck said, the closer we get to the election the nastier the ads get. We're certainly seeing that.
Chuck, lets switch to the House race where the latest fundraising figures for the last quarter have to be troubling, perhaps, to the incumbent Greg Gianforte. Democrat Kathleen Williams raised twice as much as he did, $2 million to his $1 million.
CJ: Yeah, it was a sign that her campaign has certainly picked up a lot of financial support. I haven't had a chance to analyze where the money is coming from. But as we've talked about, she's been highlighted by the DCCC — the Democratic Congressional Campaign Committee — EMILY's List and groups like that. So, I think some out of state donors are giving money, but I'm sure a lot of it's Montana money. The thing to remember about Greg Gianforte, though, is as the wealthiest member of Congress he can easily write himself a check for a million dollars or two to make up any difference. But you know, I think she's said she'd raised money from 14,000 different donors. I didn't see any figures from Gianforte on how many people had given him money. But it shows she's still in the race. It shows she's making headway. He is probably the favorite, but I think she's gaining some ground on him, and whether there is enough time for her to overcome him I don't know.
SM: An analysis done by Nate Silver of 538 shows Gianforte and Williams in a perhaps increasingly competitive race.
CJ: That's right. You know, we don't have a whole lot of polling yet in Montana, and I don't know that we'll get a lot, especially in that race. I think there are national robo-polls all the time for the Senate race, but a lot of them don't cover the House race. So, I think it's fair to say this House race is up for grabs.
RS: Well, one other thing I noticed at the Missoula rally that made it different from the previous rallies. In his first two visits to the state, Trump all but ignored Gianforte, right. Not so at the Missoula rally. He talked much more about Gianforte, including certainly the praise of the body slam, but not limited to that. He also very directly attacked Kathleen Williams by name. He had Gianforte come up to the mic in the middle of his comments, along with Rosendale. He hadn't done that in either Great Falls or Billings. So the attention on Gianforte at the Missoula rally was different than what we've seen in the past and it just makes me wonder if perhaps Montana Republicans are feeling a little bit less confident about that House race and maybe specifically requested that the president pay a little bit more attention to Gianforte.
SM: Gianforte has this new ad featuring the sheriff of Fergus county:
"I've been a sheriff for almost 25 years. I know firsthand what it takes to keep a community safe. I'm supporting Greg Gianforte. In Congress Greg has supported solutions to give law enforcement the tools we need to fight back against the opioid crisis. And Greg knows that illegal immigrants who commit crimes need to be deported, not released back into our communities. Greg Gianforte will stand with law enforcement and keep our communities safe. "
"I'm Greg Gianforte and I approve this message."
SM: And this ad, Chuck, mentions the opioid crisis and illegal immigration and has this pounding soundtrack. But I'm not sure that these are the biggest issues on voters' minds. What do you think?
CJ: Well, I always think the most important issues are the economy and jobs. But you know, perhaps he's done polls that show this is an issue that resonates with voters. Unlike the ad that we talked about with Tester and the border patrol people, this is a single sheriff. If you're going to do law enforcement, I always think the more the merrier. But if I can make an editorial comment, I'm always sort of bothered — and this applies to Democratic candidates as well as Republicans — when law enforcement officers go out in uniform to endorse them. There's something that I've always thought seemed a little unseemly about that, although it's obviously legal. But, if you're going to do it, I think the more the merrier. And remember, this is Fergus County, hardly on the border, but the opioid crisis affects most counties, I think, in Montana. It's just reinforcing points that Gianforte has made about the importance of a wall and that sort of thing.
SM: Rob, it's a little over two weeks to the election. Some people have voted and are voting with absentee ballots having been sent out. Is this the point where voters pay attention, or they just want it over, or both?
RS: Maybe a little bit of both. I mean, one thing that seems to me is notable about these campaigns is really, you know, aside from a Trump rally here and a Trump rally there is how little has changed. There have been no major bombshells here in the final weeks. We're hearing the same messages again and again and again. And I also sense that there aren't that many people who are undecided these days, right. And so, my sense is there's a little bit of a readiness to have this thing over and put it behind us and move on.
SM: I did hear a rumor that President Trump might come a fourth time, but we won't spread that rumor.
You've been listening to "Campaign Beat" our weekly political analysis program. I'm Sally Mauk and I've been speaking with University of Montana Political Science Professor Rob Saldin and veteran Capitol Reporter Chuck Johnson. It's been a busy week and now it's time to get out and enjoy some of that fall sunshine. Guys thanks.