Wildfire, fire management and air quality news for western Montana and the Northern Rockies.
Areas That Burned In 1988 Yellowstone Megafires Now Back In Play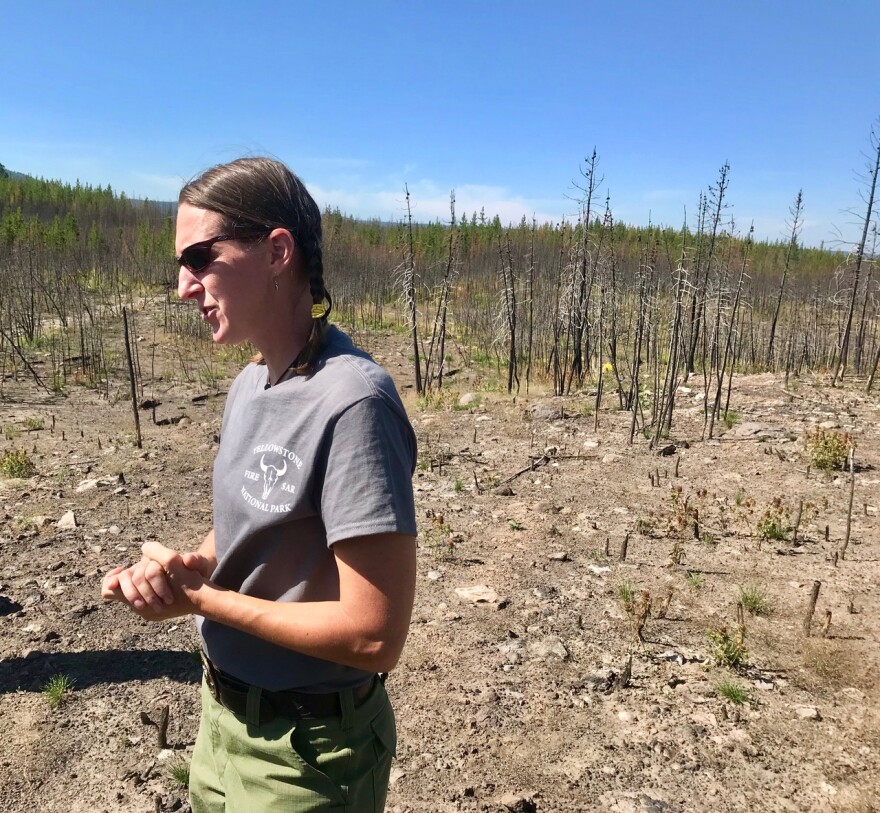 This year is the 30th anniversary of the fires that burned nearly half of Yellowstone National Park in 1988.
They freaked a lot of people out. Media coverage at the time characterized the fires as causing unprecedented devastation and the destruction of park forests and wildlife habitat.
But, "although it looked like devastation and destruction in 1988, it actually wasn't," says Becky Smith, a Yellowstone National Park Fire ecologist.
"This ecosystem evolved with fire, and it really is an integral part of this ecosystem," Smith says. "We wouldn't have the vegetation or the animal species that we have currently, or even in 1988 if we didn't have fire on this landscape."
Last week Smith took about a dozen reporters out to view part of the 1988 burn scar, to a lodgepole pine forest that had grown up enough to burn again in 2016, sooner than many fire specialists expected. The ground here is still mostly bare and black, with cooked-off stems of what were once short, skinny trees sticking up. But it's not a wasteland, Smith says.
"I see new life all over," she says. "I see a lot of early serral species coming up, the gayophytum, the lupine blooming two years after the fire, the fireweed coming in, the new seedlings. There's also several aspen seedlings coming up where there were not aspens before, which is really cool. I really see a lot of new life and renewal of the forest."
"This looks healthy to you?" I ask
"It does," she replies.
The resilience of the landscape means something a little different to John Cataldo. Cataldo is Yellowstone's fire management officer, in charge of responding to and fighting fires in the park. The burn scars from 1988 had been considered pretty much fireproof, until a big fire got loose inside the old burn scar a couple of years ago.
"What 2016 showed us was that under the driest of conditions, a fire could actually start in the '88 [burn scar], establish itself, and then move through it," Cataldo says. "Whereas up 'til then, it would only burn in that fire scar if it pulsed into it out of a mature forest."
So that means the 794,000 acres that burned inside the park in 1988 are now back in play.
"The park essentially has 2 million acres that aren't water or rock, and are somehow available to be part of a wildland fire," Cataldo says. "And, to suddenly go from 1.2 million to the full 2 million that under different conditions might actually burn, for it essentially almost doubled the size of the park that I'm responsible for managing fire across."
That doesn't mean fires are likely in the 1988 burn scars. Cataldo says it would still take exceptionally dry conditions for that to happen. Those don't exist right now, but they could. Yellowstone just upped it's fire danger rating to 'high' on July 20th.
"If we don't get any moisture with the thunderstorms and we get the warm dry weather and the wind that we've had that moved us from moderate to high, we'll continue to ratchet up the fire danger level, and it's not inconceivable by the third or fourth week of August that we could be at the extreme end of the fire indices, and at least for a portion of time have pretty intense fire in Yellowstone."
Like Fire Ecologist Becky Smith, Fire Management Officer Cataldo says fire on the landscape is generally a good thing in Yellowstone, and healthy for the ecosystem.
"We only have very small areas of the park that we're required by our fire management plan to suppress a fire," he says, "those are quarter mile buffers around the dozen-and-a-half or so developed areas throughout the park. Outside of that we can manage new fires for ecological processes."
Cataldo says that generally only applies to fires that are naturally occurring, not ones that are started by people.
One lightning-caused fire, the Bacon Rind, is currently burning inside the western boundary of the park, and in the neighboring Lee Metcalf Wilderness. Park and U-S Forest Service managers are not actively suppressing it at this time, both because its full of downed timber and dead trees that make it risky for firefighters, but also because the fire playing its natural role in the forests there.