New Forest Plan For Flathead Released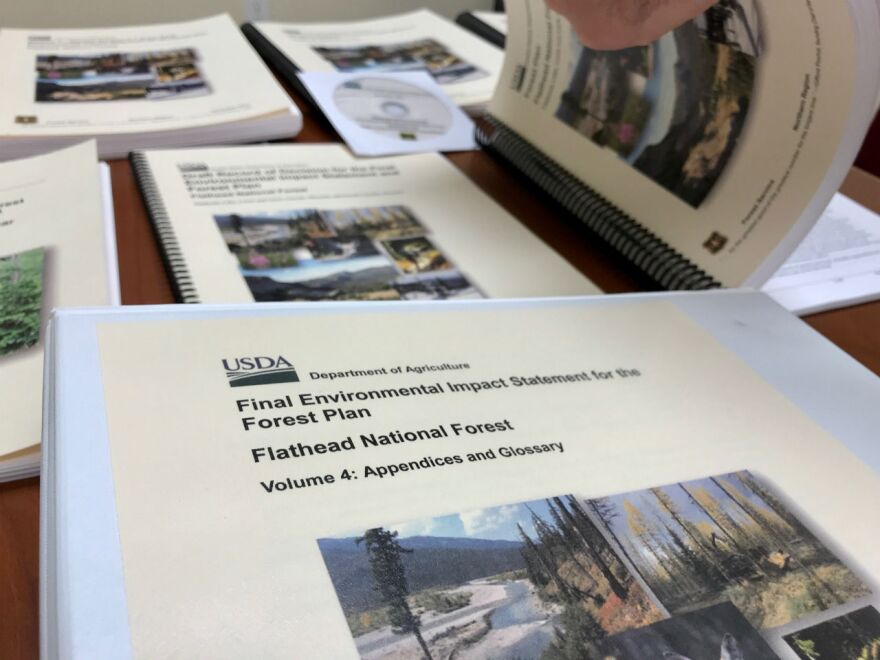 The Flathead National Forest released the final draft of its new forest plan Thursday morning after four years of fine-tuning and analysis. The plan will guide land use decision making for the next 10 to 15 years.
Flathead National Forest Supervisor Chip Weber says writing a guiding document like this is a balancing act between thousands of stakeholders.
"I guess I'd sum it up by saying I believe this plan is a very balanced approach for providing for all the values that are on the table, from what is currently and will continue to be a healthy and functioning ecosystem," Weber says.
The previous Flathead National Forest plan was written in 1986. The Forest Service originally considered four alternatives, and eventually landed on what it calls Alternative B Modified. Alternative B notably addresses an increasing demand for space for different types of recreation, like mountain bikes and snowmobiles, in the 2.4 million-acre forest's front country, which Weber says plays a big role in the Flathead's economy.
"We think that's a key role for us, both providing recreation and providing for economies."
The new plan also increases the acreage that the old plan recommended for wilderness protections to 190,000 acres, and identifies 24 river segments that Congress may consider for Wild and Scenic River designations. Critics say the new plan falls far short of the acreage that has been deemed suitable for wilderness designation.
"We went everywhere from zero to over 500,000 acres of wilderness recommendations. I believe what I am recommending is the best of the best of those opportunities," Weber says.
The forest plan also includes a section on grizzly bears of the Northern Continental Divide Ecosystem, a population that federal managers say may no longer need endangered species protections as soon as next year. Chip Weber says the bears' recovery is thanks in large part to conservation on the Flathead.
"The actual recovery criteria have been met, so the conservation strategy is around keeping in place those conditions that allowed them to get to the point of recovery."
Three other National Forests, the Helena-Lewis and Clark, Kootenai and Lolo, are also adopting forest plan amendments outlining the Northern Continental Divide Ecosystem (NCDE) Grizzly Bear Conservation Strategy.
Weber says the forest planning team spent months meeting with stakeholders and received almost 34,000 comments. He acknowledges that the plan he's moving forward will not please everyone.
"I think the process that got us here was highly collaborative, but I would make the distinction between a collaborative process and a consensus agreement on what the answer should be," says Weber.
Some stakeholders are decidedly not happy with this new plan. Arlene Montgomery is with the local non-profit Friends of the Wild Swan. She says Alternative B doesn't have enough protections for threatened and endangered species.
"It's kind of ironic that this plan, the alternative they selected is likely to adversely affect every listed species on the Flathead, so this is not a plan for wildlife, not a plan for native fish. It's a plan for, I don't know, something else. But it doesn't protect wildlife or fish habitat," Montgomery says.
Friends of the Wild Swan and another local non-profit called the Swan View Coalition have been participants in the planning process for more than a decade. They even submitted a set of recommendations that the Forest Service considered as an alternative plan. Montgomery says she sees nothing of those recommendations, which focused on wildlife and fish habitat, in the final plan.
"We're sort of shrinking the areas that these wild animals depend upon, and kind of having this tension then with recreational use," she says.
Montgomery says the new plan released Thursday removes existing habitat parameters for streams, and that the Forest Service isn't following its own best available science in some aspects of monitoring.
Montgomery and others who've been involved in drafting the new Flathead National Forest Plan have one more chance to raise concerns: Thursday marks the start of a 60-day objection period.
Only people or groups who've already been involved in writing the plan will be allowed to file objections.
Chip Weber with the Forest Service says drastic changes to the plan are unlikely at this point.
"It depends on what we hear in terms of what the issue is, and also what recommendations for solutions they bring to the table as well as us."
The Flathead National Forest will then have until mid-May to review the objections and respond.
Find more information about the revised Flathead National Forest Plan.