UM President Candidate Bodnar 'In The People Development Business'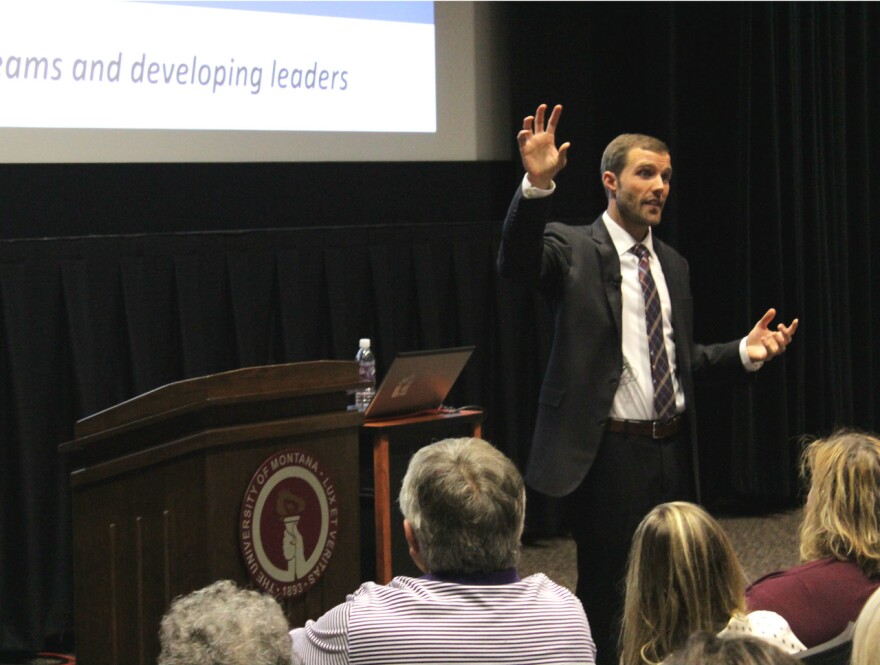 The third of four finalists to be the next president of the University of Montana, Seth Bodnar, spoke to, and took questions from, a packed house at the U-C theater this afternoon.
"I'm in the people development business," Bodnar said. "My passion, my purpose, my energy in life has come from working with helping to develop teams, and helping people to reach their full potential."
Bodnar is a West Point Graduate who also taught economics there. He is a former Green Beret, and was a special assistant to David Petreaus when Petraeus was Commanding General in Iraq. Bodnar continues to serve in the Army reserves.
He is a Rhodes scholar who earned two masters degrees from Oxford University, and is now a senior executive at General Electric. Bodnar is responsible for long-term strategy and business transformation at GE Transportation, a global company with over 10,000 employees and approximately $5 billion in revenue. He was previously GE Transportation's first-ever Chief Digital Officer.
Bodnar talked a lot about passion today, both his own and that of the campus and larger community.
"If you're looking for somebody who has all the answers, or is going to walk off from Mount Sentinel with the exact strategy with that the university needs, I'm not sure you're going to find that person," he said, "and I would posit that you don't necessarily want what worked somewhere else or what worked in the past. The leader that will be effective, I believe with this institution is one who can harness the tremendous energy of this community and bring it together."
Bodnar's wife, Chelsea Elander, is a Missoula native and a fifth-generation Montanan with a degree from Montana State who is a physician. They have three kids and currently live outside Chicago.
The final candidate for U-M's presidency, Chuck Ambrose, will be part of a public forum on campus Monday. Montana's Board or Regents is expected to make a final decision on the presidential selection later this fall.