Montana politics, elections and legislative news
Bernie Sanders Rallies Quist Voters In Missoula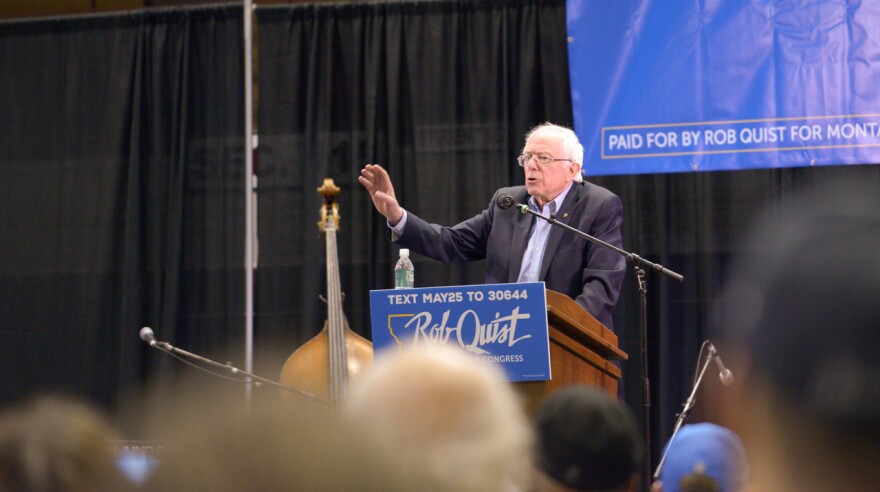 Bernie Sanders' first campaign stop in Montana for Democratic U.S. House candidate Rob Quist drew thousands, enough to mostly fill the Adams Center arena on the University of Montana Campus in Missoula.
The Vermont Senator who won Montana's Democratic party primary in the 2016 presidential race gave a firey speech that ignited an enthusiastic response, echoing themes from last year's campaign.
"The status quo in Washington, before Donald Trump became President, the status quo is not working. We need real change," Sanders said, to cheers. "And it is clear to me that the only candidate running for Congress who will fight for real change is Rob Quist," he followed, to even louder screams and applause.
Sanders railed against a "rigged political system," that governs on behalf of "the one percent," at the expense of the poor and middle class. He called for an end to the pay gap between men and women in the workplace, and for a $15 an hour minimum wage.
Sanders talked a lot about health care; about protecting women's health care, Planned Parenthood and women's access to reproductive health care specifically, and against Republican efforts to repeal and replace the Affordable Care Act in general.
The Republican American Health Care Act, which has passed the US House, Sanders said, "is nothing about health care. What this bill really is about is a huge tax break for the wealthiest people in this country." He questioned "what kind of a moral compass" Representatives who voted for the bill have.
"Rob Quist is going to bring a different moral compass to the United States Congress," Sanders said.
Quist himself, speaking before Sanders took the stage, talked a lot about health care, too.
His more laid back rhetorical style didn't elicit the crowd energy Sanders did, but he got loud cheers and applause when he delivered his now well-practiced lines about protecting public lands, standing up for women and, "in the greatest country on Earth, people should not have to go bankrupt because they have a medical issue. That is just fundamentally wrong."
The rally opened with a set of music from a live band fronted by Quist's son and daughter, Guthrie and Halladay Quist, followed by short speeches from two women who said they'd survived cancer and knew the importance of affordable health coverage. Quist's wife Bonni spoke, followed by Shane Morigeau, who represents Missoula House District 95 in the Montana Legislature.
Quist's speech included his poem about Montana, speaking about "her wild and natural beauty," and how "she's slow to grant her favors to come lately newer faces. To longtime suitors she reveals her hidden secret places." He also sang his campaign song, "Stand With Me," strumming his well-worn acoustic guitar.
"It was inspiring," said 16-year-old Ryder Lucarz said as he exited the Adams Center. His 20-year-old sister D.R. Lucarz agreed.
"Rob really spoke from the heart," she said. "I really liked his song."
The siblings were first in line to get in to the rally, getting there with their mother, Abby Lucarz at 5 am.
"We were excited," Abby giggled, explaining that they showed up two hours early last time Sanders was in town and weren't able to get in. "So I thought, let's make sure we get in this time."
Both Sanders and Quist ended their speeches imploring the crowd to help turn out the vote. In the 2016 election for Montana's House seat 56.3 percent of voters chose Republican Ryan Zinke and 40.5 percent voted for Democrat Denise Juneau.
Sanders and Quist's schedule includes stops in Butte at 3 p.m. Saturday, and in Billings at 8:30 p.m. Saturday, with a stop in Bozeman on Sunday at 11 a.m.