Heavy Metal Contamination Higher Than Expected In Silver Bow Creek, Study Shows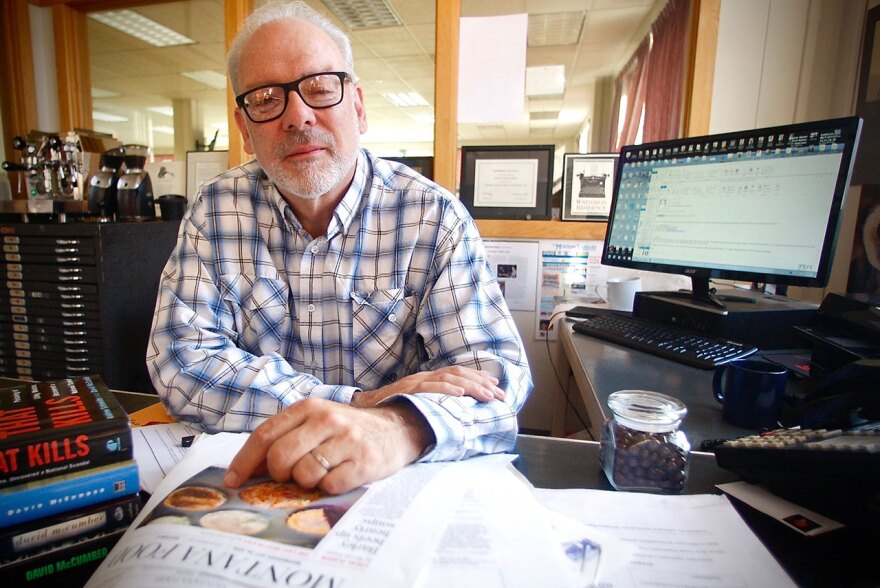 Last week, a citizens' environmental group in Butte presented new findings on levels of heavy metals contamination in Silver Bow Creek. Nora Saks talks to David McCumber, editor of the Montana Standard, about that study and about the Superfund clean-up going forward.
Nora Saks: David McCumber, thanks for joining us on Montana Public Radio.
David McCumber: Nora, Thank you for having me it's a pleasure as always.
NS: So last week, 30 people came out for a public meeting at the Butte public archives to discuss water quality in Silver Bow Creek. Can you tell us a little bit about the new study that triggered this meeting?
DM: The conventional wisdom that we've been working with is that Silver Bow Creek, under most circumstances, meets water quality standards and exceeds standards only during periods of high runoff; spring rains and snow melt and so forth. But, Joe Griffin, who has been hydro-geologist working on the Butte hill for a long time, now retired, but a member of the citizens technical environmental committee, which is a local committee that basically is charged with translating EPA Superfund garble-de-gook into English for people. He presented a report that shows exceedences, or higher than permitted levels of heavy metals in the creek during normal flow. So, obviously, there are more studies to come, but that's a really troubling development.
NS: Can you remind us where these metals are actually coming from?
DM: A couple places. One, from polluted ground water. We've talked before about the Parrot tailings and other mine wastes that are in the Silver Bow Creek watershed. But also from storm water which brings metals into the water from the soil.
NS: Some EPA Administrators were at this meeting. What was their response to this data?
DM: Nikia Greene, who is an EPA project manager for the Butte hill, said the agency is looking at the data and that they will continue to monitor the creek and continue to gather data. That's all they could say. Interestingly, Loren Burmeister, who is an engineer who represents ARCO and has been very involved with ARCO's efforts here, mentioned at the meeting that ARCO is going to have to consider further steps to prevent metals reaching the creek which I think is absolutely accurate.
NS: Can you paint a picture of what steps they are currently taking that might be more incremental and what kind of solutions they might need to take? Did they talk about that?
DM: Well, No, not in any great detail. As of now, for the groundwater situation, EPA and ARCO have come to an agreement that the current system is a viable system. They've left the mining waste in the watershed and they have a sub drain that's been installed to capture groundwater and take it to be treated. They've expressed confidence that that is working but I think that there's a real question whether that is effective, and a lot of people believe that the only long term way to both clean up upper silver bow creek and to protect the Clark Fork drainage is to take the waste out of the ground. That's what's really at stake in the current secret negotiations that are going on between ARCO and the state and federal and local governments here.
NS: So How does this all play out against the bigger picture and backdrop of the Butte cleanup, especially with the new presidential administration?
DM: That's a great question. The consent decree negotiations, which are designed to come up with the firm perimeters of the cleanup are going forward. Nobody really knows exactly what's happening in those negotiations. Really, the elephant in the room is the EPA. What's the EPA going to look like? What's it going to be empowered to do? What's it going to want to do under the Trump administration. The EPA is the primary enforcer in the Superfund and so, there's a lot of concern over just what kind of roll the EPA is going to take going forward. Part of that concern is that the negotiators might currently be trying to rush along and get something agreed on before changes occur but a lot of those who are really passionate about this cleanup issue here are concerned that in the effort to get some kind of an agreement done, that the state and the local government might basically give away too much. I wish we knew more about what was going on behind closed door but I guess we'll find out soon enough.
NS: Well, David McCumber thanks so much for joining us today and telling us all the news from Butte.
DM: Thanks for having me.