Montana politics, elections and legislative news
Montana Voting Trends, Jon Tester's Future, And Takeaways From The 2016 Elections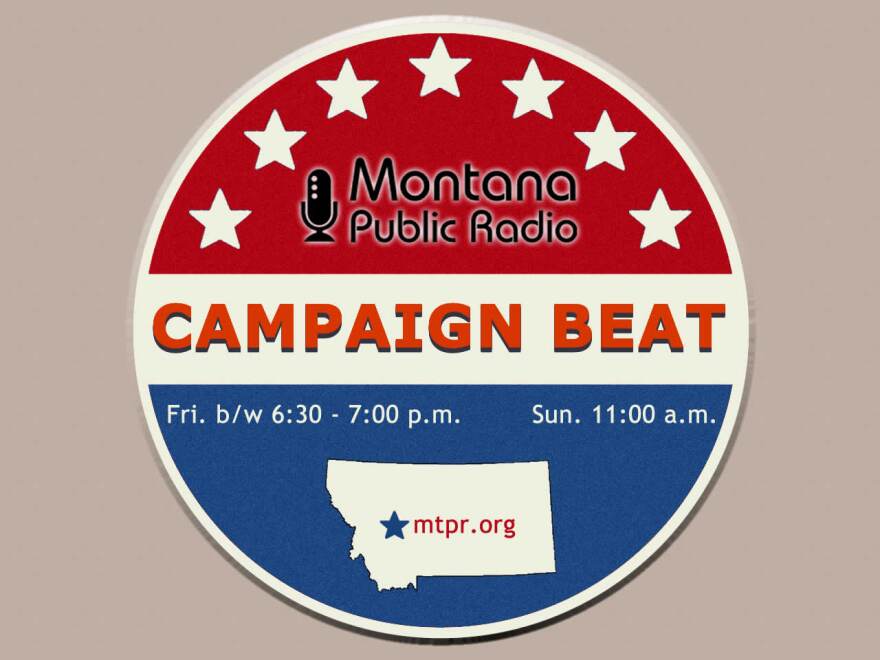 Montana Republicans say their victories are a mandate from voters, speculation about Democratic Senator Jon Tester's future, and does Ryan Zinke have a place in the new Trump administration now? Sally Mauk, Chuck Johnson and Rob Saldin dig in to these issues and more in the final "Campaign Beat" episode of 2016.
Montana Republicans claim a mandate from voters.
The Republicans gained a few seats in the legislature to keep their majority, and won all of the statewide offices except for the governor's seat. Democrats are saying not so fast, though.
"Of all the statewide offices, of course, the one you really want to win is the governor because the governor is the final arbiter who signs or vetoes bills," Johnson said. "As we've seen the last two legislative sessions, especially the last session in 2015, Gov. Bullock is not afraid to veto Republican bills. I don't remember the exact number, but he vetoed more bills in 2015 than any other recent Montana governor has."
"The real question to me is to what extent will the coalition between Democrats and the responsible Republicans, the reasonable Republicans, the moderate Republicans, still exists," Johnson said. "I don't see any reason to think that still won't be a factor."
The Republican party leader Jeff Essmann has a right to gloat, and Democratic party leader Nancy Keenan must be doing some soul searching in the wake of the election results.
"I can't remember the last time Republicans have had four of the five land board officers," Johnson said. "It's just the mirror image opposite of what we have now, with four Democrats holding those jobs, and Tim Fox the lone Republican — the attorney general. It was a great victory for the Republicans in the so-called "tier B" races. I don't really like that term - I think they're each important offices. As for the Democrats, I suspect there will be a lot of soul searching."
"I think a big question for [the Democrats] is why can't they win in rural Montana anymore?" Johnson added. "If you look at the map, they typically win most of the urban counties and the counties where Indian reservations are located. There were times when they used to win more up in the Flathead, they used to win seats regularly out in Miles City and Glendive. Those kind of areas, they don't win those anymore."
What does this election cycle signal for Montana politics?
Montana has long been a political outlier in the Rocky Mountain West — mostly red, but not as red as Idaho and Wyoming.
"It is true, as you suggest, that Montana has long stood apart from its neighbors, Idaho and Wyoming, in terms of being more hospitable for Democrats," Saldin said. "Most notably you'd look to major figures like Max Baucus and Pat Williams, who were on the scene for decades. But since Pat retired in 1996, the only Democrats to be elected to Congress or as governor have been Baucus, Jon Tester, Brian Schweitzer and Steve Bullock. And Tester's two wins were both nail biters in which he fell short of 50 percent of the vote. Similar story with Bullock: two very close elections, last time he was under 50 percent and this time it looks like he's spot on 50 percent. Meanwhile, over this same period, Republicans have coasted to easy wins."
"And now, what's potentially a new piece of this story, is that after all the down-ballot losses by Democrats this Tuesday, they don't have any obvious people to turn to in their bullpen," Saldin said. "You need people in positions like the attorney general and the secretary of state and the others, because those are often where you find good candidates to tap to run for governor or Congress."
Does Congressman Ryan Zinke have a place in the Trump administration?
Zinke has made his ambition to be something more than a congressman clear when he first said he'd like to serve as House speaker, and then he said he'd be happy to be Donald Trump's vice president.
Now that Trump is the President-elect, is there a place under the new administration? And, would Zinke take that place if offered?
"I think it's certainly a question worth asking," Johnson said. "The other question, though, does he want to wait and run against Jon Tester for the Senate seat in two years? That's really the issue to me is whether he wants to go for that or try to get a federal appointment."
There is speculation about Democratic Senator Jon Tester's future.
Two years from now Tester could face a stiff Republican challenge, and likely will.
"If you're looking for a silver lining for Montana Democrats coming out of this week, what otherwise was a very tough week, it's that Jon Tester's reelection prospects in 2018 all of a sudden look a lot better than they did on Tuesday morning," Saldin said. "That's because mid-term elections are notoriously tough for the party that controls the White House. If Clinton had won on Tuesday, I think this coming mid-term would have probably been even tougher than usual for the party controlling the White House because it would have come in the middle of what would have been the third consecutive Democratic term."
Biggest take-away from the 2016 election year?
"The breadth and the depth of the Republican sweep in Montana — winning four of the five land board seats, all but governor; winning all three Public Service Commission seats - three of the five, the other two were Republicans; and then, of course, a very strong showing by Ryan Zinke against what everyone had thought was a strong Democratic candidate for the House seat in Denise Juneau," Johnson said.
"It demonstrates just how divided we are as a country," Saldin said. "Here in Montana, we're somewhat insulated from that, but by no means entirely. Given this division, it does raise real concerns for the health of American democracy and the health of the American political system. We have a situation coming out of Tuesday where a lot of people who've, rightly or wrongly, felt marginalized for some time — they're now celebrating. There are a lot of people out there right now who I think feel a real sense of fear and much of that is for understandable reasons."
For me, it was the lowest common denominator aspect, both nationally and statewide, and the level of debate seemed especially poor. The ads were ever more insulting and it just was not uplifting, to say the least, to follow the campaigns on either state or nation level.
Sally, Chuck and Rob will return in January with "Capitol Talk," MTPR's weekly legislative analysis program.
"Campaign Beat" is hosted by MTPR's Sally Mauk, with UM Political Science Professor Rob Saldin, and former Capitol Reporter Chuck Johnson. Listen every Friday between 6:30 & 7:00 p.m. and again on Sunday at 11:00 a.m., or via podcast.