Montana politics, elections and legislative news
Rainy Day Fund Becomes Issue, And Sex Column Haunts Juras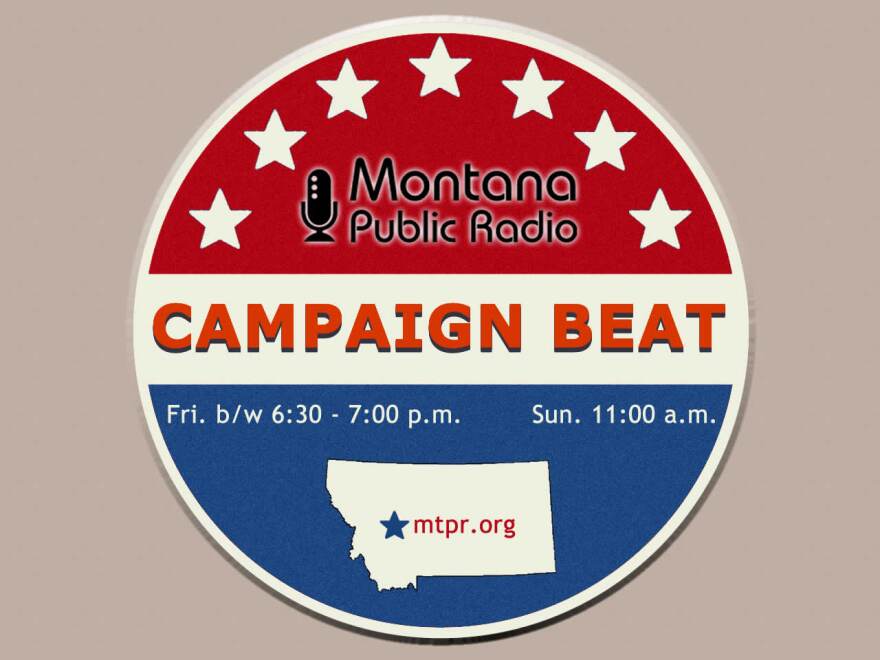 Kristen Juras makes headlines after her past criticisms of the Kaimin resurface, more campaign ads emerge in the House race, and in the governor's race the state's rainy day fund has become an issue. Chuck Johnson and Professor Rob Saldin join Sally Mauk to discuss these topics and more on this episode of "Campaign Beat."
More campaign ads emerge in the House race
Here is Denise Juneau's ad:
"This issue of whether Congressman Zinke supports or opposes public staying public is an ongoing attack point by the Juneau campaign," says Mauk.
"We have a clear pattern at this point in their campaign," says Saldin. "In my view, I think it's absolutely true that Zinke has never voted to sell public land and he's clearly on record for voicing support for public land. And that's actually no small thing for a Montana Republican today, both at the national level and at the state level."
"That issue of public lands is an issue in both the House race and the gubernatorial race," says Mauk.
"Zinke is definitely going against the grain within the Republican party on this," says Saldin. "Again, I think the easier default position would just be to hedge a bit on it and support some of these larger efforts because that is where the energy is in the conservative movement within the Republican Party."
Here's Zinke's ad responding to the Juneau attack:
"'Zinke's one of us,'" says Mauk, quoting a line from the ad. "I'm not quite sure what to make of that sentence."
"One of the central objectives in political advertising is to get voters to see your candidate as more like them than the other candidate," says Saldin. "Hearing the Zinke ad, that's actually stated directly. Zinke is more like us."
"I kind of took it a different way," says Johnson. "When I heard one of us I thought, well, what did he mean? 'Zinke's a white Montanan and Denise Junuea is Native American'. Or, 'Zinke's a heterosexual Montana and Juneaua's a gay Montanan?' I just thought it was sort of odd wording."
In the governor's race the state's rainy day fund has become an issue.
The fund is the state's surplus saved for emergencies, and here is Gov. Steve Bullock praising the fund in a new ad.
"That rainy day fund was $300 million, but now the latest figures from the legislature's fiscal analyst say it's now down to just $100 million. It's quite a drop," says Mauk.
"It is and it reflects the loss of revenue from oil, gas and coal, or projected revenue," says Johnson. "Gov. Bullock had insisted in both of his legislative sessions that the Legislature leave a balance of $300 million. That was a big issue in both sessions. Republicans argued unsuccessfully that some of that ought to be returned to taxpayers in the form of reduced taxes or rebates or one-time givebacks. I have a feeling this ad was taped before it was $109 million."
"It's interesting to note, though, that there are Republicans criticizing Gov. Bullock for having only $109 million left when they were the ones who were also opposing that there be $300 million to start with," says Mauk. "There wouldn't $109 million left if there hadn't been $300 million to begin with."
The last ad is from Republican Greg Gianforte, and features Clair Daines, who's the father of Sen. Steve Daines, and he's singing Gianforte's praises.
"A couple of points on that," says Saldin. "One, the emphasis on Gianforte's manliness is a little remarkable. You don't frequently see ads trying to underscore the manliness of a particular candidate. The other thing that struck me is that, clearly the Gianforte campaign is still investing a lot of time and a lot of money, here at this relatively late date, into trying to establish that Gianforte is a real Montanan. This is obviously an important thing for them to accomplish, but it has to be a little disconcerting, I would think, that they still feel the need to be trying to underscore this very basic point. It makes me wonder if they're very sensitive to these charges that Gianforte is really from New Jersey, which I think is silly – we've discussed that before."
"Campaign Beat" is hosted by MTPR's Sally Mauk, with UM Political Science Professor Rob Saldin, and veteran Capitol reporter Chuck Johnson. Listen every Friday between 6:30 & 7:00 p.m. and again on Sunday at 11:00 a.m., or via podcast.