Montana politics, elections and legislative news
Mike Fellows Dies, Gubernatorial Candidates Debate In Billings, New Campaign Ads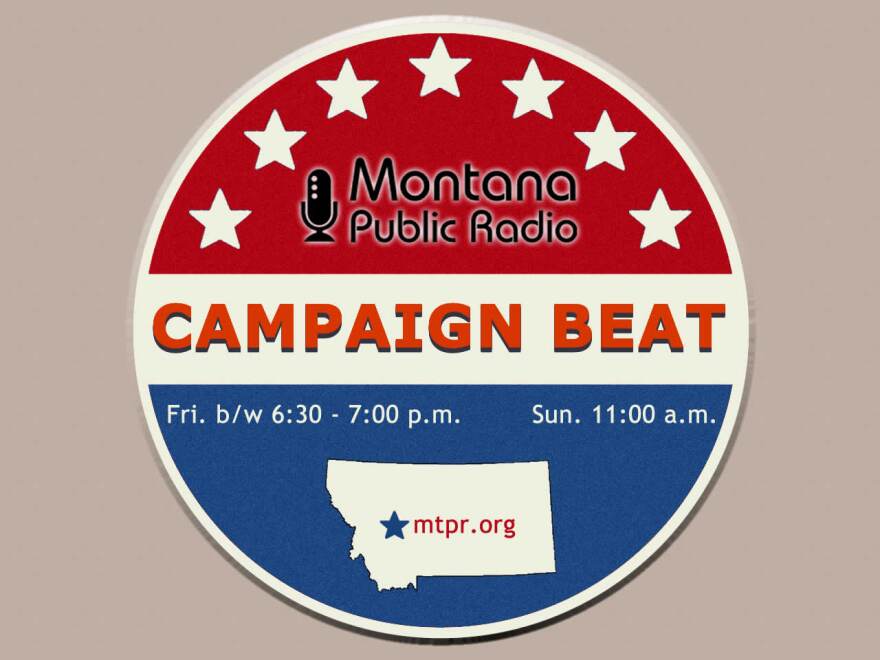 The death of perennial Libertarian Congressional candidate Mike Fellows in a car accident as he was coming home from a campaign event, the debate in Billings between Gov. Steve Bullock and his challenger Greg Gianforte Monday, and the release of a couple of new ads in the U.S. House race. Chuck Johnson and Professor Rob Saldin join Sally Mauk to discuss these topics and more on this episode of "Campaign Beat."
Libertarian Congressional Candidate Mike Fellows Dies
Mike Fellows died in a car accident after coming home from a campaign event in Seeley Lake on Monday, Sept. 19. Fellows had been a fixture in Montana elections for many years.
"He told me on occasion that he filed to preserve the Libertarian's party ballot status for the presidential candidate for the party," says Johnson. "But he was a true-blue Libertarian. I think that he lived it, he breathed it – it was his life."
Fellows is not the first Montana politician to die during a campaign. In recent years, there have been four.
"Another person who died was Chet Blaylock, a former Democratic State Senator from Laurel who ran against incumbent Gov. Marc Racicot in 1996," says Johnson. "He was driving alone on his way to a debate in Missoula and felt ill and pulled over to the side of the road. Emergency responders were called and he died of a heart attack in the hospital in Deer Lodge. It's really sad, politics is a lonely game often and it's sad that these people died alone."
"I remember when Mr. Blaylock died, I was going to be on the panel that night that was to interview the candidates, and all his family and friends were gathered here on the campus of the University of Montana to await the debate. Instead they had to get the sad news that he had passed away," says Mauk. "It was a very tough night for everybody."
Gov. Steve Bullock and challenger Greg Gianforte debate in Billings this past week
Each campaign declared victory after the gubernatorial debate in Billings on Monday, Sept. 19. Sally Mauk believes each of the contenders scored points, but is not convinced there was a clear winner.
"My rule on debates is there's a built-in advantage for the underdog," says Saldin. "The two candidates get to stand side-by-side on stage which elevates the underdog, in this case Greg Gianforte, to the same level as the governor. There's also a lower bar for the underdog. Basically if the underdog holds his own, that's something of a win. And this is one of the reasons why underdogs always want to have lots of debates and incumbents usually don't want to have very many debates.
"One take-away for me was Steve Bullock, compared to four years ago, is a much improved debater," says Saldin. "It was a real weakness of his four years ago. But still, I think Greg Gianforte more or less held his own. We didn't hear a lot directly from the candidates despite some intriguing questions from the moderators.
"We didn't hear a whole lot of new information from the candidates. Part of that, I think, had to do with the format of the debate — it didn't allow for a lot of follow-up, back and forth between the candidates. It allowed the candidates to pretty much stick to their talking points."
One of the questions to Mr. Gianforte was whether he would protect Montanans' civil rights, including gay rights, and here's his answer:
"Well, I sort of feel like it's an attack on our Christianity and our core base," says Gianforte. "I would say that our First Amendment is very clear. It supports freedom of speech and freedom of religion, for all Montanans, and I would defend that right for every single Montanan."
"It was a dismissive answer," says Saldin. "I think one of the weakest points in the debate for Gianforte. He calls it an attack on his Christianity and there is a bit of truth in that. There is, on the progressive left, a certain kind of animosity towards conservative Christians, but, that being said, it's still a surprise that Gianforte didn't have a better canned answer on this very predictable question.
"It reminds me a little bit of the way Hillary fumbled continuously questions over her emails," says Saldin. "How can you not have something better to say, when you know you're going to get asked about this. It strikes me as, in the case of the gubernatorial campaign, an entirely legitimate question. Governors have to deal with these answers and the way it was actually phrased seemed to provide Gianforte with a very easy opportunity to say, 'Look, as governor, nobody has to worry about their rights being violated.' He wasn't even able to get that out."
Here is Gov. Bullock's response to that same question, following Gianforte's response:
"From my perspective this is not an attack on faith, this is a discussion of the values you bring to this office," says Bullock. "You can see the values that I hold and bring to this office because you've had eight years to see this. At the end of the day, we don't build a greater Montana by tearing some people down."
Gov. Bullock also warned that Montana could suffer economically if the state government doesn't support the rights of all its citizens, including its gay citizens.
"It was a strong moment for Bullock," says Saldin. "I thought he effectively used the case of North Carolina talking about how the NCA[A] and the ACC conference have pulled out on holding events in North Carolina, using this as an example of the kind of situation that Gianforte wants to create if the initiatives that he had sought were put into place. It was effective and it was also a way for Bullock to make it about the economy. It works on a couple of different levels here."
"The two candidates were also asked if they had ever had an extramarital affair, a question that brought an audible gasp from the audience, and both said they had not," says Mauk.
"I wasn't at the debate but listened, and you could hear the gasp when each of them said they hadn't," says Johnson. "Whether that's the end of the issue or not, we don't know. There's been a whispering campaign that Gov. Bullock has, no evidence presented. I don't know if this puts an end to it or not. That's the question."
"It does, however, indicate the state of the campaign as the election gets ever nearer," says Mauk. "These kinds of personal innuendo, rumor things, if they're going to infiltrate a campaign, it's this time that they're going to show up."
"Both sides are clearly not pleased with how the other side or how the third party groups are portraying them," says Johnson. "They each got some digs in during the debate and clearly, I think the third debate will probably be even more bitter and bristly because the debates get a lot of audience."
"I think they're important in the campaign," says Johnson. " Do they make a difference? I don't know. I always found them interesting to watch, to see how the candidates reacted under pressure, how they thought on their feet, how they respond to rebuttals from the other side. This debate unfortunately didn't allow them, but most debates will allow the one candidate who went first to rebut the second candidate's response."
"Both candidates stuck to their campaign themes and messages," says Mauk. "With Gianforte painting the governor as a career politician, and himself standing out as a businessman, and the governor trying to paint Gianforte as out of touch on some of the issues and no friend of what Montanans hold dear."
"Greg Gianforte at one point said, 'You get a bunch of lies from a career politician,' calling Bullock a liar essentially," says Saldin. "Bullock used a little bit of rhetorical device, I thought, against Gianforte saying that Gianforte is always betting against Montana. Whether or not these things make any difference, I guess, is an open question. The basic takeaway is that it's the same themes we've been hearing about."
In the U.S. House race there are a couple of new campaign ads.
The cast listens to a new campaign ad from Democrat Denise Juneau which features, as Mauk describes, "a bunch of cute kids."
Here's Juneau's ad:
https://www.youtube.com/watch?v=kexsb_-7D58
"I think the kids are cute, obviously, but the economy is the message that it's really trying to deliver," says Johnson. "Without question, the state superintendent plays a role by overseeing education, being its main spokesman in Montana. I thought it was a pretty good ad and she has increased, through her effort, helped increase high school graduation rates. (She's) made that, I think fair to say, her top priority in the job."
Mauk also played a new ad from incumbent Republican Ryan Zinke, which strikes a different tone from Juneau's.
Here's Zinke's ad:
"The two ads you just played, they are very different in term of tone and style, but they fundamentally are about the same thing," says Saldin. "They're both about jobs. The Juneau ad talks about jobs and mentions medicine, engineering, teaching. The Zinke ad focuses on jobs too. But different kinds of jobs — coal jobs, more traditional natural resource jobs. That's a bit of an interesting comparison between the two ads as well, and gives you a little bit of insight into the visions that each of these candidates has for the future of Montana's economy."
Are Zinke's negative ads any indication of what he thinks the state of the campaign is?
"I don't recall him doing much negative advertising when he first won the House seat," says Johnson. "There've been three or four instances where national groups or newspapers … said this may be a seat the Democrats could win."
"It's a definite slap at Denise Juneau," says Johnson. "The use of Hillary Clinton too, to tie Juneau to Hillary Clinton — which is maybe strategic as well because I think Trump is the favorite in Montana and Hillary Clinton is not. It hit on a couple of fronts just as Juneau's ads did."
"Campaign Beat" is hosted by MTPR's Sally Mauk, with UM Political Science Professor Rob Saldin, and veteran Capitol reporter Chuck Johnson. Listen every Friday between 6:30 & 7:00 p.m. and again on Sunday at 11:00 a.m., or via podcast.