Montana politics, elections and legislative news
'Campaign Beat': All About The Race For Governor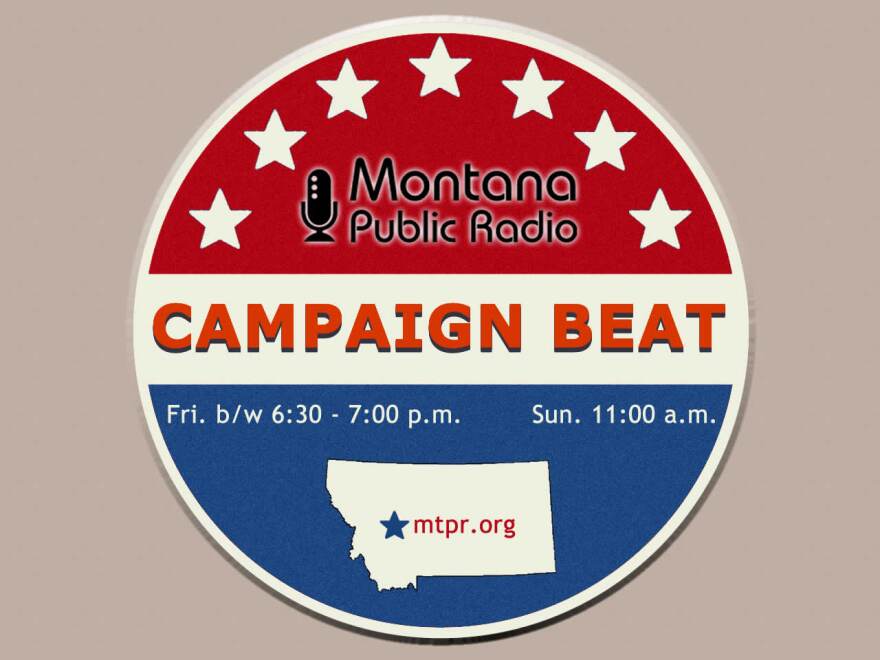 It's all about the gubernatorial race today on "Campaign Beat": The politics behind the governor's new "working group" on Colstrip; PayPal, and the dilemma for pro-business Republicans who support "religious freedom" laws; And to nobody's surprise, Greg Gianforte wins the endorsements of Sen. Daines and Rep. Zinke. Listen now for the latest analysis from Sally Mauk, Chuck Johnson, and Rob Saldin.
PayPal invite
This week Gov. Bullock and Sen. Tester sent a letter to PayPal inviting them to set up shop in Montana. This after PayPal cancelled their plans to build in North Carolina over that state's passage of a law banning non-discrimination policies based on gender identity.
"The governor's letter was obviously meant to send the message that Montana is open to gay-friendly businesses and to draw a distinction between himself and his Republican challenger Greg Gianforte," says Sally Mauk.
"This appeal to PayPal has about a zero percent chance of actually resulting in the company moving to Montana," Professor Saldin says. "Bullock is framing this around the social issues he'd like to see be a part of the Montana campaign. This overture to PayPal is a not-so-subtle reminder of charges that Bullock's opponent, Greg Gianforte, is out of the mainstream on social issues.
"The connection here is that Gianforte has made charitable donations to groups that have opposed gay rights efforts, including local initiatives, and Democrats think they have a real winner on this issue and want this gubernatorial campaign to be oriented around some of these concerns."
"It's interesting to note," Mauk says, "that Gianforte has a high-tech background -- that's how he made his millions -- and a lot of the companies that are objecting to laws that are being passed, like in North Carolina, are high-tech companies: Google, and Apple, and PayPal and so on.
"It's certainly becoming more and more problematic for politicians to be pro-business but anti- gay," Mauk says.
Colstrip "working group"
Governor Bullock this week formed a "working group" to explore the possibility of finding new owners for Colstrip plants 1 and 2 in the likely event the current out-of-state owners will sell or close those plants.
"His (Bullock's) opponent Greg Gianforte has charged the governor isn't doing enough to protect coal industry jobs," says Sally Mauk. "And this appears to be, in part, an effort to counter that."
"It seemed to land with a bit of a dull thud," says Johnson. "NorthWestern Energy ... didn't seem terribly interested in it. ... I don't think there's any chance the public is interested in buying them. They may be sort of white elephants on the market. I really don't know who'd be very interested in buying them as long as other power sources are available."
"As we've discussed before," Saldin says, "energy is a tough issue for the governor because it pits two key Democratic constituencies against each other. Labor wants to fight for those jobs in Colstrip, and in the traditional energy sector more broadly; while environmentalists want to combat climate change, by -- among other things -- getting off coal. And Steve Bullock is stuck there in the middle, with Gianforte hammering him on it every chance he gets. ... So there probably are some campaign politics here at work, not strictly just policy. To be sure Bullock's plan for this working group won't by any means take energy off the table in this campaign, but it does allow the governor some breathing room ..."
One of the difficulties of this issue is that so much of it is beyond our control," Saldin adds. "It's tied up in the national market for coal, and in other states like Washington and Oregon, which obviously the governor has very little if any influence over. A lot of those states are trying to move to renewable energy sources, to get off coal ..."
Zinke, Daines endorse Gianforte
This week, Greg Gianforte held a press conference where Republican Sen. Steve Daines and Rep. Ryan Zinke endorsed Gianforte for governor.
"It would be more of a news story if one of them didn't," Chuck Johnson says. "To me, it wasn't that much of a story, but something that parties do to gin up support for their ticket."
And at this point in the gubernatorial race, the battle lines are becoming pretty clear.
"Governor Bullock wants this race to be about social issues," Saldin says, "and he wants to prime those issues in the minds of voters, so when you think of Greg Gianforte you think of his stance on social issues. And Gianforte clearly wants this race to be about the economy and creating good jobs. And he wants the voters, when they think of Gov. Bullock, to think of someone who's not up to the task of really taking Montana's economy to the next level."
"Campaign Beat" is hosted by MTPR's Sally Mauk, with UM Political Science Professor Rob Saldin, and former Capitol Reporter Chuck Johnson. Listen every Friday at 6:48 p.m. and again on Sunday at 11:00 a.m., or via podcast.