Montana politics, elections and legislative news
PAC Money, The Governor's Plane, and Montana Dems Spotlight Trump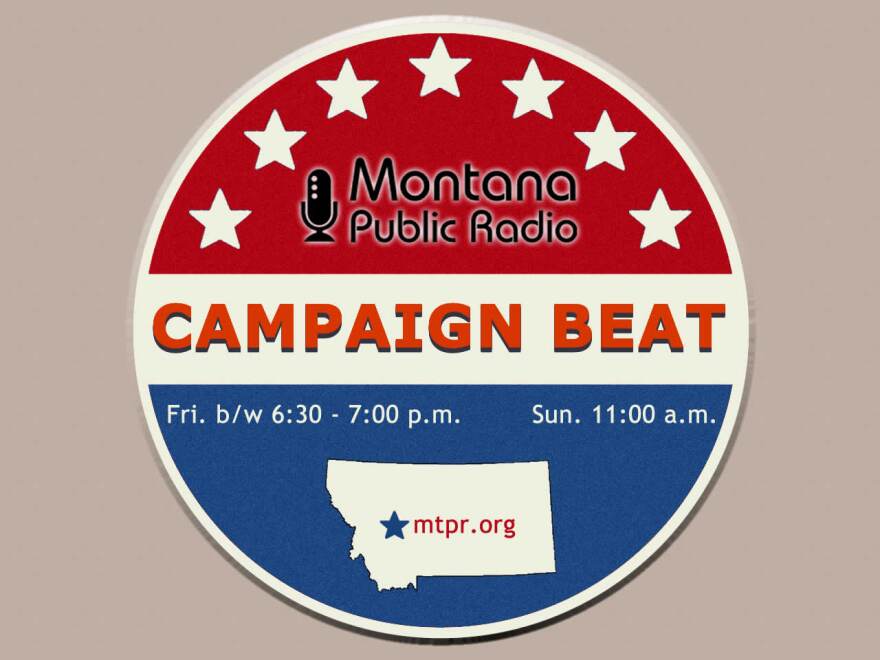 Montana Democrats use Donald Trump to tie Republicans to extremism. The spat over Governor Bullock's use of the state plane shows no sign of going away. And is the debate over PAC money in the Governor's race a distraction from more important matters? Sally Mauk, Chuck Johnson, an Rob Saldin discuss these things and more on this episode of "Campaign Beat."
Dems vs Trump
Democrats held their annual Mansfield-Metcalf Dinner in Helena last weekend. One theme that emerged as a rallying cry was the Democrat's efforts to tie Republicans to extremism, says Sally Mauk.
"Never in the history of the civilized world has any political party or group anywhere sought to run the government by seeking to put it out of existence. They have given aid and comfort to the most scornful people in our midst, and it's time for them to go," proclaimed Larry Jent, Democratic candidate for Attorney General.
"We're not sure if he's referring to Donald Trump -- although I suspect he is -- or to the Tea party folks in the congress and the state legislature," Chuck Johnson notes. "But it's definitely a tactic Democrats are using across the land to try to tie local or state Republicans to things that Trump has said."
At one point during the night, Senator Tester played a game of 'who made this sexist statement' statement.
"He's obviously trying to tie Republican Congressman Ryan Zinke to Trump, who does not poll well with women," says Mauk.
Democrats are hoping the unfavorable ratings of Trump, the GOP front-runner, will translate into lower Republican support in down-ticket races.
"We're pretty notorious ticket-splitters here (in Montana)," Chuck Johnson notes.
In 2012 Mitt Romney won Montana. At the same time, Montana voters re-elected Democrat Jon Tester, and chose Steve Bullock, another Democrat for Governor.
"Whatever those trends are that have played out in Montana historically, I think Democrats still have to look at Trump ... as a gift," says Professor Saldin. "You would expect this would be a difficult cycle for Democrats. We're at the end of a second term for a Democratic president which frequently comes with a bit of fatigue for a president and his party. And we have a candidate in Hillary Clinton, who for all her competence and experience is not a strong campaigner, and has pretty weak favorable numbers herself. So you see someone like Trump come along and you gotta think that this is a gift for Democrats to try to exploit, and I think that's what we're starting to see from them and we can expect to see more of that."
Bullock plane
Gov. Bullock has been criticized by Republicans for using the state plane to travel to official duties that were also simultaneous with campaign events. While Bullock has announced he'll reimburse the state for part of the costs, Republicans are not satisfied.
"It's a tricky issue in the sense of, what is a legitimate governor's visit to a city? And what is a legitimate campaign event, and how should the expenses be shared? I think we'll hear lots more about this in the remaining days to the campaign and probably in the next legislature, regardless of who the governor is. I suspect there'll be effort to put in state law more specific guidelines as to what's legitimate and what should be reimbursed by the campaigns," says Johnson.
PAC money
The use of PAC money in the governor's race continues to be an issue, as both sides accuse the other of soliciting money from outside groups, but not everyone thinks this issue is a big deal.
"They're both using legitimate, viable, mechanisms for raising money, and they should just allow each other to do that. I have to wonder how much Montanans really care about this particular spat between the two campaigns. I think what the public really wants to hear is why each candidate is the best person for that job. And if there is money going to be spent there just needs to be full transparency."
That's Denise Roth Barber of the National Institute of Money in State Politics.
"I think transparency is important," says Professor Saldin, "and at a more basic level, there are rules to the game ... and both of these candidates - so far as we know - are playing by the rules ... I think the shame of it is, that these candidates have already articulated some very different positions on the issues. They have different ideas about what the future of Montana should look like. And to the extent that we're obsessing over some of these fundraising issues that are 100% legitimate, we're not playing attention to those real and legitimate differences between these two guys."
Remembering Carolyn Squires
Former legislator Carolyn Squires passed away this week. She had been a legislator since 1987 and, "made a real impact as the premier legislator standing up for the working people in Montana, and she'll be missed," Johnson says.
"Campaign Beat" is hosted by MTPR's Sally Mauk, with UM Political Science Professor Rob Saldin, and former Capitol Reporter Chuck Johnson. Listen every Friday at 6:48 p.m. and again on Sunday at 11:00 a.m., or via podcast.