Montana politics, elections and legislative news
'Campaign Beat': Regulations, Refugees And Ryan Zinke's Upcoming Book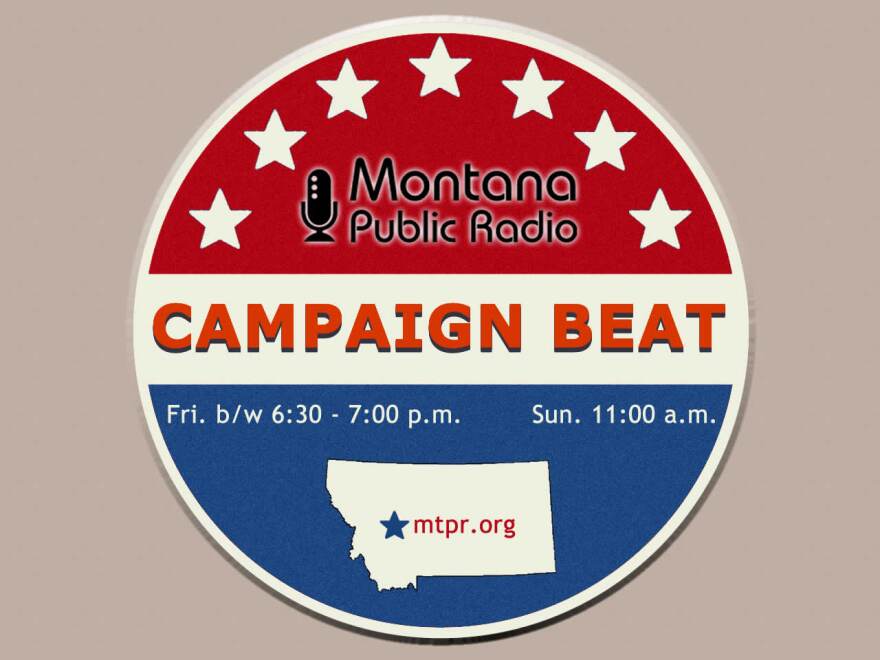 How the debate over government regulation is shaping the governor's race in Montana. What's behind the recent anti-refugee rallies in the state? And Rep. Zinke's new book and political aspirations, tonight on "Campaign Beat,"with Sally Mauk, Chuck Johnson, and Rob Saldin.
Regulations
This week, Republican gubernatorial candidate Greg Gianforte announced an extension to his 'regulation roundup' tour of more than 60 cities. Gianforte says tour is an opportunity to listen to Montana's ideas about business-suffocating regulations that he would put an end to.
"I suspect this will be a major focus of his campaign messaging throughout the race, and also his advertising," Chuck Johnson says.
"Regulations are something that's easy to hate when things are normal," Professor Saldin says, "but whenever there's a big crisis — think back to the oil spill on the Yellowstone — when you have something like that, everyone gets upset that there aren't more regulations."
While Gianforte was on his "regulation roundup" tour, Gov. Bullock was unveiling a new tool to help businesses navigate Montana's rules and regulations. It gives business people an opportunity to talk to the governor about regulations.
"I think it's clear we're going to be talking about regulations" in this campaign, Johnson says.
"Just as a political matter," Saldin interjects, "it strikes me that its gonna be hard for Bullock to out anti-regulation Gianforte. Of course there's a lot of middle ground between anarchy and suffocation, both Gianforte and Bullock are gonna be somewhere in that middle ground, but this is a little bit of a defensive position from Bullock."
Refugees
Monday, a group opposed to Muslim refugees entering the country staged a rally on the Capitol steps in Helena. A series of speakers at the event warned against the security threat they think refugees pose to the United States.
"Like a lot of the issues out there, this has become so polarized, so quickly," Saldin says. "The impulse to want to help people is a noble impulse, a humanitarian impulse to do something to try to mitigate a really horrible situation. On the other hand, it's also the case that there are people out there who do mean to do us harm and it's a legitimate thing to worry about whether terrorists could exploit this policy and work their way in here. To the extent that people are saying 'we need to make sure that we have procedures and rules' so that doesn't happen, that's entirely sensible. Unfortunately at some of these rallies we're seeing not only that message but also just a bit of pure anti-Muslim bigotry too. On the opposite side, some of the supporters of the President's plan to settle refugees do sometimes come across as having a blasé attitude about the legitimate challenges that would entail. I think that's not only the terrorism concern, but ... trying to assimilate these people into American society. And that involves getting them jobs, stable housing situations.
"One of the other challenges we actually hear a lot less about are some of the cultural challenges. To take just one issue: many Muslims have a very different idea about the Role women in society than do most Americans ... So there are some legitimate challenges here that shouldn't be totally brushed away."
Both Senator Steve Daines, and Rep. Ryan Zinke oppose refugee resettlement in Montana. While there are no current plans to resettle Syrian refugees in Montana, Gov. Bullock has indicated support for resettlement if the refugees can be vetted.
Rep. Zinke
Rep. Ryan Zinke has a new book in the works about his time as a Commander at SEAL Team 6, "not something that he's ever been prone to hide," Mauk notes.
"My sense is this is a little unusual for a member of congress to write a book, especially such an early career member," Saldin says. "We typically see this from people who are on the more ambitious side and who are looking to move up. For presidential candidates it's almost now a prerequisite that you have to write a book. All of the presidential candidates out there have books. These tend to not be great works of literature. They tend to more be trying to present themselves as candidates in a way that they want to resonate, and to lay out part of their agenda. I think we see a little bit of this in Zinke's book."
"I think you have someone here who has high ambitions," Chuck Johnson says. "Whether to run for the U.S. Senate seat against Jon Tester, or beyond. Will he become a cabinet member or a commander of some kind? I don't know, but I don't think you'll see Ryan Zinke staying in the Montana House seat for long."
"Campaign Beat" is hosted by MTPR's Sally Mauk, with UM Political Science Professor Rob Saldin, and former Capitol Reporter Chuck Johnson. Listen every Friday at 6:48 p.m. and again on Sunday at 11:00 a.m., or via podcast.